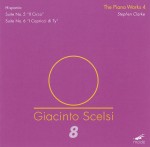 Giacinto Scelsi - Piano Works 4
Stephen Clarke
Mode 227 (www.moderecords.com)
Giacinto Scelsi (1905-1988) was a remarkable Italian innovator. His music is dissonant, improvisational, and often unorthodox rhythmically. Stephen Clarke's virtuosity and artistic sensitivity are both evident on this disc of 1930s piano music by Scelsi.
The triptych Hispania (1939) opens by evoking flamenco guitar as it fans out from the pitches E-F. Clarke handles the "thrums," ornaments, and "damped" tone clusters with panache. The wonderful slow movement starts at a slow tread, like a quest in the dark, and then becomes more agitated. Contrasting white-note modality prevails in the finale where slow chords effect peaceful closure
I particularly enjoyed Suite No. 5, "The Circus" (1935). These miniatures are appropriately gestural, at times dance-like. The 5th piece has a profusion of acrobatic arpeggios, leaping up higher and higher until they cover the instrument's full range. The 6th is a tarantella like no other that rumbles in the depths! The last piece to me has hints of fascist marches at a time when World War Two approached. Clarke captures well the work's whimsical and sometimes childlike sensibility.
Suite No. 6 (1939) has intriguing moments, though Scelsi's trademark fast repeated notes here seem excessive. Yet Clarke has mastered them, as well as fiendish leaps to note clusters that differ slightly each time. Recorded in Berlin and Toronto, the disc is a labour of love whose recording quality equals that of the performances. I look forward to more Scelsi as the Mode Edition unfolds.
Concert Note: Stephen Clarke performs the music of Giacinto Scelsi in a benefit performance for Arraymusic at Gallery 345, 345 Sorauren Ave. on February 12.