Did you know there's a sculpture and plaque for Mary Pickford in front of Hospital for Sick Children? "America's Sweetheart," a founder and vice-president of United Artists, and icon from the early days of moving pictures, was born Gladys Mary Smith in a home on University Avenue near Gerrard. Her father died when she was quite young and left the family near-destitute. Mary's mother took in sewing and was working on costumes when Mary was "discovered" and made her acting debut at the age of five in Toronto stock theatre.
Here are photos of "February's Children" in WholeNote from the past 6 years.
The first two readers to correctly identify three of these six sweethearts will each win a pair of tickets to SWEETHEART: The Mary Pickford Story, a musical by Dan Burry, presented at Spadina Museum (February 10 - 27).
FEBRUARY'S CHILDREN, 2005-2010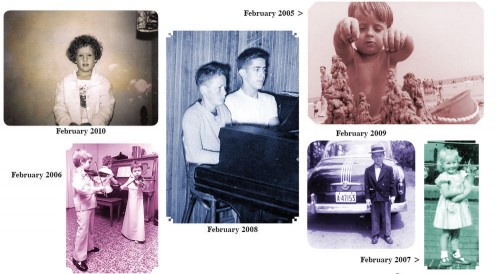 WHO IS FEBRUARY'S CHILD?
Already smiling on the podium!
Never choirboy material, but destined to develop a fine ear for The Voice of God.
His gospel, as a mentor, and the secret to having rhythmic chops?
"Subdivision is your friend!"
Look for him in this issue's Concerts in the GTA, in the hall of a Gimquat, and in Concerts Beyond the GTA sharing nicely with another one of Music's Children.
Your challenge?
Tell us not only who the little guy is
but also who he'll be "playing with" in February!
Send your best guess to musicschildren@thewholenote.com. Please provide your mailing address just in case your name is drawn!
Winners will be selected by random draw among correct replies received by February 20, 2011.