November's Child Michael Schade: King for the Day!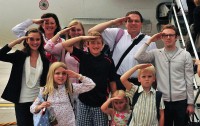 Canadian-German lyric tenor, Michael Schade, was born in Petit-Lancy, Geneva, Switzerland, in the month of January and spent his early childhood in Switzerland and Germany. Schade's engineer father's work with Inco's European office brought the family to Canada in 1977. Schade attended St. Michael's Choir School and later earned an Honours Degree in Performance with a minor in Pre-Medical Sciences at the University of Western Ontario. He went on to earn a Masters in Opera from the Curtis Institute in Philadelphia.
Today he is equally at home in Europe's and North America's foremost opera houses. His passion for singing embraces an extensive schedule of solo and collaborative concerts and recitals, and he is a prolific recording artist. Michael Schade's discography covers a wide range of opera, oratorios and passions, lieder and recital repertoire.
In March 2007, Schade and Adrianne Pieczonka were the first Canadians awarded the Austrian title of Kammersänger: Austria's highest honour for singers. Summer 2008 featured Michael Schade's 15th consecutive year at the Salzburg Festival, where he took on the new role of Co-Director of the new Salzburg Young Artists Project alongside Barbara Bonney
Previously married to Calgary-born mezzo-soprano Norine Burgess, Michael Schade makes his home in Oakville, Ontario and in Vienna with his four children, four step-children and partner Deanne McKee.
Do you remember last month's childhood photos being taken?
Yes indeed: Christmas! And mountain hikes in the summer!  Both were always a big deal for us.
Christmas is very special in my parents home. -  a celebration of family and our religion. My father reads from the Bible and my mother plays the guitar and sings with the children and to the children (now grandchildren) in the evening and the house is lit with candles and then we all go to Mass. It is a magical time to be a child and my parents taught me to celebrate that.  So far my son Niki has escaped the green tights and crown; maybe this year!
As far as the outdoors are concerned,  my family spent a lot of time in the beautiful Swiss outdoors and it was always important to my parents that we made these outings during weekends and holidays. My mother packed the best picnics a child could want.
Suppose you met a little child today who asked "What  do you do?"?
I would explain that I am a singing court jester!  That my life is a dream, that my work makes me happy. I would tell the child to dream and to work hard at making those dreams happen for themselves; to never settle for just vanilla or convention for convention's sake or success' sake.  Dare to be different and dare to do something that makes you happy, whenever possible..
What's your absolute earliest  musical memory?
I remember my Mom, Grandmother and Tante Sixta singing songs for every special family occasion......and for everyday mundane occurrences…like those obvious German Lied moments such as: waking up, brushing your teeth, going to bed, the sun coming up, cloudy days, rainy days, the first snow fall, the second snowfall, a bee coming to a picnic, a river, a mountain, the moon, your first day of school, hurting your knee on your bicycle, a sunflower....etc. etc, you get the idea-they just know thousands of songs by heart.
Other musicians in your family?
I certainly hope so; Everyone sings. I was always surrounded by music, thank God! My brother was at the choir school with me, my sister played cello and met her husband singing in the Mendelssohn Youth Choir. My parents were longtime members of the Mendelssohn Choir. My oldest daughter, Sophie, plays violin in the Halton Youth Orchestra and my twins just started violin and cello. I sang with the twins for the first time in public this summer, it was very special, and they liked the applause. My youngest, Eva, insists that she will sing Pamina when she grows up, and Daddy can be her Tamino.  She will start in the church choir as soon as she can read more than three letter words; which she insists is now and has talked her way into the Christmas pageant this year at 4, which is reserved for starting at 6!
What is your first memory of  yourself singing?
Singing for Monsignor Armstrong to get into the choir school…I sang a German church song Grosser Gott wir loben Dich--- very mini Beyreuth, but this is my first real memory.
A first instrument?
I was pretty good at the flute, good enough to teach it at St. Mildred's in Oakville, I suck at piano!  I really regret that I didn't practice and keep it up.
First experiences of making music with other people?
Singing madrigals with my parents for dad's cool business parties…we were pretty good!
Do you remember when you first sang alone for an audience?
Yes, I sang Nanki Poo and forgot  the words.  Then trying to make up a verse during "the flowers that bloom in the spring trala"  and surviving my own verse writing on the fly. Seems like things haven't changed that much: I have been known to edit the words of Goethe during recitals, an unbelievably nerve racking venture.
Any one person who particularly inspired your childhood engagement with music?
My parents. Full stop!
And later, in your student years?
Roma Butler Riddell, my first teacher and a saint.  Also, Marlena Malas and Helmuth Rilling…two of my heroes!
The point at which you began to think of yourself as a musician?
Never until I was 22. Why? Because at the choir school we learned music by osmosis. It is just what we did, much like at a sports school all children just "do" sports. It never dawned on me to make a living from it. I thought biology was to be my destiny. And yet, during my first Biology 101 class at the University of Western Ontario, where 300 people literally sat and watched a tape recorder "lecture" us, I rethought what a "calling " meant. Somehow music was talking to me much louder than that particular way of learning - so many others in such an un-personable space . In music "my" answer counts much more than having the right solution - in other words expression from experience counts! To understand why one likes to perform was a liberating and important experience.
Ever think you would do something else?
Yes, become a Veterinarian or a diplomat
If you could travel back thought time and meet face to face with the child in the is there anything you would like to say, or ask?
Do your parents know that you are wearing a crown and green tights??
Do you know that you will wear these items many times more, in many different colours, as a grown man, and get paid for it!
Do you know that you will love your work and have as much joy each time you perform as you feel right now having been made king for the day!
Upcoming:
I will be doing lots with the COC and I will be back with the Toronto Symphony Orchestra in the future.  I also love going to the Montreal Symphony Orchestra - will make a DVD of Messiah with them at Notre Dame Cathedral on Dec 11 & 13  in Montreal under Kent Nagano.
Newly released or upcoming CD or DVD projects?
DGG Elijah with Thomas Quasthoff and Julia Kleiter under Harding; Liebesliederwalzer for DGG; DUO Recital with Thomas Quasthoff for  DGG; Meistersinger (David) with Thielemann on DVD; Thais DVD with Rene Fleming; DGG Mozart Gala  DVD with la Netrepko and others…
CONGRATULATIONS TO OUR NOVEMBER WINNERS! HERE'S WHAT THEY WON –
• Oh the Magic! Margaret Oldfield & Elizabeth Erskine each win a magnificent pair of tickets to hear Michael Schade sing the role of Tamino in The Canadian Opera Company's new production of Mozart's playful and sublimely melodic The Magic Flute (Jan 29 - Feb 25). Please see our listings for full details, or visit www.coc.ca 
• Michael Schade's Alma Mater! Lorrie MacKinnon, Adrienne Pollak & George Fung are guests of St. Michael's Choir School with a pair of VIP tickets (reception and premium seating) for the Friday Dec 10 Massey Hall concert Christmas Fantasy (7:30pm). Mary Dee, Claudia Krawchuk & Charles Ritchie: a pair of tickets each for the concert on Saturday Dec 11 (2pm). See our listings for full concert details. Mr. Schade (not performing at this concert) says "That school is the best thing since sliced bread!" 
• Linda Skeries wins Mozart: Arie & Duetti with Russell Braun, Isabel Bayrakdarian & Michael Schade; Canadian Opera Company Orchestra, Richard Bradshaw, conductor. CBC Records' own delightful celebration of Mozart's 250th birthday. (SMCD 5239) 
• Jean Parkes wins the Medici Arts DVD Wagner: Die Meistersinger von Nürnberg with Falk Struckmann (Hans Sachs), Ain Anger (Veit Pogner), Adrian Eröd (Sixtus Beckmesser), Johan Botha (Walther von Stolzing), Michael Schade (David) & Ricarda Merbeth (Eva); Orchestra & Chorus of the Vienna State Opera, conducted by Christian Thielemann. (Medici Arts: 2072488) 
• Rudi Peka, Otto Rath, & Catherine You: In Midnight's Stillness – St. Michael's Choir School's 10th recording: traditional carols, sacred melodies and contemporary seasonal music with their guests The True North Brass.
Spare a Thought…for ALL Music's Children

Where, you ask, is December's Child? No new contest this month. We'll be making an exciting list of new Mystery Children for 2011. Are you a hoarding treasured old photo? Share your great idea for someone who should appear in this column! musicschildren@thewholenote.com. Gifts of Music Most of Music's Children remember singing, playing and sharing music informally "en famille" and with friends. So why not celebrate the old/new with an all ages Bring Your Own Bouzouki music party! Also, this is a particularly good time of year to give a gift of live music. Please take some lucky young person to at least one performance in the next few weeks. Concert gifting benefits everyone, including your favourite ensemble. Can't bring a favourite youngster to a Sing-Along Messiah? Invite them to share a fine radio or television broadcast or a favourite recording. (Hallelujah! Tafelmusik Baroque Orchestra and Chamber Choir's Sing-Along Messiah will be on Bravo! Dec 6 at 9pm.) Just add cider and cookies. December's child? Probably someone very close to your heart, and home.
Pax
jack buell