October's Child - Marion Newman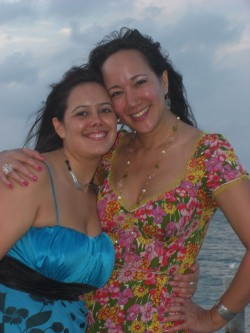 First Nations Canadian mezzo-soprano Marion Newman was born in a small village called Bella Bella in British Columbia, and grew up in another small town called Sooke, in BC. She was home-schooled until she went to Camosun College for piano performance and teacher training at age 15. Marion made her orchestral debut at the age of sixteen with the Victoria Symphony, not as a singer, but as a pianist, performing Mozart's Piano Concerto K. 488 in A Major. After college she earned a Bachelor of Music in piano performance from the University of Victoria, followed by a Master of Music with Distinction in vocal performance from the San Francisco Conservatory of Music.
Marion's' season so far has included Tisbé in Pacific Opera Victoria's production of La Cenerentola, the lead role of Noodin-Kwe in the world premiere run of Giiwedin, a first Nations opera by Spy Dénommé-Welch and Catherine Magowan, and Thunderbird, an Aradia Ensemble concert featuring young Canadian composer Dustin Peters, in which traditional Kwagiulth dance and song meet the Baroque era.
Do you remember the childhood photo being taken? Yes! My family was being featured in an article in the Times Colonist, in Victoria, BC, about home-schooling. I remember it being important to me that I was wearing my brand new, red soccer jacket. I was goalie and right wing, alternately. This was a shot of we three kids and my mother at the beach, which is right at the end of my parent's lawn. They still live in the same house in the same beautiful location. It was the yard all the kids wanted to play in after school. This was a wonderful place to grow up.
Suppose a child of about the same age today asked you "What do you do?" I'd say I'm an opera singer and that I also sing a lot of concerts. I get all dressed up, sometimes in wigs and crazy make-up, and I sing my conversations instead of speaking. That I love being all sorts of different characters and travelling around the world for music.
What is your absolute earliest musical memory? The traditional West Coast drumming and singing of my Kwagiulth culture as I learned to dance to them, and the highland dance music that accompanied my highland dance classes. I was three or four at the time and I loved it all. I sang along to everything.
Musicians in your family? My mother learned to play the piano and sing as a child. She brought me to every music lesson and knew all my music from ear. She could call out "that's supposed to be an E flat in the left hand!" and other such helpful hints from wherever she was in the house while I was practicing the piano. My father was a boy alto at the residential school he attended. He is now a traditional drummer and singer. My brother and sister took piano lessons as kids and my brother and I have actually performed as singers together on a number of occasions. He is too busy with his artwork now to keep up the singing.
Where did hearing music fit in? CBC radio played in our house at all times when we weren't sleeping or practising. All sorts of great classical music programs were airing at the time and the only one I found boring was "Saturday Afternoon at the Opera," ironically. I usually had a soccer game in the afternoon though, I didn't have to hear the whole thing. I studied piano in the Suzuki piano department at the Victoria Conservatory of Music from age five and sang in the children's choir. I had also just started playing the flute at this point. Music was the way I expressed the feelings and thoughts I had that I didn't yet have the words to express in an adult way.
First memory of yourself singing? Hmmm… probably that would be to the My Fair Lady and the Sound of Music records that we had. I would put one on and then dance around the living room, singing at the top of my lungs, imagining...
Your first instrument? Piano.
First experiences of making music with others? Piano duets, singing in a children's choir. I was an alto and I loved that our parts mostly differed from the melody and that I was providing harmonies.
When you first sang alone for an audience? When I was 16 I had to take voice lessons as part of my piano training. We did little concerts once a month and I was very excited to discover the world of words and being able to face my audience to see how involved they were. At the piano, I'd never been able to do this. Singing really opened up possibilities in music that suited my personality even better than playing the piano did.
The point at which you began to think of yourself as a musician? From the age of 5, the time of my first piano lesson, I knew that I was going to be a musician…
Ever think you would do anything else?
I tried a "day job" for 6 months when I first moved to Toronto, to help make ends meet. I didn't enjoy this very much. It was a great lesson in how happy I was to deal with the so-called risks of being a freelance musician.
If you could travel back through time and meet the young person in that childhood photo? What would you say?
Where do you get your confidence from and how do you maintain it? Whatever you do, keep that up! Also: your nose is just the right size for your face; boys will eventually realize that you aren't just another boy; and go easy on yourself when you realize that you've made a mistake. It's never the end of the world. Sometimes it's a really good way to find another path.
Suppose you were chatting with some nice person during a long wait whilst travelling, and after enthusiastically telling you all about their career in pest control or medical imaging, they asked about your work. What might you tell them?
Ha, ha! This actually happens all the time! I love to tell people that I'm a singer. Then they wonder what kind of singing, or what band I'm a part of… I use the term opera singer because it's understood by nearly everyone as someone who sings in a classical style. People are generally very interested and they want to know where I'm performing and when. I've had people actually come to concerts and bring their friends on a number of occasions. I've also had various offers for dates, and one man asked if I'd like to have an affair while I was in town. (I'd literally met him on the street as I was trying to find a rehearsal address in Ireland) Of course I said NO! Some want to hear me sing, which I generally don't do in public spaces, explaining that it's a bit loud. If they persist I have been known to ask if they'd like to demonstrate some of their work for me first. Most recently this was a miner on a plane. He laughed at the idea of showing me how to mine in the air. People are most often just excited to meet a person who does something unusual, and who breaks down the stereotype they are used to.
Other media
In a recent interviewfor Aboriginal People's Television Network / DigitalNations Marion talks about her journey from traditional First Nations music to the world of opera. She comments:
…if you ever been to a pot latch where the stories are told through dance and song…well I realized that opera is just kind an extension of that and that it makes it makes sense to me culturally. We have really strong voices, why not train them to use them in this way and to tell stories? It's the same …thing… to me.
They are human stories, of people who are suffering, who are experiencing joy of some sort. There are so many different characters to play. It's like "acting plus": because the music that's added to it informs you as to what kind of character you are. It's really exciting. I just totally fell in love with it…
Here's a link to that interview.
http://www.youtube.com/watch?v=qhoCVfnPkds
Coming up in Ontario…
• In addition to Aradia's Dublin Messiah (Dec 11), Marion Newman will sing Messiah with the Kingston Symphony and Kingston Choral Society (Dec 5) and again with the Cellar singers in Bracebridge (Dec 10).
• Feb 5 she will sing de Falla's Amor Brujo with the Peterborough Symphony, and Dvořák's Kate and the Devil, co-starring Giles Tomkins, with Opera In Concert (Mar 27).
WHO IS NOVEMBER'S CHILD?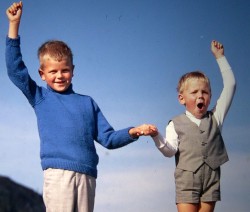 The little singer on the right was born in Geneva to German parents, and educated at St. Michael's Choir School while growing up in Oakville. All grown up now, he enjoys bicycling around Salzburg in the summertime with his own large family. But he'll be part of the magic this winter in Toronto.

Think you know who our mystery child is? Send your best guess to musicschildren@thewholenote.com.
Please provide your mailing address just in case your name is drawn! Winners will be selected by random draw among correct replies received by November 20, 2010.
No, not the Van Trapps, but when your parents love to sing, what could be more natural?
CONGRATULATIONS TO OUR OCTOBER WINNERS!
HERE'S WHAT THEY WON–
• Hallelujah! for Sharon Barclay and Catherine McWhinnie, who each win a pair of tickets to hear mezzo-soprano Marion Newman in The Dublin Messiah (Dec 11): Handel's greatest hit lovingly presented in its original version by Aradia Ensemble and Choir, joined by Norman Engel, trumpet, and soprano Tracy Smith Bessette, tenor Joseph Schnurr, bass Jason Nedecky. Directed by Kevin Mallon.
• Merrilea Shields wins a pair of tickets to hear Marion Newman with bass-baritone Giles Tomkins in The Devil and Kate (March 27, 2011), presented by Opera in Concert. Dvoˇrák's complex blend of fairy tale, folk idiom, darkness and light puts a complicated spin on the line "I could have danced all night…": sure to give wintery spirits a comic lift. operainconcert.com
• Joan Rosenfield: Aradia's 2010 recording of Polly: Arnold's
island paradise opera of 1777. Marion Newman sings the role of Jenny Diver; (NAXOS 8.660241).
• Eve Rachel McLeod: Aradia's 2008 recording of Vivaldi's Griselda: Marion Newman sings the title role. (NAXOS 8.660211-13).
• Jessica Lloyd: Aradia's 2006 recording of Handel's Rinaldo: Marion Newman sings the role of Goffredo (NAXOS 8.660165-67).