WHO IS SEPTEMBER'S CHILD?

"…it is her grace and presence…which commands attention"
This determined little person with the far-away gaze will someday fall in love at Tafel-musik concerts, have the talent, backbone, and the legs to take a job at the Moulin Rouge to help finance her more esoteric Paris studies. She continues to dance her way into the pages of music history, and onto the operatic stages of the world.
Think you know who our mystery child is? Send your best guess to musicschildren@thewholenote.com. Please provide your mailing address just in case your name is drawn! Winners will be selected by random draw among correct replies received by September 20, 2010.

July/August's Child Janina Fialkowska

The full interview will be online shortly. Stay Tuned.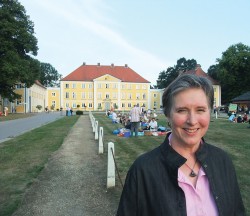 Still having a right royal time, Janina Fialkowska has been referred to as "Canada's First Lady of Chopin", but the gloves are off: this remarkable person is a fighter. Even at the time the photo was taken, she was practising about 5 hours a day. There was an hour before school. There were 2 hours in the middle of the day – an hour during lunch, and then running home again while her classmates did gym, sports, music or art. Another 2 hours at night. "You have to acquire that appetite for work at a very young age," she says, "so that it becomes a comforting old habit. Does it sound too strange to say this? That today my world could be coming to an end … maybe a flood … my house and everything lost … but if I have practised well in the morning, one part of me will still be happy."
Today Janina Fialkowska is a regular guest soloist with prestigious orchestras all over the world – famous for her interpretations of Chopin, Mozart and Liszt, chosen in 1990 to perform the world premiere of the recently discovered Liszt Third Piano Concerto with the Chicago Symphony. She has recorded all 3 Liszt concertos, the Paderewski and Moszkowski piano concertos, Chopin's concertos, sonatas, impromptus and etudes, and a CD devoted to the music of Karol Szymanowski. CBC's 1992 documentary The World of Janina Fialkowska was awarded a special Jury Prize at the 1992 San Francisco International Film Festival.
In 2002 her career was challenged by the discovery of a cancerous tumor in her left arm. The tumor was removed and after a rarely performed muscle-transfer procedure in 2003 she resumed her career, performing the Ravel and Prokofiev concertos for the left hand (which she transcribed for her right hand). She resumed her two-handed career in January 2004.
Janina Fialkowska was the founder of the award winning "Piano Six" music outreach project which later became "Piano Plus". She is an Officer of the Order of Canada.
What do you remember about the day in that childhood photo?
It was the Quebec Music Festival, and I had won the second grand prize of the festival. I believe that year I played Mozart's variations on "Ah vous dirai-je … Maman", which I happen to be playing right now and will be recording. (So, as my brother tells me, I have not made any progress at all!) I had also played a Mozart concerto. It was all terribly exciting and I was just very overwhelmed by her clothes … and her tiara … because they were sparkly … and because, well, she was the Queen Mum! And I was also very proud because of how everybody else who was being presented didn't know to curtsey. But I had been to the Sacred Heart Convent, and I knew how.
These were the most important things that went through my mind. Unfortunately the music played very little role. I liked music fine but it didn't alter the way I felt or move me. I was having great fun being good at playing the piano. There was quite a group of talented young pianists, and competitions. And I was 11 … at 11 you just go for it.
The Queen Mum was actually very sweet and nice – so very gracious, and such a pro.
If you could travel back through time, and meet face to face with the young person in that childhood photo, is there anything you would like to ask her?
I think … that I was really quite happy at the moment, and fearless. I wouldn't want to ask her anything that would disturb that. She was about to face one hell of a life, but at that moment everything was still okay. I know she was happy. I wouldn't want to say anything that would cause her to question anything.
Is there anything you'd like to be able to tell her?
Enjoy the music more … that playing the concerts is all about sharing music with other people and it's not always a terrible competition within oneself to do better…to do better…to do better. That's something I only learned in the last ten years and I wish I'd known it much sooner.
I would love to be able to give that child true faith in her small talent – to trust it and not always be questioning it. Yes, it's the questioning that probably makes you a good musician … but it can also destroy you…
And that little girl was in for a rough ride for quite a long time…
CONGRATULATIONS TO OUR JULY AND AUGUST WINNERS!
HERE'S WHAT THEY WON–
• Lorrie MacKinnon (Oakville), Alice Lee (Markham), Maureen Whitehead (Toronto), Jane Marvy (Toronto), Anthony Warren (Mississauga) each win a pair of tickets for Chopin on Period Piano (October 7-10): Tafelmusik's first-ever performances of music by the 19th-century composer, and Janina Fialkowska's Canadian period ensemble debut. She will play Chopin's Piano Concerto no. 1 in E minor (arranged for chamber ensemble) on a remarkable1848 Pleyel piano. The programme also includes Spohr's Nonet in F major, op.31.
• Anthony MacKinnon (Hamilton) and a friend will be guests of the Royal Ontario Museum (Tuesday October 5) to preview Fryderyk Chopin and the Romantic Piano including a talk and brief performance by Janina Fialkowska, and tickets to return when the exhibit opens to the public (Oct 9 –Mar 27). The exhibit features original scores in Chopin's hand, period arts and letters, costume plates, and an example of Chopin's instrument of choice – a Pleyel grand piano. (info: 416-586-5797)
• Mary Ingraham (Gabriola BC) wins Janina Fialkowska's Chopin Piano Concertos with the Vancouver Symphony Orchestra, Bramwell Tovey, conductor. This recording of the Piano Concertos no. 2 in F minor, op. 21; and no. 1 in E minor, op. 11 is brand-new: scheduled for public release October 26, 2010! ATMA (ACD22643)
• Joan Sayer (Scarborough), Paul Kay (Toronto), J Govindarajan (Waterloo) win Janina Fialkowska's double CD set, Etudes, Sonatas and Impromptus: Rarely Heard Recordings from 1997 and 1999, re-released by ATMA in May 2010 (ACD22554)
• Moira Anderson (Victoria BC), Janos Gardonyi (Toronto), Jay Hackney (Brooklin, ON) win Chopin Recital, released in Oct 2009, Janina Fialkowska's own beautiful Chopin bicentenary picks, including the Polonaises, Préludes, Valses, Nocturnes, Ballades, Mazurkas, and Scherzos. ATMA (ACD22597)
• Barbara Thompson (Toronto), John Hansen (New Minas NS), Larry Landis (Tulsa OK), win Piano Concertos 1 & 2, Janina's 2005 "comeback" recording with the Chamber Players of Canada. "Chopin in every likelihood performed his concertos at private salon concerts accompanied by a chamber ensemble…"
ATMA (ACD22291)