MAY'S CHILD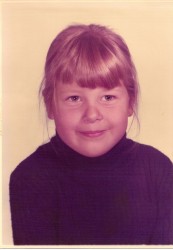 Does the shy smile tug your heart-strings?
Think you know who next May's mystery child is? Send your best guess to musicschildren@ thewholenote.com. Please provide your mailing address just in case your name is drawn!
Winners will be selected by random draw among correct replies received by May 20, 2010.
April's Child Krisztina Szabó
Wearing the pants (Idamante in Idomeneo with the COC in May), or playing the flirt, Hungarian-Canadian mezzo-soprano Krisztina Szabó steals hearts and scenes of all kinds, in a wide range of opera, recital, concert and chamber repertoire, both in Canada and internationally. She has a deep, rich voice and wonderful appetite for immersing herself in the emotional and psychological life of the roles she plays. These are cornerstones of a vigorous career reflecting a winning combination of musicianship and stagecraft, in a world that increasingly expects opera singers to be compelling actors as well as fabulous singers.

Born and raised in Mississauga, Ontario, Krisztina attended the University of Western Ontario (B. Mus.), Guildhall School of Music and Drama (Post Diploma) and was a member of the Canadian Opera Company's Ensemble Studio 1998-2001.

Earliest musical memory?
A musical in Grade 3 at Cashmere Avenue Public School for "The King's New Clothes". I was the Queen…" "the King is in his altogether, his altogether.. the very least the king has ever worn"…

Musicians in your family?
No official musicians, but both my parents sang in their youth in hometown operetta productions (in Écs, Hungary). I am told that they both had beautiful voices. At home when I was growing up my father refused to sing, saying that he had ruined his voice smoking in his youth. My mother would sing a bit around the house in a goofy bird-like voice just to be silly. My father is crazy about Hungarian operetta and we did listen to a fair bit of Hungarian music on LPs before LPs went out of style. He has written down the words (or at least the first lines of) as many Hungarian folk songs as he knows. When I was young we would visit Hungary: it was not uncommon for people to spontaneously burst into singing folk songs to which everyone seemed to know the words - in someone's home, a pub, whatever. It was pretty cool. Sadly, I couldn't join in because I didn't know the words!

First steps?
I am told that as a child I was always singing.... you couldn't keep me quiet! But that photo was taken well before I started any formal training. My first formal music training started with piano lessons at the age of 9, and that same year I also began my 6 year membership in the Toronto Children's Chorus.

First experiences singing alone?
I sang a solo at a Remembrance Day ceremony at school - just me, a capella, and I remember the hush of the rest of the student population as I sang and how many people came up to me afterward to tell me how much they liked my singing. I remember the rush and the pride I felt in that. The song was "Blowin' in the Wind".

And with others?
I joined the Toronto Children's Chorus and began making music with others - and music at such a high level! I remember feeling like I had come home - being with kids like me who loved to sing more than anything was such an amazing feeling. I still have a love for singing in a chorus -to be surrounded by the sound of many people's voices raised together in song... it's quite a powerful experience.

First instrument?
My first instrument was the piano - I completed my RCM Grade 10 piano before going to the University of Western Ontario. Applying for universities and thinking about what to major in, music was strangely not foremost in my mind. I think I debated pursuing optometry and possibly actuarial sciences (like my sister), when it occurred to me that the one thing I truly loved in life was music. Once that realization hit, the choice made itself. I did 2 years as a piano major before switching to voice to study with Darryl Edwards.

In 4th year at Western I was selected to be a soloist in the Duruflé Requiem for a concert with all choirs and orchestra. It was a very big deal, and I had only just recently decided to truly pursue singing as a career. I remember how nervous I was but how thrilling it was to stand up in front of all those people - my fellow musicians and the audience members alike all looking at and listening to me. It really hit me that no, I didn't want to be a music teacher (I was an Education major) and that "hey, I think I am meant to be a performer". It was a crazy notion really - I had no idea of what that entailed; how I was going to achieve that and what it would take. Maybe my ignorance was a blessing because I just threw myself down this unknown path about which I only knew for sure the fact that I was meant to be a singer.

The point at which you began to think of yourself as a musician?
There is always this differentiation in the business - are you a musician or are you a singer? I'd like to think I am both.. at least on my good days! But every time someone has asked me (and they still do occasionally!).. "Oh, you're an opera singer? But what is your day job?".. I count my blessings that I get to do something I love and only that.. and get paid to do it!

If you could travel back through time and meet face to face with the little person in that childhood photo is there anything you'd like to say?
I would tell her that she was one lucky little girl...that she was going to sing and play dress-up for the rest of her life!

Upcoming?
Idamante (Canadian Opera Company's Idomeneo, Dark Star Requiem with Tapestry New Opera Works, Beauty Dissolves in One Brief Hour with Queen of Puddings Music Theatre (details below) and recitals with Brett Polegato at Music Niagara (July 23, St. Mike's Church and Niagara on the Lake) and Waterside Summer Series (July 24, Amherst Island).

APRIL'S WINNERS & PRIZES: CONGRATULATIONS!
HERE'S WHAT THEY WON
• Hans de Groot: A pair of tickets to attend the May 12 performance of Mozart's Idomeneo, as guests of the Canadian Opera Company. Kristina Szabó will sing sing the role of Idamante, son of Idomeneo – the King of Troy. The role of Idamante was originally sung by a castrato when Idomeneo was first performed in 1781, two days after Mozart's 25th birthday. The COC cast also includes Paul Groves (Idomeneo), Isabel Bayrakdarian (Ilia) and Tamara Wilson (Elettra). Conductor: Harry Bicket, Director: François de Carpentries.
• Judith Haynal: A pair of tickets for Dark Star Requiem (June 12) during the opening weekend of the 2010 Luminato Festival. This  world premiere production from Tapestry new opera works & Luminato, features the Gryphon Trio & the Elmer Iseler Singers. A dramatic oratorio from poet Jill Battson and composer Andrew Staniland, Dark Star Requiem explores "the 25-year history of the AIDS pandemic with astonishing power and hope" and features Neema Bickersteth (soprano), Krisztina Szabó (mezzo soprano), Peter McGillivray (baritone) and Marcus Nance (bass-baritone).
• Deirdre Warren: A pair of tickets for Beauty Disolves in a Brief Hour – A Triptych (July 29, 30 or 31st), as guests of Queen of Puddings Music Theatre Company. Chamber operas on the eternal theme of love are sung in Mandarin, English and medieval French, commissioned from three Canadian composers: Fuhong Shi, John Rea and Pierre Klanac presented in a unified fully staged music-theatre/opera work. Xin Wang (soprano), Krisztina Szabó (mezzo-soprano), John Lettieri (accordion) and stage director Ruth Madoc-Jones team up with Queen of Puddings' co-artistic directors, Dáirine Ní Mheadhra and John Hess. At the Tank House (Distillery Historic District) in association with Young Centre for the Performing Arts.