Wearing the pants (upcoming at the COC in May), or playing the flirt, this Hungarian-Canadian steals hearts and scenes of all kinds, both here and internationally. Renowned in rehearsal for hopping up and down when things go either very well or very long, she is also known for her taste in leather pants and dance movies.
Think you know who April's mystery child is? Send your best guess to musicschildren@thewholenote.com. Please provide your mailing address just in case your name is drawn!
Winners will be selected by random draw among correct replies received by April 20 2010.
March's Child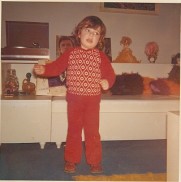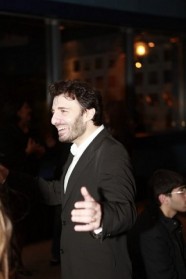 March's child was Juno award-winning and Grammy-nominated Canadian pianist and composer Serouj Kradjian.
Serouj Kradjian has appeared with the Vancouver, Edmonton, Madrid and Göttingen Symphonies, the Russian National Orchestra, the Armenian Philharmonic and the Thailand Philharmonic. Solo and chamber recitals have taken him all over Canada and the USA, and a list of international concert and festival venues that read like a world tour. Works composed or arranged by Serouj Kradjian have been performed by I Musici Montreal, the Vancouver Symphony and the Elmer Iseler Singers.
Serouj became co-artistic director and pianist with the AMICI Chamber ensemble with the 2008-2009 season. His busy life as a chamber musician, solo pianist, composer arranged and conductor continues to reflect his extraordinary energy and passion for many kinds of music.
Born in Beirut, Lebanon, Serouj earned a scholarship to study in Vienna at the age of 14, but instead moved to Canada with his family, attending Francis Libermann Catholic High School in Scarborough. While still a teenager he met soprano Isabel Bayrakdarian, who would later become his wife, at church: she sang in the choir where he played the organ.
Young Serouj studied with Marietta Orlov, first at the Royal Conservatory of Music, then at the University of Toronto's Faculty of Music, where he earned a B.A. in Piano Performance in 1994, followed by studies with Einar Steen-Nökleberg at the Hochschule für Musik und Theater in Hanover.
Serouj Kradjian lives in Toronto with his wife, soprano Isabel Bayrakdarian and their son Ari.
Your earliest musical memory?
My earliest musical memory is my father ceremoniously taking the vinyl disc out of its sleeve, putting it on the disc player, the sound of the needle falling and suddenly, music filling the room. My excitement related to this process had no boundaries. It was usually the orchestral arrangements of Liszt's Hungarian Rhapsodies or fiery Russian folksongs performed by the Red Army Chorus. The feeling was always ecstatic! Also, as a two-year-old I would be given the first name of a family member or a guest, and I would compose/sing a melody based on the name in their honor. Needless to say, my improvisation would be the "main event" of people's visits to our house. My parents still keep cassette tapes of my improvisations.
Musicians in your childhood family?
There were no professional musicians, but singing together at home was a must and not limited to family gatherings.
Where did hearing live and recorded music fit into your life as a child? As a young teen?
Because of the civil war situation in my country of birth, there were very few or no opportunities to experience live concerts, but thankfully our house was filled with recorded music. In Lebanon when a political, religious or literary personality died, school was cancelled: they would cease programming on national TV and put on classical music concerts on all day long. As bizarre as this may sound I would actually anxiously wait and fully enjoy lugubrious days like that.
First instrument?
My instrument has always been the piano and I started when I was five.
Do you remember a first performance?
I was six, a year or so after starting my piano studies. I entered the National Competition for Young Performers, which was televised. I won it, playing the Hungarian Dance No. 5 by Johannes Brahms.
Do you remember the point at which you began to think of yourself as a musician?
After studying at the RCM and graduating from U of T , I moved to Europe in my early 20s. My experience there was so inspiring that it put an end to any doubts I had about being a musician and carving out my own distinct path as a musician.
Do you remember ever thinking you would do anything else? if so, what were those things?
Working as a diplomat has always attracted me. Journalism is another love.
Anything you'd like to say to the young person in that childhood photo?
That's a funky conductor's outfit you have there!