February's Child was…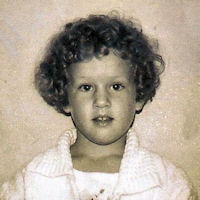 …mezzo-soprano Laura Pudwell, who grew up in Fort Erie, went to U. of T. for Honours English at Trinity College, and started singing professionally in 1986.
Laura is a singer of extraordinary versatility, whose musical appetites range from early to contemporary. Both in Canada and internationally she is at home onstage in opera, oratorios, intimate ensemble collaborations, and recitals. Laura appears regularly with The Toronto Consort often as a guest artist with Opera Atelier, Tafelmusik, the Kitchener-Waterloo Symphony, the Toronto Chamber Choir, Chorus Niagara and the Menno Singers, to name a few of her more local collaborations. She lives in Kitchener-Waterloo with her husband and two children.
People don't forget working with Laura Pudwell and this goes back a long way. Director Jennifer Parr remembers her die-hard work ethic from Trinity days: "Laura broke her ankle and ended up in a cast during rehearsals of Camelot at Trinity College, and so played "the old lady" of the court, so that she could legitimately have a cane and hobble around,  as well as singing Nimue's song from offstage.."
Laura Pudwell is certainly pretty serious about what she does. Interestingly, she claims to be puzzled that Opera Atelier, for example, usually casts her as a comic character: " Don't know why, since no one here at home finds me very funny ...!" Under the deadpan is a complex sense of humour that informs her work both onstage and off. Last month's cryptic clues reflected examples of this.
In the OA Magic Flute, directed to enter the stage laughing and to laugh until the entire audience was laughing helplessly for absolutely no reason at all, she then abruptly stopped and stared back at them, eliciting further uproarious laughter: a sample of her particular brand of drollery and timing. It takes a particular kind of self-possession for a female singer to happily sport a  beard (as the Sorceress in Dido and Aeneas), but Laura carried that off gleefully, and took the audience with her.
In rehearsal? "In unaccompanied ensembles, I'm usually known as the pitch bitch, but you can't print that, can you?  I'll stop rehearsals and tune chords until they lock in."
And backstage? "…I cannot stand being called for an entrance, and will always arrive several minutes before cue time and say Miss Pudwell, standing by!"
Your earliest musical memory? Music has been such a huge part of my life, for so long, I can't remember any firsts.  But I do know that I always woke up to music.  Either my mother would be playing the piano, or my father would have one of his jazz records playing.
Other musicians in your family? My mother is a church organist and choir director.  My entire family, both immediate and extended, are all musical, with lovely voices.
Music in your life at the time? Of course, always music at church.  Hymns remain some of my favourite music.  But mostly music is fellowship.  It's what you do when you get together with family. You hang out around the piano and sing songs and laugh.
Making music? I apparently sang before I could talk.  You can just imagine the sound of a little girl singing with sand in her mouth … yep, I was a sandbox kind of kid.  Apart from that, I can certainly remember that on long car trips we sang in four part harmony .. as soon as my little brother could manage.  Which would have been when he was four and I was about six.  He sang the treble, I sang the alto (I never had a very high voice) my mother would sing the tenor and my father would sing the bass.  We pitched everything pretty high, because my father is actually a tenor.
Your first instrument? Performance? My first instrument was the piano, which I learned to play from my mother. I played sousaphone and bassoon in high school. I've always loved a good bass line …  As for an audience, do you mean apart from my brother, captive in his high chair?  Poor little guy ..I suspect my first solos would have been at church.  The first one I can remember actually preparing for was the Christmas portion of the Messiah in high school. I had to sing "O Thou That Tellest."  As I recall, it went just fine.
When did you first  think of yourself as a musician? Hm…I've been putting that one off, sort of like Peter Pan …  I would say that accepting my place as a musician is  a fairly recent phenomenon for me.
Ever think you'd do anything else? I don't remember ever thinking of actually being anything when I grew up. But if you could earn a living reading, that would have been my choice. Singing wasn't even on the radar as an option until my mid-twenties. Singing was something you did for fun, and at church.  Not something you could earn a living doing.
Events or milestones that shaped the directions your musical life has taken? In my first year of university, going to Trinity College at U. of T, during frosh week, I discovered there was a chapel choir and thought I would try out for it. During the open rehearsal that served as the audition, the director, Robert Hunter Bell, kept staring at me with a strange look on his face. I figured I should beat a hasty retreat before he started yelling at me. I was quite surprised to find that he actually wanted me to stay, and that he would like me to sing in his church choir as well, at St. Mary Magdalene. I learned a lot about pitch and rhythm singing all that a cappella music with him.
Christmas of 1985 I was asked to do my first full Messiah, in Toronto. I was working full time for the Inter-Church Committee for Refugees, through the Canadian Council of churches.  My boss and her husband happened to select my Messiah for that year's festive listening. After the performance, they came and found me and offered the upstairs of their huge house in the beaches on the condition that I quit working as a secretary and see where my singing would take me. I never would have thought of that myself.  At about that same time, the Toronto Consort advertised for a new singer.  On something of a whim, I went and auditioned.  And that was that.
Anything you'd like to say to the child in that photo? Stop fighting with your mother during piano lessons. And keep playing instead of quitting to spite her!!
Upcoming in Southern Ontario: Opera Atelier (April); Bach B Minor Mass in Kitchener with Howard Dyck on Good Friday (Grand Philharmonic Choir, April 2); Toronto Consort (May 7,8); and  Chorus Niagara's Gilbert and Sullivan show with Bob Cooper (May 15 and 16).


MARCH's Child….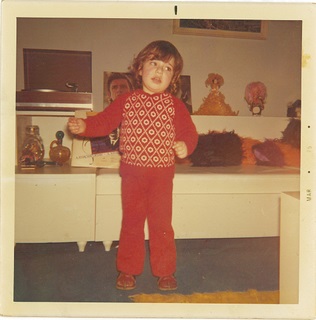 Already loving music: conducting and singing at the same time, and only two years old! Today he's a busy pianist, composer, arranger, and chamber musician and married to one of Canada's most beloved sopranos.
Think you know who March's mystery child is? Send your best guess to musicschildren@thewholenote.com. Please provide your mailing address just in case your name is drawn!
Winners will be selected by random draw among correct replies received by March 20 2010.
FEBRUARY's Winners and Prizes

CONGRATULATIONS TO
Julie Goldstein and a friend will be the guests of Opera Atelier for the April 27 performance of The Marriage of Figaro (April 24-May 1). This is a brand-new production of Mozart's commedia dell'arte inspired opera, featuring Olivier Laquerre in his role debut as the incorrigible Figaro, with baritone Phillip Addis and mezzo soprano Wallis Giunta, and OA favourites Carla Huhtanen, Peggy Kriha Dye, Laura Pudwell, Curtis Sullivan, Artists of the Atelier Ballet, and the Tafelmusik Orchestra under the baton of conductor  David Fallis.
Louie Calleja and a companion with be guests of the Toronto Consort on Saturday May 8th for Lutefest (May 7&8), for "the poetry of the lute" with Consort regulars, including Laura Pudwell, and guests from two other lute traditions: Bassam Bishara, oud (the Middle Eastern lute, and the world's original lute), and Wen Zhao, pipa ( the Chinese lute).
Paulette Popp will receive a copy of Toronto Consort's recording The Queen: Music for Elizabeth.(MARQUIS 387). Gloriana would have had these 22 tracks for mixed consort and singers on her iPod, including Laura Pudwell's version of "Essex Last Goodnight", like a Patsy Cline of the 17th century!
Music's Children gratefully acknowledges Elaine Pudwell, Jennifer Parr, Karen Lorenowicz, Jane Harbury, Opera Atelier, and The Toronto Consort.