photo: circa 1949, in  Watonga Oklahoma.
The  gaze already says  "Subdivide and conquer!"
"Knock, knock."
"Who's there?"
"Knock, knock."
"Who's there?"
"Knock, knock."
"Who's there?"
"Knock, knock."
"Who's there?"
Think you know who MARCH's child is?
Send your best guess to musicschildren@thewholenote.com
(be sure to send us your mailing address, just in case your name is drawn!)
Winners will be selected by random draw among correct replies received by March 15 2009.
FEBRUARY's CHILD.....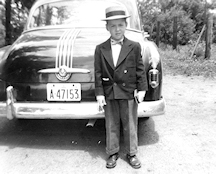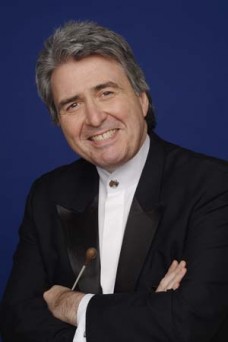 ...was Kerry Stratton:
Conductor and Music Director of the Toronto Philharmonia; founder and conductor of the Grand Salon Orchestra; Music Director (since 1992) for the Huntsville Festival of the Arts, Ontario. Through his company, International Touring Productions, he has created Canadian tours for the George Solti Orchestra, Budapest; the Vienna Concert-Verein, Czech Philharmonic Chamber Orchestra and Orchestra Internazionale d'Italia. www.kerrystratton.com
Being allowed to "play" on the piano at my aunt's house. 2 or 3 years old. "Play softly, your cousin is sleeping."
Other musicians in your family?
Not really, but everybody sang, or so it seemed.
Outside of the family, it would have been what I now realize was a highly reliable public school system which encouraged children's choirs. There were few concerts in our little town but the Community Concerts Association brought really first rate artists including a performance one memorable year by the Prague Chamber Orchestra. I was enchanted!
What was your first instrument? When did you start conducting?
My first instrument was the violin. I started conducting in my last year of high school: my music teacher let me conduct the band for assemblies.
Did you ever think you would do anything else?
In my childhood, I wondered if there was any work available leading cavalry charges or in piracy.
In my teens I toyed with teaching history.
Starting to think of yourself as a musician?
When I moved away from home I met other young musicians who wanted this as much as I did. Suddenly, I was no longer alone in my love of this music. My first experience away from home to study music was at the Congress of Strings in Ohio in 1970, the summer of Kent State. In the autumn of that same year  I left for McGill just in time for the Quebec crisis.
If you could travel back through time to the young person in that childhood photo (or maybe just a little older), what might you say?
Be patient. You will leave this place, you will travel and you will meet so many wonderful people. I would also tell him that he would get over his crush on Hayley Mills.
Kerry Stratton conducts Toronto Philharmonia (March 5, April 2, May 7); the Grand Salon Orchestra who launch a "Palm Court style" Concert Party series at The Old Mill Inn (April 15th); and a Canadian tour with Slovak Sinfonietta April 29-May 9, 2010
Vivaldi Four Seasons Czech Philharmonic Chamber Orchestra, International Music Festival, Cesky Krumlov, recorded by Auviex; Brahms Violin Concerto and Double Concerto with Nuremberg Symphony, soloists: Daniel Weiss, cello and Jung Yoon Yang, violin.
CONGRATULATIONS TO OUR WINNERS
Bonnie Craig: two complimentary cover charges to the very first Concert Party at The Old Mill Inn (Wed. April 15), featuring the Grand Salon Orchestra (concert begins at 8pm, dinner at 6. reservations are suggested)
Lorna Rogers: two tickets for Toronto Philharmonia's Keyboard Fireworks (Thurs. Apr. 2, 8 pm) with Simon Docking, piano: Chan, Revelation; Chabrier Pastoral Suite; Prokofiev Piano Concerto No 3;
Judith Haynal will receive Hovhaness: Celestial Fantasy (DORIAN -93166) featuring the Slovak Radio Symphony Orchestra Bratislava, conducted by Kerry Stratton. Hovhaness' music evokes spirituality, the mystery and grandeur of nature, and the power of faith.
Music's Children gratefully acknowledges Linda Litwack, The Old Mill Inn and Spa, The Toronto Philharmonia, and people who sing in the car.

DECEMBER's CHILD ...
Denise Djokic



Left: Mom…where's the endpin on this thing? Right: Hmmm, this one doesn't seem to have an endpin either! ("Dodger" front right, belongs to Dan McDonough - cellist of the Jupiter Quartet)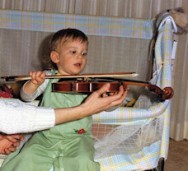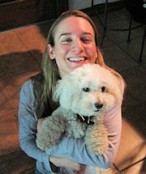 Halifax-born cellist Denise Djokic has appeared with orchestras across the continent.
As a recitalist, she performs with her long-time musical partner, pianist David Jalbert. They also tour with Piano Plus, an organization which brings live performances to rural communities across Canada. Denise's love of chamber music brings her to many festivals. A BRAVO! TV documentary entitled "Seven Days, Seven Nights" follows Denise through a week-long recital tour.
Denise's self-titled debut recording ( Sony Classical) received a 2002 East Coast Music Award. Her next recording, "Folklore", (Allegro/Endeavor) received a JUNO nomination as well as an ECMA, and hit the Billboard Chart's top 15 Classical CD's. "Folklore" was also featured on NPR's "All Things Considered".
Denise has been speaker at IdeaCity in Toronto and keynote speaker at the Queen's Women In Leadership Conference. She was named by MacLean's Magazine as one of the top "25 Canadians who are Changing our World", and by ELLE Magazine as one of "Canada's Most Powerful Women".


Earliest musical memory?
I was lucky to be born into a musical family; my mother and father play piano and violin. In fact, I probably heard them rehearsing before I was even born! There was always music in our house..my younger brother is a violinist, and I have an uncle and aunt who are both cellists.


At the time the photograph was taken?
Hearing music around me was very natural. My parents tell me that I liked to dance to music when I was little. (I still do!) Later in my childhood, I sat next to my brother in formal concerts. We had to behave quietly during the concerts, but we would always find ourselves trying not to laugh! It took a while for us to get used to this, because music-making was more casual at home.


First experiences of making music?
My parents say that I liked singing fragments of tunes, or finishing tunes that were left unfinished. I had a toy xylophone that I loved. At 4 I started violin, and played with a Suzuki group - my first experience making music with others. I remember feeling a bit overwhelmed, being in the same room with so many other musicians! I studied piano for a while too. But at 9 when I started playing the cello I knew it was my voice.
My first cello was a little cello that my uncle used when he first started. I think it's still sitting in my grandparents' closet, waiting for the next generation. I moved on to a full size cello that belonged to my uncle. I feel very fortunate to have had such nice instruments to play when I was beginning.


The point at which you began to think of yourself as a musician?
For sure that feeling was always there. Surrounded by musicians all the time, I thought of myself as part of a big family. Being a musician never seemed like a profession to me, but rather a way of life.


Did you ever think you would do anything else?
I've always really loved animals, and thought about work with animals.I was also fascinated with genetics, and was a competitive swimmer. While I never considered pursuing any of those things as seriously as the cello - the cello was really my calling - all of those things remain very close to me as interests.


If you could travel back through time and meet face to face with the young person in that childhood photo (or maybe just a little older), is there anything you would like to say to her?
I might have told her to stick with the violin so that I wouldn't have to pay for an extra seat every time I travel with my cello! Maybe I would have told myself to be more patient, or to not be so serious, because I used to get frustrated very easily if I couldn't tackle something right away.


FEBRUARY's Child …


Photo: circa 1958, near Belleville Ontario. Don't be fooled by the Grand Salon gravitas! This young man would later be known as"extroverted": Toronto-based with a life in international touring.

Mother says it's all about how you conduct yourself. If I'm really good maybe she'll let me drive! Hmm … Montreal …Vienna …Prague...


Think you know who FEBRUARY's child is?
Send your best guess to musicschildren@ thewholenote.com (Be sure to send us your mailing address, just in case your name is drawn!)


Winners will be selected by random draw among correct replies received by February 15, 2009.


!!Tickets & Recordings!!
CONGRATULATIONS TO OUR WINNERS

Phoebe Cleverly and Shirley MacDougall each win a pair of tickets to hear Sinfonia Toronto's Cellissimo! (March 6, at Grace Church on-the-Hill) The programme includes Slimacek, Shostakovitch, and a performance of the Saint-Saens' Cello Concerto #1. Denise Djokic is the soloist.
Erika Nielsen and Peggy Walt each win a copy of Denise's brand new recording Benjamin Britten THREE SUITES FOR CELLO (ATMA 22524). "…a project that I've always wanted to dig in to, and it feels nice to have finally recorded it." Britten wrote his Three Suites for Cello between 1964 and 1971 for his friend, the legendary cellist Mstislav Rostropovich.


Music's Children gratefully acknowledges Margaret Chasins, Sinfonia Toronto, Luisa Trisi, Richard Paul, Linda Litwack, the good folk at ATMA, and the moms of Music's Children everywhere.


Of the remaining entries, we drew four from among those who correctly identified 10 out of 11 photos. We'll be contacting them and announcing their prizes in the March issue.