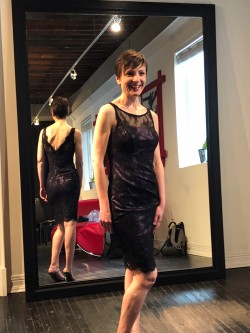 Andrea Ludwig was born and raised in Regina SK. Her mother was a nurse and her father was a German Lutheran pastor. In her childhood home were three brothers and two sisters who each played an instrument and they all sang. Their mother entered them in the Kiwanis Music Festival as a small ensemble "kind of like the Von Trapps." After high school Ludwig moved to Toronto with the intent of working for a year or two and then going to U of T for piano but entered the vocal performance program three years later.
Today the JUNO-nominated mezzo-soprano performs in concert with a wide range of presenters and has sung numerous roles with the Canadian Opera Company, Edmonton Opera, Philadelphia Opera, San Francisco Opera and the Festival d'Aix-en-Provence. Recently The Landlady in The Overcoat (Canstage/Tapestry) she's currently singing the same role at Vancouver Opera. Upcoming recordings include Galicians 2 with the Ukrainian Art Song Project and Ana Sokolovićs Sirens for the ATMA label (summer 2018).
Andrea Ludwig lives in Toronto's Oakwood Village, with her 12-year-old son Lucas, who is in Grade 7 and sings with the Canadian Children's Opera Company. Beyond music, some of her other pleasures/pastimes include playing the piano, reading, exercising and binge-watching Netflix.
Suppose a friendly fellow asks what you do for a living? This is how it usually goes … Well, I'm an opera/classical singer. They are often really interested but not always understanding how I could possibly make a living doing that. I tell them that I have many contracts throughout the year and that I also am an accompanist for school choirs and a vocal coach.
Do you remember that childhood photo being taken? I do! I loved to dance to records in my living room. My uncle, Gerald Langner, who used to be the head of choral music at the University of Saskatchewan, happened to be visiting that day and saw how much fun I was having. So I danced to his playing the guitar! Feeling carefree, joyful, content.
Were there working musicians in your childhood family? My uncle [in the photo] was a choir director – first at LCBI, a private school in Outlook SK, and then head of music at U of S. I have a cousin in Germany who is a cellist with an orchestra.
Your earliest memories of hearing music? My mom told me that as a baby I would bop my head in precise rhythm to whatever music was playing. It seems as though my childhood centred around music at home, at school and at church. I think we listened to CBC Radio a fair amount but primarily it was through records at home and of course singing in choirs at church and in high school.
First recollection of making music? Playing with my toys and making up songs as the toys went along on their toy business. I also loved sitting at the piano and dreaming about taking lessons. I made my singing debut at age two on audio cassette, singing a German Christmas carol, with my siblings humming in harmony in the background. My Mom taught me basic little songs on the piano and we would play duets together. This was before I started formal lessons.
I started piano lessons at the age of four.
A first music teacher? My piano teacher's name was Miss Stinson, who also happened to be in the same piano classes with Stuart Hamilton (while they were growing up in Regina). She used to "threaten to sit on me" if I ever forgot my books or if my fingernails were too long! Good memories of her were playing student/teacher duets at Kiwanis and always winning First Place.
When did you first perform for an audience? I started competing at Kiwanis when I was eight-years-old and then started accompanying choirs at church and school when I was 15.
Experiences that helped to form your appetite for staged works? Definitely … going on tours with my high school choir, both as a singer and an accompanist. When I was in Grade 10, I played piano in the band for the school's production of Fiddler on the Roof, and I remember how thrilling it was to be a part of that.
When did you begin to think of music as a career? I was still in high school. I always wanted to be a concert pianist. I loved to sing as well but at the time, piano was my thing. Quite honestly, I thought being a pianist was the be all end all. I never dreamt that one day my vocation would be as a singer. At 19 I started voice lessons and a spark was started.
Does teaching/mentoring fit into your current musical life? Absolutely. I really enjoy working with children's choirs. I currently play for and mentor a few choirs at a public school in the city. Full disclosure: it's how I met my partner, who is the music teacher there. His former accompanist quit last summer and a friend recommended me to him. I am also starting to do more vocal coaching with people of all ages.
Where does music fit into your life at home?. My home is my workspace so making music and hearing music is ever present, both for work and pleasure. Both of my kids have been, and are, involved in music. My 20-year-old daughter used to sing with the CCOC and at our church with Eleanor Daley. She also enjoys composing music on her guitar. My son sings with the CCOC and has the lead role in the world premiere of The Monkiest King, written by Alice Ping Ho. He also plays the trumpet in his school band.
What would you say to parents hoping their young children will grow up to love and make music? Nurture their love for music. Be encouraging and supportive. Know that music is a universal language, that everything we do in life is interconnected and music always ties into every facet of our lives. Whether they decide to be a performer or a music educator, know that it is a worthy vocation.
If you were all ALONE (in the shower, driving) and could sing along to ANY recording, what would you choose? Oh boy that's a tough one. I would say that I would sing along like a crazy woman to anything by Heart or Billy Joel. If it's classical, Susan Graham singing the songs of Reynaldo Hahn and pretty much anything with Lorraine Hunt-Lieberson.
UPCOMING?
Andrea Ludwig will be the soprano soloist for Handel's Israel in Egypt with the Bach Elgar Choir May 26 and 27
Then she'll be performing in The Overcoat with Vancouver Opera.
Ukrainian Art Song Project's Spring Salon Concert is May 24 at Gallery 345: "From the Roots of Ukrainian Art Song to a Galician Experience." – work by six composers sung by Andrea Ludwig, Laura McAlpine and Andrew Skitho, with Robert Kortgaard at the piano.
Then she'll be singing with Soundstreams on June 6 and 7 - Little Match Girl Passion by David Lang and I Think We Are Angels by James Rolfe.
Ludwig's most recent recording is Schubert Orchestrations with Symphony Nova Scotia under the direction of Bernhard Gueller, which recently won Best Classical Recording at the Nova Scotia Music Awards and is up for Best Classical at East Coast Music Awards.
Her upcoming release is Galicians 2 with the Ukrainian Art Song Project (for August 2018). This summer she will record Ana Sokolovićs Sirens for the ATMA label.