His ensembles and projects include: The Flying Bulgars, The David Buchbinder Quartet, Nomadica, Odessa/ Havana, and KUNÉ – Canada's Global Orchestra. He is the creator of multidisciplinary spectacles "The Ward", "Shurum Burum Jazz Circus", "Tumbling Into Light" and "Andalusia." He is also a co-founder of Toronto's Ashkenaz Festival, and founder and director of Diasporic Genius.
UPCOMING:
March 17: David Buchbinder Quartet at Home Smith Bar, The Old Mill, Toronto;
March 23: Odessa/Havana at The Jazz Room, Waterloo;
April 7: Odessa/Havana in a double bill at Koerner Hall, Toronto – a CD release for KUNÉ – Canada's Global Orchestra – a project of the Royal Conservatory. Buchbinder is the artistic director;
April 17: "5 David Buchbinder Ensembles in 5 Nights" at The Stone, The New School, New York City;
June 21 & 22 "The Ward Cabaret" at a major culture festival, details and ticket release date April 10.
AND JUST RELEASED: a third CD for David Buchbinder's Odessa/Havana – Conversations of the Birds – available at Soundscapes on College St. or contact info@odessahavana.com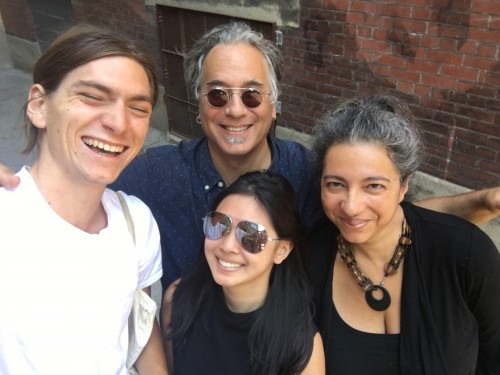 DAVID BUCHBINDER (in his own words) lives in Toronto's Trinity-Bellwoods neighbourhood, with his wife – teacher, musician and dancer Roula Said – their daughter Laila, and their communicative cat Calliope. In their basement apartment lives a very busy costume designer. Besides creating and playing music, producing shows and recordings for his own projects and a growing number of unique artists, not to mention his involvement with story as an engine of creative transformation and connection across boundaries, David is a student of art, cities and the power of direct experience. He loves to cook and garden (when he has time), and after many years as a baseball fan, he's recently fallen in love with the Raptors.
Born in Kansas City, Missouri, Buchbinder grew up in St. Louis and then Toronto. His father was a social worker, community organizer, and then a university professor. His mother worked at home, went back to university to finish her degree, then worked in social services when the family moved to Toronto in 1969. Buchbinder's father had an amateur folk-singing group that played at meetings, community events, even at a few demonstrations. "He played and sang in a rough but committed way." David's brother Amnon who played bassoon for a few years, is a film director and writer who teaches screenwriting at York University. After attending "a weird alternative public school called M.A.G.U. (I kid you not)" young David flew to London and spent the next few months hitchhiking alone around Europe, then lived on a kibbutz for eight months.
About your childhood photo … I have total recall of the whole long weekend we were up there, including the photo session (done by one of the fathers). Seeing this photo just connects me to the strength of that group and the power of having a crew of boys to run with at that age [eight]. This particular group overlapped with another "gang" that had free reign throughout our St. Louis neighbourhood, where we came and went with very little parental oversight. It was a great way to grow up.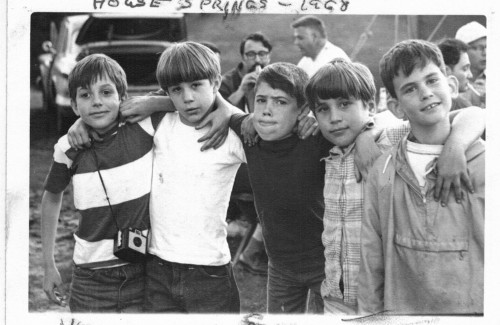 Your earliest memories of hearing music? Likely recorded music, with biggest impact first from American folk music (Woody Guthrie, Pete Seeger), and then 60s rock (Beatles, Stones, Frank Zappa). By the time I was seven I was attending events, concerts and 60s-style Happenings where I was always entranced by the band and the musicians; some classical concerts (St; Louis Symphony); my father singing and playing guitar and my mother singing, protest songs (the organizers of the St. Louis SDS (Students for a Democratic Society) lived in our house. We went to synagogue intermittently and we sang Jewish Sabbath and holiday songs regularly.
First experiences making music? Beside lots of singing in various contexts, I remember playing music at some early piano lessons (didn't last long, I was kind of scared of the very old teacher and her house smelled funny). My public school teacher connected me with my first trumpet teacher because I got into playing right away, in Grade 3. He was co-principal trombone in the St. Louis Symphony and I wish I could remember his name because he was an amazing teacher. He was warm, effective, and he encouraged me to write some music.
The roots of your appetite for jazz and world music? All the experiences of hearing live music along the way: I was always entranced by it, regardless of the genre. When we moved to Toronto I stopped playing trumpet until I was almost 20 – during that time I got pulled into the folk/country blues world. Those source recordings of the amazing African American musicians who were the pioneers of the music had a profound impact on me. In my mid-teens I got into jazz, with the bridge from the blues being Thelonious Monk, Charles Mingus and Rahsaan Roland Kirk. Their music was a revelation because I could grasp what they were communicating, in sound and story both. This all led me to many concerts (very underage) at the Colonial Tavern on Yonge St.: Mingus, Yusef Lateef, Dizzy and many others. World music came much later.
Do you remember when you began to think of yourself as a career musician? I was kind of disdainful of the idea of career and striving towards that, since my orientation was direct experience of life in situations where one could test oneself (I started hitchhiking to New York when I was 15), looking for adventure.
Did you ever think you'd do something else? The only other idea I had was live fast and die young.
Does teaching/mentoring fit into your current musical life? Not in the usual way,, for the most part. In the last seven years I have done a bunch of leading and mentoring of non-artists from diverse backgrounds using a suite of creativity tools I developed and adapted. Recently I've done some workshops with elite musicians introducing new creative concepts for their own development.
Where does making / hearing music fit into your current personal and family life at home?
My wife and I have a band together, and have done many gigs together. Our daughter has been fairly resistant to doing music together, though she's quite talented and plays some instruments. Sometimes we go to concerts together.
What would you say to parents hoping their young children will grow up to love and make music?
Mostly to just expose them to it in many different ways, If they pick it up or get interested, get them some instruction and be fairly committed to keeping them going with it. Definitely do your best to make it part of their everyday life.
If you were all ALONE (in the shower, driving) and could sing along with complete abandon to ANY recording, what would you choose? But it's All Over Now by Dr. John and the Dirty Dozen Brass Band. Great road trip music.