Born in Truro, Nova Scotia, soprano Jane Archibald's 2017/18 season includes three productions with the Canadian Opera Company; also Carmina Burana with the Joven Orquesta Nacional d'Espana in Madrid, and Rinaldo with the English Concert. Recent engagements have taken her to major opera houses in Zurich, Paris, Milan, Berlin, London and the Metropolitan Opera.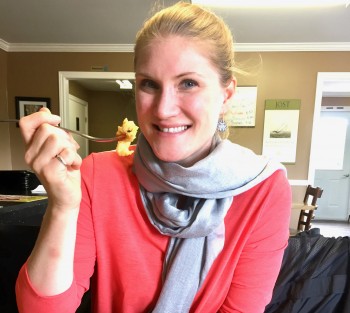 Jane Archibald lives in Halifax, Nova Scotia, with her husband (tenor Kurt Streit), her children and multiple dust-bunnies. Beyond music, some of her other hobbies include reading, bargain hunting, baking, sleeping-in and DIY projects.
Suppose you're chatting with a friendly fellow traveller who asks what you do for a living? I usually try to avoid actually talking about it at all costs! I can be a bit of an introvert and I like to go to my zen place when travelling. I try to give a friendly smile, a bit of small talk and then get immersed in a book! :-) Sorry, fellow travellers, if I've offended over the years!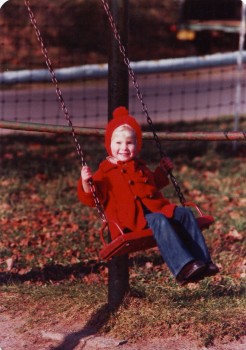 About your childhood photo …? I don't remember that day – I believe I would have only been about two and a-half in this pic, but I remember many days like it in my early childhood. We often went to Victoria Park -- a beautiful park gifted to the town of Truro, in NS, with trails, waterfalls, a playground and pool. It makes me think of the smell of fall, the rustle of leaves and all the beautiful colours we get at that time of year in Nova Scotia. And being on a swing is the quintessential carefree childhood experience.
Where did you attend high school? Cobequid Educational Centre, Truro NS
And right after high school? I did a B. Mus in voice performance at Wilfrid Laurier University.
What's your earliest childhood memory of music? I imagine it must have been hearing singing, as all parents sing to their babies, but I don't recall a specific moment. My father played the piano daily, and I imagine I heard that even in utero!
What did your parents do? My father was a physician (GP) and my mother worked for the government before (Consumer Affairs) and after (Dept. of Agriculture) we were born, and was a homemaker for 15 years during our childhood.
Who lived with you in your childhood home? Me, my mother and father, and my younger sister and brother, plus several cats (all named Smokey -- we were really original!)
Musicians in your family? My father probably should have been a musician – he was a talented amateur jazz pianist and it gave him great joy to play. My younger brother and sister both played in the school band. My mother doesn't consider herself musical, but she is very artistic and creative.
Where did hearing music generally fit into your life as a child? Daily piano music from my father. Not much radio at home. I know my parents had records, and tapes, but I don't have a strong memory of them being played regularly. I did so much performing as a child that I don't think there was much time left to attend concerts as an audience member, other than listening to other people in the same events in which I was singing.
Your first recollection of yourself making music? Singing to myself! I took piano lessons and group cello lessons for a few years and played trumpet in the school band. I never progressed beyond a beginner level of playing in any of those instruments. My favourite of the three was trumpet!
A first music teacher? My first music teacher was my school music teacher, Mary Shephard. She was intense and I adored her classes. Every spring, when the local music festival took place, all other classes took a decidedly second seat to preparing to compete in the local festival – it was a point of pride to win first place. Mary's grand-daughters, by the way, are all big Canadian talents: Britta, Anika and Eliza Johnson!
Early experiences of making music with other people? I started taking solo voice lessons at age 11 and I loved that (obviously!!). But most of my time was actually spent making music in groups, which was very fulfilling. I played in the school band in elementary school and junior high (trumpet) and I sang in every choir around; I was in a nationally recognized girls' choir called the First Baptist Girls' Choir which exposed me to lots of choral works, Bach being a particular favourite. I also performed in school musicals in junior high and high school. All that kept me very busy and mostly very happy and engaged. It taught me so many life lessons and prepared me extremely well for my future career.
Do you remember an event at which you first performed for an audience (other than your family or a teacher)? I LOVED to sing but I was extremely self-conscious as a young child. People often mistook that shyness for a lack of self-esteem, but actually I was very confident in my abilities as a singer, even at a young age. I just didn't enjoy the pressure of people staring at me, especially in a small room. I absolutely HATED (and still do!) being asked to sing for people in a casual setting. I was much more comfortable in a situation where the roles were clear and defined: performer and audience member. Not to say I didn't have stage fright or nerves – most of us have to cope with that in the beginning – but I was much more at ease singing on a stage than, say, for a neighbour or jamming around a campfire. I remember the feeling of power, actually stepping onstage in my early years and being grateful the wait was over and it was time to actually sing.There was a thrill in striding confidently onto the stage to show what I could do, even as a kid!
Can you suggest experiences from your childhood or teen years that helped to form your appetite for staged works? Not really, though looking back, maybe I should have realized it with my school musical experiences (Mrs. Molloy in Hello Dolly and Hodel in Fiddler on the Roof) But really, most of my early performing experience was in a stand-and-sing setting, which lends itself more easily to concert and recital repertoire. I hadn't had that much exposure to performing in staged (directed!) productions.
Presenting an opera aria or showtune in a concert setting is actually a real challenge, as you have to sort of act it out, but not do too much staging; plus you're not in costume and you're onstage as yourself, not as the character… and and and… I used to find that very awkward, though I've learned the knack of it over time. It's MUCH easier to actually present a staged scene! Then I can really lose all inhibitions and sink my teeth into it, which I love!
Do you remember when you began to think of yourself as a career musician? Probably the second I graduated from high school! My goal was always very clear and I never had any second thoughts about it. I was lucky to get continuous signs saying "keep going" as I progressed and I started to get work soon after graduating with my B.Mus.from WLU.
Do you remember a time when you thought you would do something else? As a young teenager, I was very interested in writing/English and also history. I thought archeology sounded cool, but it was a passing fascination. Honestly, by the time I was 16, I was pretty sure that I wanted to be a singer. I didn't know what that really meant at that time, but I knew I needed to sing and I knew that was my talent. I had not narrowed it down beyond that, really, and for a time in my early training, I thought perhaps I could have a career doing only recital/concert work. It's funny to think of that now because my career has actually been extremely opera-heavy. I'm attempting to balance that a bit now!
Does teaching/mentoring fit into your current musical life? Teaching is not part of my life at the moment. My performing career is in full swing (and requires constant travel), as is life as mother to a young child; those two jobs create a life of deep complexity and deep joy. I would not be able to devote enough time to teaching at this stage. But I have dipped my toe in the water with some masterclasses and have enjoyed that. I'm still gaining a vocabulary in that arena and have been blessed to hear some amazing students at McGill and U of T. I am doing some mentoring of the young artists of the COC Ensemble Studio as part of my artist-in-residence term with the COC.
What would you say to parents hoping their young children will grow up to love and make music? Encourage it, however it comes! First off, turn on the radio and sing around the house. Buy tickets to live events instead of – or in addition to – another toy. Then help them find an outlet to make music, especially in a group (choir/orchestra/band.) It's such a thrilling experience and truly teaches so many important life skills, in addition to the sheer joy they will feel when they play/sing. If they continue to want to pursue it on a serious level as a soloist, they will let you know. You can use those community contacts you've made to help you navigate finding teachers and opportunities
Where does making / hearing music fit into your current personal/family life at home? It's not as present as you might think in our downtime. My husband and I are both strict about setting aside time each day to learn new repertoire and practise for upcoming contracts. We do this Monday to Friday if we are home for any length of time and can actually pretend to be "normal" people with weekends off! (Ha!). But we often tend to set music aside in favour of other pursuits when we have time off for fun. If we do listen to music, it tends to be jazz, pop, R&B… I especially love 70s music -- both disco and rock 'n' roll!
If you were all ALONE (in the shower, driving) and could sing along to ANY recording, what would you choose? Probably Messiah (the 1988 Trevor Pinnock disc with The English Concert), singing all parts, of course! I covet all the other singers' arias! I should do a one-woman Messiah someday! Ha! They'd drag me off to the madhouse, but it sure would be fun. I've always liked this recording (especially John Tomlinson's rumbly and powerful bass arias!)
UPCOMING…
I'm thrilled to be performing onstage at the COC twice more this season: in The Abduction from the Seraglio in February and The Nightingale in the spring. I'm also very excited about a noon recital on February 20 as part of the Richard Bradshaw Amphitheatre series.