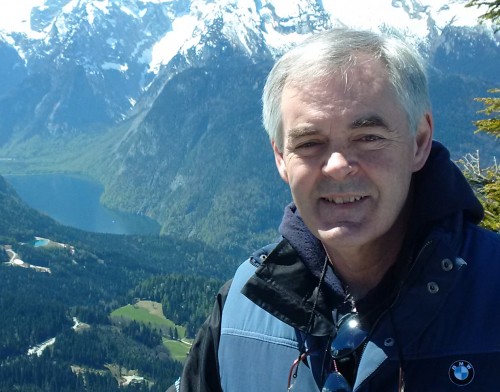 Peter Mahon lives in Toronto with his wife, Katharine and toy poodle, Molly. Away from music he enjoys sports, both watching (football, hockey and soccer), and as a participant (cycling, tennis and golf). He also enjoys undertaking home renovation projects. This summer, with major help from his son Andrew, he replaced all the hardwood floors in their house.
Toronto-born countertenor Peter Mahon is both a singer and a conductor. Still a member of the Tafelmusik Chamber Choir after 36 years, he became the artistic director of the Tallis Choir of Toronto in 2003 after singing with them for many years. Mahon also conducts the Vespers Choir at St Michael's Cathedral, and for the past 11 years, has worked at St. Michael's Choir School as a rehearsal conductor and voice coach. Currently the interim Senior Choir director, his duties include selecting the music sung at cathedral services as well as training and conducting the Senior Choir which sings at the Sunday noon Mass.
As a singer Mahon has also performed with La Chapelle de Québec and the Theatre of Early Music, has appeared as a soloist in concerts and on recordings with Toronto Consort, Studio de musique ancienne de Montreal, Aradia Ensemble, Montréal Early Music Festival, Montreal Chamber Music Festival, Toronto Chamber Choir and the Grand River Chorus.
Mahon and his wife, soprano Katharine Pimenoff, have six children: four sopranos, one tenor and one bass. Four are professional singers and one is an organist.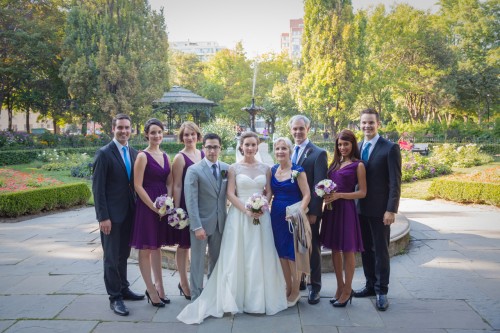 Do you remember that childhood photo being taken? It was probably just before the high mass at St. Mary Magdalene's Church, where we were parishioners. My parents joined the parish and the choirs very shortly after coming to Canada in 1948. My mother was a soprano in the Gallery Choir and my father was the cantor in the Ritual Choir.
Most Sundays we would find ourselves following Dr. David Ouchterlony's beautiful Bentley as he chauffeured Dr. Willan to SMM. On one of those Sundays when we arrived at the same time, someone asked us to pose with Dr Willan.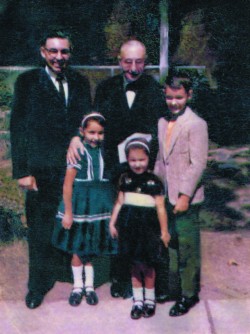 Imagine you could travel back through time and meet the young person in that childhood photo. Is there anything you would like to tell him, or ask him? I cannot think of anything that I would ask, but I would certainly tell myself to keep practising and not give up my piano lessons. At that age, I had no idea that music would be such an important part of my life.
What would you say to parents hoping their young children will grow up to love and make music? Put them into a choir. Private lessons are great but practising tends to be a solitary activity. Singing in a choir is a social activity that can be shared with friends and this will often make taking private lessons, and all the practising that goes with it, easier to take. We never pushed our children into music but we did insist that they all join the church choir when they turned six. It was part of their education. They were not enthusiastic but neither was I. Once they started, they really enjoyed it.
Your earliest memory of hearing music? There was never a time when I did not hear music. Hearing my parents sing every week in church, it was just a part of our life. Hearing a countertenor for the first time made an impression on me. I remembered being captivated by the sound of Alfred Deller's voice.
Your first memory of making music yourself? My earliest memory of singing was in school when the itinerant music teacher would visit the class once a week for 30 minutes. It was always something that the whole class enjoyed.
Where did you grow up, and go to school? I was born in Toronto and grew up with my four sisters in a small house in Willowdale. My dad (Albert) was a life insurance salesman and my mother (Anne) was a full-time homemaker when we were younger and then a legal secretary when were grew old enough to take care of ourselves.
Although my parents sang, my sisters all took up instruments in the school orchestra, which they continued through high school. I was the only one who sang on a regular basis and that only happened because Walter MacNutt, the director of music at St. Thomas's Church on Huron St. made a special trip over to St. Mary Magdalene one Sunday after mass to recruit me. My dad introduced us and he made his pitch. I was not very interested until he said all the choristers got paid. Of course, my next question was, "How much?"
Our house was located directly across the street from Earl Haig Secondary School. Every year in the fall, before I got to high school, I used to hurry home to watch all the Earl Haig football games. In those days it was not an arts school – it was more of a football factory. They had great teams and always seemed to win their games. I could not wait to get there. At that time, football was of much more interest than music.
Today, I have a lot of talented friends and colleagues who went to the same school, but the funny thing is that they are all at least 20 years younger than me. They went to Earl Haig after it became an arts school and today are very accomplished professional musicians.
While still in high school, I met the beautiful woman who sat next to my mother in the SMM Gallery Choir, Katharine Pimenoff. She was in the Festival Singers of Canada and was also the first female member of the Toronto Consort. In short order, she became the centre of my universe and after that I don't remember much of anything.
In fact, at this point after nine years away at St. Thomas's, I returned to SMM, my home parish. Seeing me on my first Sunday back (and singing in the Gallery Choir) the rector said, "St. Thomas' may have stolen you away with money, but I knew you would return. All it took was the lure of the flesh."
I had spent about five and a half years singing treble, the last two under protest. Although I was head chorister Walter would not let me leave the treble section. Finally I went to him and said that it was just not right that someone who ran around all week playing high school football had to wear a ruff around his neck on Sunday. At 15, I also had a heavier beard that most of the tenors and basses.Thankfully, he relented and for the next three and a half years, Frank Nakashima and I were the alto section in the men and boys choir.
Hearing a countertenor for the first time made an impression on me. I remembered being captivated by the sound of Alfred Deller's voice. This, and then meeting and eventually working with Gary Crighton, long-time member of the Toronto Consort, had a huge impact on me becoming a countertenor. When I stopped singing treble, I was briefly a tenor at St. T's, but singing in my chest voice was such a strange sensation after all those years singing treble. I tried alto and Gary literally badgered me on the way into church on Christmas Eve to join the alto section and not continue as a tenor. He convinced me and that was that.
After high school, I went to university and earned a BA. I had no intention of seeking a career in music but people started hiring me to sing and I just sort of backed into a career.
Did you play an instrument as a child? I took piano lessons up to grade six, but gave up too soon. Football was all-consuming at the time.
Early experiences of making music with other people? I remember singing at St. Thomas's for the first time. It was marvellous to sing the music that I had grown up hearing at SMM but I remember being disappointed by the awful acoustics. I had gone from the lush resonance of SMM to the deadening wall-to-wall broadloom of St. Thomas's.
When did you first conduct? I was asked to take a rehearsal and evensong at Grace Church on-the-Hill in 1983.
As an adult musician your work seems to be significantly focused on early music. What, if any, other kinds of music appeal to you? Being a countertenor, it was natural to gravitate to early music. That was where the work was to be found and this has not changed. I have no particular favourite kind of music – I like many different styles. It depends on what is playing on the radio at any one time.
Can you recall when you began to think of yourself as a career musician? I began to think of myself as a career musician before I turned 30. However, I knew that I did not want the life of a soloist, travelling from gig to gig and being on the road eight to ten months a year. I wanted to see my family grow up. Consequently, I always had to find ways to supplement my income. I settled on a career in real estate, retiring two years ago after 27 years in the business.
When did mentoring/educating younger people (other than your own children) become part of your focus? I have been in a men and boys choir for over half a century. First at St. Thomas's, then Grace Church on-the-Hill, St. James Cathedral and now, St. Michael's Cathedral. It is just what I do. As a treble, I remember taking great satisfaction from working with the adults in the choir and being treated as a colleague. I would not say that we were equals, but we were shown a great deal of respect, which at that age I did not experience anywhere else. As I became an adult, it was just natural to pass on what I had learned.
Where does music fit into your family life today? All of our non-singing relatives hate it but we don't sing at home. On the other hand, I make music every day at work.
If you were all alone and could sing along to ANY recording, what would you choose? Bach, Mass in B Minor
UPCOMING…
I conduct the Senior Choir at St. Michael's Cathedral every Sunday at noon.

I conduct the Vespers Choir at St Michael's Cathedral, which sings on the first Sunday evening of every month at 7:00.
On November 25, at St. Patrick's Church on McCaul St, I will be conducting the Tallis Choir in a performance of music by our namesake, including his incomparable 40-part motet, Spem in Alium, and Ecce Beatam Lucem, the 40-part motet by Alessandro Striggio that is said to have inspired Tallis.
On December 2 and 3, I will be conducting in the annual Christmas concert by St. Michael's Choir School at Massey Hall. This year for the first time, the Senior Choir will present Handel's Messiah Pt 1, with orchestra and other seasonal favourites.
Later in December, I will be singing with the Tafelmusik Chamber Choir in Tafelmusik's annual presentation of Messiah.