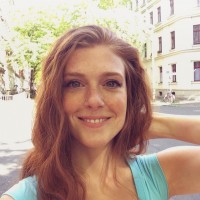 Wallis Giunta lives in beautiful Leipzig, in an unnecessarily large flat (hey, it's East Germany!) with her guitar, Raven, her two bicycles, Tina and Nellie, and about 60 tomato plants. She fosters rabbits around the world, when she is travelling for longer contracts, and has taken in 18 of them over the past six years. She loves cycling, mountains, sunshine, devouring books and exploring the new parts of the world that her wonderful career introduces her to.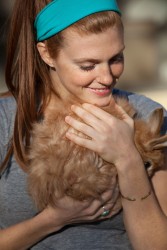 Mezzo soprano Wallis Giunta was born and grew up in Ottawa. At 17 she began studies in singing at the University of Ottawa and then transferred to the Glenn Gould School in Toronto to finish her degree. Giunta graduated from the Canadian Opera Company Ensemble Studio in 2011, followed by the Metropolitan Opera Lindemann Young Artist Development Program and The Juilliard School Artist Diploma in Opera Studies.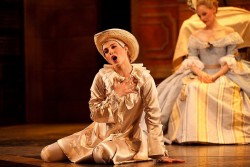 While completing her studies Giunta sang Cherubino in Le Nozze di Figaro with Toronto's Opera Atelier, and made a US debut touring with the COC as Pribaoutki in Robert Lepage' production of The Nightingale and Other Short Fables. She sang the role of Zweite Dame in the COC's Die Zauberflöte, and made her debut at Opera Lyra Ottawa as Lola in Cavalleria Rusticana. In 2013 Giunta returned to the COC as Annio in La Clemenza di Tito (and gave a much-acclaimed substitute performance as Sesto for the second performance) and made her Met mainstage debut as Contessa Ceprano in Rigoletto. Subsequent return engagements include Opera Atelier, COC, Opera Lyra Ottawa and the Met (including Olga in The Merry Widow for their 2015 Live in HD broadcast series), along with debuts in Paris, Rome, Leipzig and Frankfurt.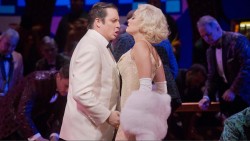 2016/17 has included singing Dido in Opera Atelier's Dido and Aeneas, debut concerts with the Munich Radio Orchestra and Symphony Nova Scotia, the title role in La Cenerentola at Opera North in Leeds (UK) and a recital debut in Vancouver. Giunta is currently based in Leipzig where she has ongoing engagements with Oper Leipzig in La Cenerentola, Le Nozze di Figaro and Die Walküre, with new roles already in place for next season in Die Fledermaus, Das Rheingold and Lulu. (See below for UPCOMING)
Imagine that a friendly fellow traveller asks what you do for a living? I'm not actually a big fan of explaining my career to strangers, out of context. So unless I get a sense that they are interested in opera/classical music, I usually dodge the question and hope they don't pry. I love talking to strangers, but I'm more interested in discussing thoughts and ideas, and not so much my own career.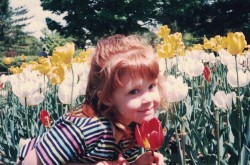 About that childhood photo? I remember the smell of summer in Ottawa, and how excited I got every year about the tulip festival. I totally loved going out with my family and seeing all the crowds and amazing beds of flowers. It still blows me away, actually.
Who lived with you in your childhood home? My parents, my younger sister and brother, and occasional pet toads.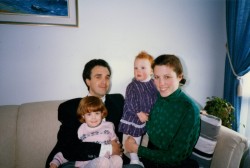 What did your parents do to earn a living? My dad worked in radio and music programming, and is also a top voice actor/narrator. My mom is a fabulous yoga teacher.
Working musicians in your childhood family? My uncle Patrick is a professional guitarist and bass player, working with several bands in Canada, and we often went to see him perform live. My grandfather was a professional bagpiper in the Canadian military!
Your absolute earliest memories of hearing music? I honestly have no idea! There was so much music playing in my childhood life, with my dad working in the music industry. I imagine my first experience was probably recorded music. We had speakers all over the house and music playing everywhere. I don't think I could pick out a specific song though – it was most likely classic rock! Music was SUCH a big part of my early life. it was always playing at home, and my parents had fabulous and eclectic taste. There was never any generic Top 40 playing on the radio/tape deck/CD player. Always really cool, alternative, quality artists. The stuff with substance. My parents also took us to lots of live shows...everything from Young People's Concerts at the symphony, to Sharon, Lois & Bram, to Def Leppard with my dad for his radio station. (There were a lot of rock concerts and festivals that I got to tag along for when my dad was promoting his station.) I started piano lessons at age five and began singing in a choir at age eight, so from then on I was actively making music myself, and have never looked back. I also started performing in musicals when I was nine, and took singing lessons from age 12, with the accompanying Kiwanis competitions, etc. I was pretty well immersed!
What was your first instrument other than your own voice? Oh, definitely the pots and pans in the kitchen. I was an enthusiastic toddler percussionist.
What is your very first recollection of yourself making music? That I do remember. It would be my first piano lesson, where I probably managed a bar or two of Twinkle Twinkle, but spent more time playing under the piano than at it.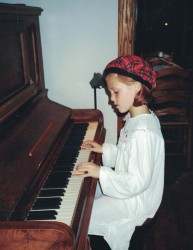 What can you remember about a first music teacher? My first piano teacher, Anne, was a sweetheart with the patience of a saint. She had this little glass orb she would place in my palm to remind me to always keep my fingers in a nice, domed position. She called it "spider fingers"! And she let me pick a sticker from her supreme sticker collection at the end of every lesson, no matter how atrociously behaved I had been.
Can you remember any early experiences of making music with other people? Yes! Part of my early piano lessons were group Suzuki music classes where we would each get a wood block or an egg shaker or something, and go to town for some epic baby jam sessions.
Do you remember an event at which you first performed for an audience? My first piano recital, which was, and will remain, the most nervous experience of my life. Let's just say, it's a darn good thing I switched instruments! I have never been even close to that nervous singing, but every time I played piano in public, I would lose years of my life.
Can you suggest experiences from your childhood or teen years that helped to form your appetite for staged works? Definitely performing in local musical theatre productions and musicals at my high school. I loved every minute of it! And when I was 15, I started singing in the chorus for Opera Lyra Ottawa, performing in Bohème and Madama Butterfly back to back. This sealed the deal for me.
Where did you attend high school? I went to both Lisgar Collegiate and Glebe Collegiate for high school.
Do you remember when you began to think of yourself as a career musician? Pretty much as soon as I moved to Toronto at 19! I started booking recitals and was a Sidgwick Scholar with the Orpheus Choir, as well as singing with Opera Atelier in the chorus, and eventually small roles. It was quickly starting to really happen for me, even while still in school, and I knew music was going to be my career.
Do you remember a time when you thought you would do something else? If so, what were those things? As a child, I was very interested in architecture. I still love it, but I stopped thinking of it as a possible future option in my early teens, when singing pretty much took over my life.
Does teaching/mentoring fit into your current musical life? Not really, no. I've taught one masterclass and I really liked it, but I so far it seems to be full-time performing for me!
Where does making/hearing music fit into your current personal life at home? Well, my current obsession is my new guitar, Raven. She and I were introduced last summer and we have been inseparable ever since. I travel with her and we make music every day! I've only been playing guitar for ten months, so I'm still pretty terrible, but I absolutely love it.
If you were driving alone and could sing along to any recording, what would you choose? Patty Griffin – Living With Ghosts
UPCOMING…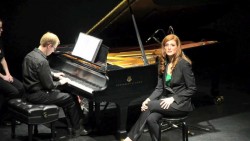 My next (very exciting) project will be Kurt Weill's Seven Deadly Sins with the Toronto Symphony. It's a piece I've been dying to perform in its original version for about, oh...a decade. And it's finally happening this June! The bonus is, just a couple weeks later I'll get to do it again, in a new production in Spain. It never rains, but it pours... In July, I'll be in Ottawa singing a recital for Music and Beyond, where I'm excited to perform Rufus Wainwright's cycle Songs For Lulu with my wonderful colleague, Steven Philcox. Steven and I gave the Canadian premiere of this cycle a few years ago in Toronto, and now it's Ottawa's turn! In August, I'll be back in the UK for two new productions, singing the title role in L'Enfant et les Sortilèges, and Dinah in Trouble in Tahiti. Then most of the rest of this year I'll be in Germany, singing La Cenerentola, Lulu, Das Rheingold, Die Walküre, Die Fledermaus and Le Nozze di Figaro. I'll also be back at Koerner Hall next season to celebrate the Bernstein centenary (April 6, 2018).