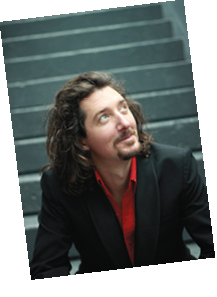 Born in Sussex, England, Dobson grew up in Toronto where he attended Royal St. George's College. He began singing with the Toronto Children's Chorus at the age of nine. His solo début was at twelve, as treble soloist in the Canadian premiere of Lloyd Webber's Requiem under conductor Elmer Iseler. Dobson also sang with World Youth Choir, Ontario Youth Choir, and Mendelssohn Youth Choir, and attended camp of some sort every summer until university, when camp was replaced with planting trees in the summer to support his studies. Dobson studied choral conducting at the University of Western Ontario, and graduated from The University of Toronto Opera Division. Dobson's career to date embraces a wide range of choral and concert repertoire, and opera on Canadian and international stages.
A more detailed biography is included at the end of this interview.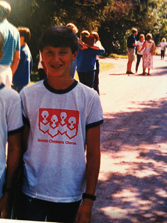 Do you remember that childhood photo being taken? It was on Lake Couchiching at the National Music Camp. The Toronto Children's Chorus would go there for a week before school would started in the fall.
When you look at that photo today? Great memories of the camp – it was my first time away from home, missing family. Much like today when travelling - that feeling never goes away, and in fact my partner and I try to always travel together. She is a great cook and since I am a vegan, I appreciate this so much, especially when we are on the road.
If you could travel back through time and talk with that young person? I'd tell him to work hard – it will pay off. Have confidence even when things seem stacked against you. Know what you truly love and pursue it with passion. Enjoy every moment.
Anything you'd like to ask him? What would he like to do when he is older?
Earliest musical memories? My grandmother used to sing to me as a baby. I have no recollection of the melody but I remember the words: Ayayaya ... As a result I called her "Yaya" her whole life. My parents had a great record collection and I loved listening next to their large speakers in the living room. My earliest favourites were Peter and the Wolf and Sgt. Pepper's Lonely Hearts Club Band. My mother always had the radio on the classical station at home. At RSGC we had services three times a week so singing became part of everyday life.
Other musicians in your childhood family? My mother's family is very musical. Her father was a choir director who tuned the organs in all the major cathedrals of London, England. My mother is still an active choral singer in West Vancouver. We have yet to perform together but I very much hope we will have the chance to someday!
What is your first memory of yourself making music? I started on the piano but struggled. Singing always came naturally and my mother says I was always singing around the house.
A first music teacher? My first huge musical influence was Jean Ashworth Bartle who was a true pioneer with the TCC – we learned a great deal from her. Many of her singers are still enjoying making music professionally or just for pleasure. She instilled a high level of professionalism in us, and this has carried me through my career …
What do you remember about first experiences of making music with other people? The TCC would collaborate with the TSO quite frequently. I remember when Roy Thompson Hall was newly opened and performing there with Andrew Davis and the TSO. I remember on breaks having the vast lobby to run around and hide in all its nooks and crannies.
When did you first sing for an audience, other than your own immediate family? A performance at an elementary school talent show. My grandfather had tried his best to prepare me but I was a lazy student and had not practised. Somehow I had it in my head that I could go ahead anyway, and got up on stage to sing. It was a disaster and a painful memory. My grandfather died shortly afterwards and the guilt has never left me. I always remember this when I'm helping my son with his music practice, and we have even had a few successful collaborations. One was two years ago at his school when we did a duet at the Christmas concert: "All I want for Christmas is my two front teeth." He was also in a production of Les Huguenots I did a few summers ago in New York. I was so proud of him.
Do you remember when you began to think of yourself as a career musician? I remember my first lesson at the Opera School of the University of Toronto with voice teacher Patricia Kern. She asked me why I wanted to be a singer. This was after Lois Marshall had convinced me to switch my major from conducting. I told her "I want to make a living with my voice. There is nothing else I ever want to do."
Do you remember a time when you thought you would do something else? I always knew I would be in music as a career even at a very young age. Singing was very natural and it had been nurtured through the TCC and RSGC.
Is there any one person whose encouragement, particular advice or personal example made a big difference to you as a musical young person? For the last year of my undergraduate degree in conducting, I went to the University of Toronto as an exchange. There I had the wonderful opportunity to study with Lois Marshall. At my first lesson with Lois, she asked me what I had done. I listed off proudly all the choirs I had sung in: World Youth Choir, Ontario Youth Choir, Mendelssohn Youth Choir, Toronto Children's Chorus etc. After I was done she said "But where have you sung as a soloist?" I looked at her vaguely. "But you are a soloist, you know," she said. These were the most influential words I had heard. From that point on I would come in every week with two songs newly memorized to work on with her. I cherished my time with her and unfortunately it was cut too short as she died later that year. But that period of time together shaped me as an artist. In tribute to Lois after she passed, her studio pianist Doreen Simmons and I would still meet once a week to work on songs with the spirit of Lois near to us. Doreen has been a wonderful influence and encouragement and I owe much to her for keeping me going when things were tough both in my career and personally.
Where does music fit into your family life today? Between the three of us, there is singing violin, piano and guitar played at home every day.
What advice, if any, might you offer to a young person who was already sure they were going to have a life in music of some kind? Practice!!!!! The instrument never lies. Either we have put in the time or we have not. Sounds pretty basic but get a good practice technique down and the rest will fall into place as time goes by.
UPCOMING…
Engagements or projects coming up that you're especially excited about?
Dichterliebe (May 27 & 28) with the Talisker Players - a piece I hold dear to my heart and that changes each time I perform it. This version is a string arrangement a dear friend of mine, Harold Birston, has done. He really found the essence of the texture so that the listener does not miss the piano but finds colours that were not before present.
Airline Icarus (June 3-8) with Soundstreams, a company I have never worked with before. It's an opera I have done twice before but never staged. Brian Current's music is amazing. He finds that balance of being accessible but still challenging the listener.
Dido and Aeneas (July 5 & 6) with Toronto Masque Theatre at Westben, an incredible venue in Campbellford (Ontario). Brian Finley does a wonderful job programming quite eclectic programmes.
Die Winterreise (July 19) with Music Niagara at Niagara-on-the-Lake. This is with renowned Czech pianist Norbert Heller. It is a cycle that is deeply ingrained in my constant growth as an artist. I first performed it with Doreen Simmons when I was a student and more recently with Yannick Nezet Seguin.
Candide (August 14-23) with Calgary Opera. My summer projects culminate in Calgary singing Maximillian in their production of Candide (part of Calgary Opera's second annual summer festival – "Opera in the Village").
British-Canadian baritone Alexander Dobson has been praised for his musical and dramatic artistry on both opera and concert stages. Highlights include his portrayal of Wozzeck conducted by Yannick Nézet-Séguin for which he was lauded for his "gripping embodiment of Wozzeck" (Journal Voir), and his debut season at the Carmel Bach Festival.
Dobson has sung the title role in Don Giovanni with the Orchestre Metropolitain de Montreal, "The Count" in The Marriage of Figaro with Against the Grain, "Marcello" in La Bohème with Pacific Opera Victoria, "Silvio" in Pagliacci for L'Opéra de Québec, "Mercutio" in Roméo et Juliette for L'Opera de Montréal and also for Opera Ontario, "Harlequin" in Calgary Opera's Ariadne auf Naxos, "Sonora" in La fanciulla del West with L'Opera de Montreal, "Aeneas" in Dido and Aeneas with The Theatre of Early Music, and "Guillaume" in the French version of Così fan tutte with Opera Lafayette. He made his London debut at the Linbury Theatre with Royal Opera House Covent Garden in the premiere of The Midnight Court by Ana Sokolovic.
A dedicated concert and recital artist, Dobson has appeared with the Orchestre Métropolitain, Toronto's Aldeburgh Connection and the Vancouver New Music Festival. He has sung Schubert's Winterreise to great acclaim in Montréal, Victoria, England, Paris, and, with Yannick Nézet-Séguin at the piano, in Toronto. Alexander has sung Handel's Messiah with Philadelphia Orchestra, Orchestra London, National Arts Centre Orchestra, Edmonton Symphony, Elmer Isler Singers, and the Boris Brott Festival. Other concert appearances this season include "Christus" in St. Matthew Passion with Orchestre Metropolitain and Candide with Calgary Opera
Dobson is the recipient of numerous awards and prizes including those from the International Voice Competition of Paris, the Jeunesses Musicales National Competition, the Marilyn Horne Competition, and the Jacqueline Desmarais Competition.
CONGRATULATIONS TO OUR WINNERS!
Taliker Players' A Poets Love (May 27 & 28, 8pm) features works by Fauré, Schumann, Rapoport and Beckwith: two great romantic song cycles, and two eloquently lyrical Canadian pieces with guest artists Alexander Dobson and actor/reader Stewart Arnott in spoken word selections. Shawn Kazubowski-Houston (Toronto) and Catherine McWhinnie (Burlington) each win a pair of tickets.
Soundstreams presents Airline Icarus (June 3-8), "a new opera that unfurls above the clouds, inspired by our ancient dreams of flight," set entirely in a plane bound for Cleveland! Composer Brian Current conducts. Cast includes Krisztina Szabó and Alexander Dobson, who says: "Brian Current's music is amazing. He finds that balance of being accessible but still challenging the listener." Boarding passes await Greer Roberts (Ajax) and Sharon Barclay (Richmond Hill).
Talisker Players' CD Where Words and Music Meet celebrates their tenth anniversary season with some favourite music from their first decade of concerts with Teri Dunn, Norine Burgess, Krisztina Szabo, Vicki St. Pierre, Geoffrey Butler, Doug MacNaughton, and Alexander Dobson. We're sending a copy each to Bill Wilson (Etobicoke) and Deborah Davis (Toronto)
Music's Children gratefully acknowledges Francine, Ori, Ben & Sarah, Carol & Michael.