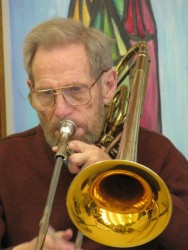 The WholeNote's Bandstand columnist since September 2006, Jack MacQuarrie was born on Christmas Day,1925, and raised in Walkerville Ontario (now Windsor).How many hats can a music-loving fellow wear in a lifetime? Just ask the man who has 30 or so instruments in his house.
There was no band in Jack MacQuarrie's high school, but he was bitten by the band bug in grade 11 when he joined The High Twelve Club Boys Band (sponsored by a service club), and then the local Kiwanis Boys Band. They were "borrowed" by the commanding officer of the local naval training unit who'd been asked to recruit a reserve band. Boys as young as 12 through 17, whose parents gave permission, found themselves Probationary Boy Bandsmen with a uniform and pay – for rehearsals, Navy parades, concerts in the park and Navy events.
MacQuarrie went on active service after high school. He learned some new instruments – those involved in radio and radar. When WWII ended he completed his undergraduate degree at U of T where he played in the Varsity Band, the Conservatory Concert Band and the U of T Symphony. One memorable university summer he played trombone six nights a week in a dance band at the popular Erie Beach Pavilion – seven days a week, from nine until midnight. Sundays they'd go to Detroit and hear all the touring big bands – Ellington, Kenton, Burnett, Herman, Dorsey.
MacQuarrie returned to sea during the Korean War as a Navy Lieutenant Commander and diving officer. He laid aside music during those seven years, but since 1957 has played continuously in professional and community ensembles too numerous to list here, including the Don Bowes Big Band, the Swing Machine, the Newmarket Citizens' Band, The Village Brass (a quintet), and the Markham Concert Band.
With music fuelling his lungs, mind and spirit, MacQuarrie returned to university, acquired an MBA and then did four years of graduate studies in engineering – investigating human performance in hostile (underwater) environments. He received a Massey Fellowship under Robertson Davies. He worked for some time at marketing in the airborne electronics business. He's a past president of the Skywide Amateur Radio Club, was the first instructor for the Hart House Underwater Club and is still active in the Naval Club of Toronto. In January 2013 MacQuarrie was awarded the Queen's Diamond Jubilee Medal for contributions to Canada.
Today MacQuarrie and his wife, Joan Andrews, are both volunteers in research on brain function and aging, comparing musicians with non-musicians, at the Baycrest Centre. They continue to renovate their 150-year-old house. MacQuarrie retains a commercial pilot's license, writes and edits, and plays regularly with the Newmarket Citizens' Band (tuba), Swing Machine (bass trombone) and the Don Bowes Big Band (tenor trombone).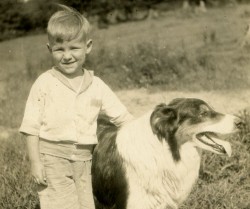 Music in your life when that childhood photo was taken? Music was always in the house – lots of radio from Detroit stations. My mother was a semi-professional singer, church soloist, and for a time, a member of the Detroit Light Opera Company. My father was a dedicated opera fan, and the Metropolitan Opera was on our radio every Saturday afternoon. My mother organized a vocal quartet which practised regularly in our living room for some years.
Earliest musical memories? I remember my mother singing the role of Buttercup from HMS Pinafore as she worked around the house. My Grade 2 teacher took us to a concert by the Detroit Symphony.
Music in your family now? My wife, Joan, was head of music at a high school, is assistant conductor of the Amadeus Choir, conductor of the Village Voices choir, sings in an all-women's choir and plays flute in two groups. For some years we were both actively involved with the organization of CAMMAC music camps. This year I have cut back from five rehearsals a week to three. Music is the dominant theme in this house every day.
Jack MacQuarrie's full interview coming soon.
WHO IS MAY's CHILD?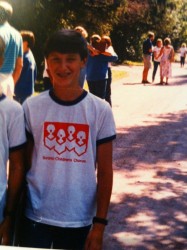 RECENTLY:
•Figaro's Wedding (Against the Grain Theatre)
as the smarmy Alberto;
•The Lesson of Da Ji (Toronto Masque Theatre)
as the Flesh-Eating King;
•Dichterliebe: The Poet's Love (Coleman Lemieux & Co.)
not your basic song-and dance routine;
•Schütz and Buxtehude
(Theatre of Early Music with U of T's Schola Cantorum);
UPCOMING:
•A Poet's Love (Talisker Players);
•Airline Icarus (Soundstreams) as the pilot.
Know our Mystery Child's name?
Send your best guess to musicschildren@thewholenote.com by April 24.
CONGRATULATIONS TO OUR WINNERS!
•Mooredale Concerts presents The Canadian Brass (April 27 MacMillan Theatre), whose memorable performances have made them world-wide ambassadors for the brass quintet. Each of these five are virtuosos but their unique ensemble sound is what sets them apart. They will play a spirited program featuring works by Bach, Schumann, Brahms, Gershwin, Bizet, Waller, and some traditional popular classics. A one-hour Music and Truffles concert for young people (1:15) precedes the 3:15 main concert. Kenneth and Pauline Hodge and Doug McInroy each receive a pair of tickets!
•Hannaford Street Silver Band's 2014 Festival of Brass is three remarkable days, April11-13, of masterclasses with guest artists, band showcases and concerts, including The HSSB Youth Band, The JazzFM Youth Big Band, brass bands form across Ontario and beyond, Pennsylvania's the River City Brass (dir. James Gourlay), and the grand finale "Slide Show" – HSSB with guest conductor Patrick Sheridan and soloist Wycliffe Gordon, trombone virtuoso. Cynthia Sloane and Fraser McKee are each the lucky winners of a three-day pass.
•John Brooker and Frances Giles each win a copy of HSSB's latest CD, Ontario Reflections: Hannaford Live, VOl.1
Music's Children gratefully acknowledges Christina, Francine, Joan, David, Ray, Nan and Archie.