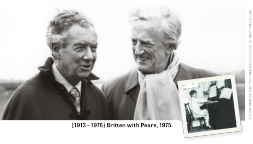 Benjamin Britten composed some of the most compelling, and widely satisfying music of the 20th century. From huge works for big public occasions, operas, ballets, orchestral and choral works through to intimate chamber music best suited for almost private consumption, Britten's music is variously (and sometimes simultaneously) for virtuosi, for amateurs, for sophisticates and school children, for reasons meriting more ink than can be afforded here.
On the heels of the Canadian Opera Company's October production of Britten's Peter Grimes (arguably the best opera of the 20th century) Britten was named 25 times in The WholeNote's November concert listings. International centenary celebrations of his life and work are ongoing including November 22 which would have been his 100th birthday, at least 200 concerts in 44 countries. Upwards of 100,000 children performed his song cycle Friday Afternoons in a live-streamed relay which started in Auckland and ended in Los Angeles.
On May 26 2013 in Toronto the closing concert of Stephan Ralls and Bruce Ubukata's "Britten Festival of Song" concluded The Aldeburgh Connection's final season (of 31). It included Friday Afternoons performed by young singers from The Canadian Children's Opera Company. Ralls and Ubukata's musical and personal partnership began in 1977 when they met as musicians at Britten's and Pears' Aldeburgh Festival.