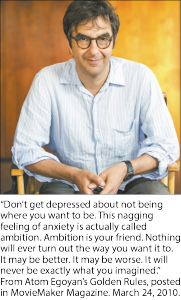 Atom Egoyan is an acclaimed film, stage and opera director, also the author of several books and articles who teaches and speaks internationally. He was made an Officer of the Order of Canada in 1999. When he's not travelling the world, he lives in Toronto with his wife, actress Arsinée Khanjian, and their son, Arshile.
Egoyan was born in Cairo to Armenian/Egyptian parents and raised in Victoria, British Columbia. As a teenager he was very interested in reading and writing plays. He moved to Toronto at 18 to study International Relations and also classical guitar. As a student at the University of Toronto's Trinity College his early short films, starting with Howard In Particular were made with the assistance of the Hart House Film Board. His first feature film was Next of Kin (1984); his latest feature The Devil's Knot, with a score composed by longtime collaborator Mychael Danna, premiered at TIFF in September 8. His vigorous career includes upwards of 20 remarkable films, as well as performance art and theatre starting with projects at the Rhubarb Festival and Tarragon Theatre. He premiered an award-winning multi-media and live action production of Samuel Beckett's Eh Joe at the Gate Theatre in Dublin in April 2006 which played in Sydney in 2007 and New York in 2008. Egoyan returned to the Toronto theatre scene in 2012 to direct Khanjian in Cruel and Tender at CanStage.
Richard Strauss' Salome was Egoyan's first opera. He included significant cinematic elements: live video and film were incorporated and one crucial scene was performed behind projected images. First staged for the Canadian Opera Company in 1996, it was performed at the Vancouver Opera in November 1997 and Houston Grand Opera in 1998. In 2006 Egoyan directed the COC production of Wagner's Die Walküre, Salome for the COC again in 2013, and Feng Yi Teng — an opera composed by Guo Wenjing — at Luminato 2013. He'll direct Mozart's Così fan tutte for the COC in January 2014.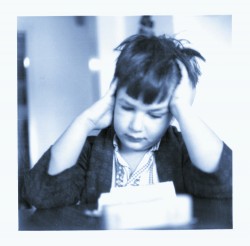 When you look at your childhood photo today …?
I wonder what that person would have thought of the person who's looking at the picture now?
Musicians in your family?
My sister (pianist) Eve Egoyan is an amazing, brilliant musician. I've always been in awe of her talent.
If you could travel back in time and talk with the little person in that childhood photo is there something you'd like to tell him about music?
Take music theory WAY more seriously! I studied classical guitar for many years, but wish I were more versant in technical language, especially now that I'm working in music theatre.
What is your absolute earliest musical memory?
Trying to sing along to "Yellow Submarine," but thinking the words were "'Yallah,' Submarine!" (I understood more Arabic than English at that point.)
Where did hearing music come into your childhood?
Through my love of the Beatles and my parents' classical recordings of Stravinsky, and then — explosively — Jesus Christ Superstar.
Your first memory of making music?
Singing in my school chair. Later I was in a school production of Pirates of Penzance, which left a huge impression on me.
Music in your film work?
I have an amazing relationship with my composer, Mychael Danna — he's scored all my films. He won an Oscar this year for his work on Life of Pi.
How did you meet composer Mychael Danna?
Mychael Danna was very famous at U of T where we both studied. We connected through doing plays there.
Music fit in your family life today?
Between the opera work, film scores and various concerts (not to mention the times I still play classical guitar), it remains a huge part of my life. 
For November's Mystery Child Click Here.
To see the winners for this Mystery Child Click here.