DECEMBER's Child is…NOVEMBER's Child!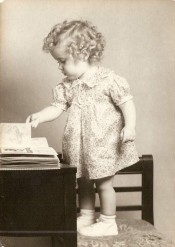 A few readers were sharp enough to identify November's mystery child, in spite of the fact that her childhood photo did not reproduce as well as we'd hoped.
Their names were entered in a special draw for a magnificent prize: a fine pair of tickets to attend The Canadian Opera Company's production of Carmen at the Four Seasons Centre for the Performing Arts (January 27 2010, 7:30pm).
The heat, dust, and sexual energy of George Bizet's Spain will heat things up in Janaury in this co-production with Opéra de Montréal and San Diego Opera.
Carmen is conducted by Rory Macdonald and directed by Justin Way, and  features Beth Clayton as Carmen, Jessica Muirhead as Micaëla, Bryan Hymel as Don José, and Paul Gay as Escamillo, with sets by designer Michael Yeargan.
Congratulations to...Annie Odom
If you guessed correctly and did not win this prize, your name will be re-entered in the December draw.
For those of you who were stumped, or who went cross-eyed looking at November's contest, here is another photo of this determined young musician, already intensely aware of the importance of being on top of your score, and thinking on your feet!!
Today she is "surrounded by more children than you could, ahem, shake a stick at", whose 2010 musical adventures will take them to the bullfights in Seville in January, to Cyprus in February, and in May to a fantastical place of caverns and rivers inhabited by green-skinned Ogs.
Think you know who DECEMBER'S child is?
Send your best guess to:
musicschildren@thewholenote.com
(Please provide your mailing address, just in case your name is drawn!)
Winners will be selected by random draw among correct replies received by January 20, 2010.