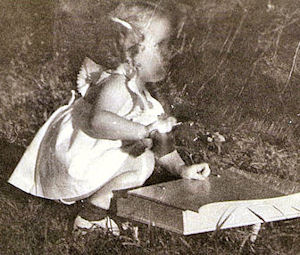 Summer, McKinney, Texas - circa 1946
NOVEMBER's Child…
You're never too young to be taken seriously as a musician (as November's Child knew back then, and believes today, surrounded by more children than you could, ahem, shake a stick at.) Look for her Company (but not her name - that would be too easy!) in our Nov 28th listings.
Think you know who NOVEMBER's child is?
Send your best guess to musicschildren@thewholenote.com (please provide your mailing address, just in case your name is drawn!
Winners will be selected by random draw among correct replies received by November 20, 2009.
October's Child Was...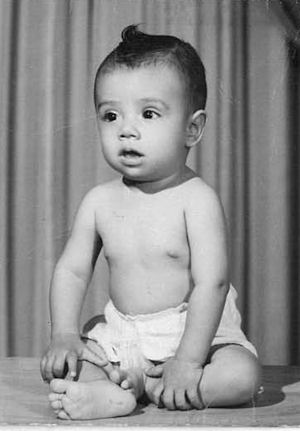 clarinetist Joaquin Valdepeñas: whose stylish sunglasses, ready grin and energetic manner have, by all accounts, accompanied his journey from Torreón and Tijuana, in Mexico, through Anaheim CA, to California State University, and on to Yale, before coming in for a landing in

Toronto when he auditioned for the TSO. Principal clarinet of the Toronto Symphony Orchestra since Sept 1980, he has also conducted the TSO on many occasions.
An extremely active soloist, chamber musician and conductor he has participated in festivals throughout the world including Banff, Vancouver, Casals, Edinburgh, Marlboro, Mostly Mozart, Nagano, and Korea. He is also a founding member of the Amici Chamber Ensemble who are in the 21st season of their concert series at the Glenn Gould Studio.
Joaquin has recorded extensively for CBC, Centrediscs, Naxos, Sony and Summit and was featured in a PBS documentary about the Aspen Music Festival both as clarinetist and conductor.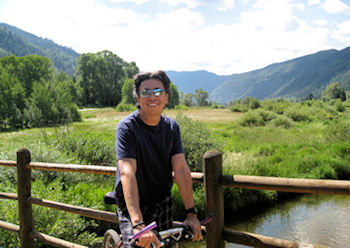 Earliest musical memory?
Seven years old - I used to walk past a music store on my way to school. There was a clarinet in the window, and I was mesmerized by it. Destiny? I don't know
Other family musicians?
I am the only musician although there was a lot of music in my home. My mother had a beautiful voice but was not trained. She often sang at family gatherings. I had a huge family with lots and lots of cousins, aunts and uncles. At birthdays or other gatherings there were always guitars and singing.
First experiences of collaborative music making?
I joined the band in grade 7. My buddies and I wanted to play the trumpet (there's a kind of boy thing with the trumpet)  but by the time the got to the V's (Valdepeñas!) they were out of trumpets and I ended up with a clarinet. Of course, at the time, it was all about Herb Alpert. We all wanted to be like that. I still remember vividly playing with my colleagues, struggling to make a sound.
The school had a great programme. One period a day: the teacher was this young guy in his 20s. He had such much energy and enthusiasm. He taught us music theory, but he would also have us get up and conduct the band, and this is where I got my conducting bug. We had a marching band too, and we had to be the entertainment at games, assemblies. I had this very real sense of belonging to something.
Thoughts on clarinet as a  first instrument?
Not ideal for really young kids. Better to wait until those teeth have finished coming and going. And kids with small hands…sometimes their fingers are too skinny to cover the holes. The recorder can be a place to start, but it's kind got a bad rep from being used in school programmes. Piano is good….
The point when you thought of yourself as a musician?
I never imagined making a living playing music, I had not declared my university major but I thought I'd learn some economics - but found I didn't actually like numbers! But through the Music Department I had a weekly 30 min. lesson. I had never had a private lesson until then and was very lucky that the teacher was Kalman Bloch (principal of the Los Angeles Philharmonic). He was one of the most wonderful musicians I have known. Those first lessons was the time when I started to feel alive musically.
If I had not allowed myself just to say "okay, I'm going to work really hard and see where this goes" I can't think what would have become of me.
If you could travel back through time and meet face to face with a younger Joaquin  is there anything you would offer?
In school we had to give the instruments back in June. Then in September you'd have forgotten everything and have to get back to where you were. So maybe a clarinet of his own…but maybe not too many lessons so soon …
Recordings /
Upcoming engagements?
We've just finished editing Amici's new CD Armenian Chamber Music which is scheduled for a spring, 2010 release. On Dec 5 I'll be in Lindsay, Ontario, with the ARC Ensemble (Artists of the Royal Conservatory) playing the Brahms' Clarinet Quintet.
Then Amici has its second concert of the season