December's Child Aisslinn Nosky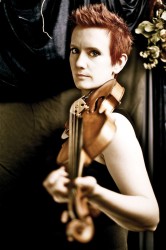 Violinist Aisslinn Nosky, from Nanaimo BC,  was a student of Heilwig von Königslöw  at the Nanaimo Conservatory when she played her solo debut with the CBC Vancouver Orchestra at the age of eight. It's possible she has not stopped for breath since.
Nosky moved to Toronto by herself, at the age of 15, to study with Lorand Fenyves for 5 years, later enrolled at the Glenn Gould Professional School, (Toronto) with summers at the Banff Centre, and the Steans Institute (Ravinia Festival).
Today, along with solo, chamber and orchestral commitments across North America, Europe and Asia , she is increasingly in demand as a leader and concertmaster.
Since 2005, Nosky has been an active member of Tafelmusik Baroque Orchestra as an ensemble member and soloist. Prior to Tafelmusik, she was Assistant Principal Second Violin of the Canadian Opera Company Orchestra, and a frequent guest concertmaster with Symphony Nova Scotia. Nosky was recently been named concertmaster of the Handel and Haydn Society in Boston, a post she took up in September 2011.
As Co-Artistic Director of I FURIOSI Baroque Ensemble for over a decade (with Julia Wedman, Felix Deak, and Gabrielle McLaughlin) Nosky has helped to bring an increasingly wider audience to baroque music, with an extraordinarily creative concert series. Her other regular chamber commitments include the Eybler Quartet,  the Kirby String Quartet, and The Knights' Chamber Orchestra.
Nosky's astonishing energy and all-embracing musical appetite result in after-hours consorting with bands such as The Hidden Cameras, Hunter Valentine, and Rock Plaza Central.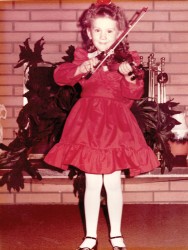 Do you remember that childhood photo being taken?
I don't remember this specific photo being taken, but I think it must have been taken in our living room before heading out to a recital at the community music school where I took lessons in Nanaimo, B.C.
When you look at the photo today, what does it cause you to think or remember?
Looking at the photo today and seeing the expression on my face, I am reminded that I have always loved to perform. Those recitals were always the most exciting days of my year. I also remember that I had quite an amazing repertoire of performing gowns for one so young.
If you could meet the little person in that childhood photo…
I would like to tell her that the quality of the time she will spend practising violin is more important than the sheer volume of hours;
I would ask her to remember to stop and smell the roses every once in a while;
I would also want to warn her that puberty is going to be a little rough but not to worry too much about it because the people around her in her life who care for her will really be there for her.
Your absolute earliest musical memory?
I don't remember ever not having music around. My mother tells me that from the time I was a tiny baby I would get quiet when she put certain records on. Apparently my favourite was an LP of Jascha Heifetz playing the Brahms Violin Concerto with the Chicago Symphony conducted by Fritz Reiner. The record literally wore out by the time I was about 8.
Other musicians in your childhood family?
My family is filled with music lovers, and my mother is a voice teacher in Nanaimo. Every memory of a family gathering in my childhood  has singing in it. My grandparents, uncle, aunt and cousins all loved to sing so after dinner out would come the sheet music and off we would go! I wasn't much of a singer so I learned to play the piano well enough that I could get away with accompanist duties.
Where did hearing music, both formal and informal, fit into  your life as a child?
When I was not practising violin or at school I was always listening to music: my parents records, my own cassettes, the radio…whatever I could find. Whenever there was a concert performance in Nanaimo, my mother was sure to take me to it and when I got a little older my violin teacher, Heilwig von Königslöw would take me along to all the freelance gigs she played in Vancouver. She would sneak me into dress or tech rehearsals for opera whenever she could. She also played in the fabulous CBC Radio Orchestra and I went to many of their concerts as a child.
When did you first play the violin?
I started violin lessons sometime between the ages of 3 and 4.
One day I saw a segment on Sesame Street where Itzhak Perlman played the violin. I informed my mother, 'I am going to do that when I grow up.'
She asked me if I thought I would like to give it a try before I was totally grown up and I said 'Sure!' So…off we went to the big city of Victoria to pick out a bright shiny new violin.
What do you remember about your first violin teacher?
My very first teacher was an extremely kind lady named Vivian Pritchard who taught through our community music school. We only had a little while together before she ended up taking a year off of teaching. My second violin teacher, Heilwig von Königslöw took over Ms. Pritchard's studio of students. I studied with Heilwig for almost ten years and today she remains one of my closest friends. All you music teachers out there reading this please know what a positive difference you are making in the lives of young people!
Your first experiences of making music with other people?
My teacher insisted that all of her students play in her student string orchestra and take group technique classes. She would also arrange chamber music groups and coachings for the really keen students. I loved orchestra and was bitten by the chamber music bug very early on…I think my first attempt at forming a professional  string quartet was somewhere around the age of nine
Do you remember when you first performed for an audience?
I don't remember ever not having music school recitals to attend and play at.
My earliest solid memory of a solo performance is playing the first movement of Vivaldi's a minor violin concerto (of Suzuki book fame) at the local music festival. I know that I must have played solo before this but I really loved that piece and have a vivid memory of getting up and going to it with gusto.
Do you remember the point at which you began to think of yourself as a career musician?
By the time people were asking me what I wanted to be when I grew up it seemed natural for me to answer that I wanted to be a musician….either that or pitch for the Yankees – depending on what day you asked!
Suppose a  local after-school club asked you to talk informally about your work with a very mixed group of children…
I'd say I'm a professional violinist. I perform classical music for people in Toronto and all over the world, and that  making music with people makes me really happy.
When I play concerts I try to share that feeling of happiness with the people in the audience.
UPCOMING…
Tafelmusik -   Baroque Splendour: Thurs Dec 1, Fri Dec 2, Sat Dec 3 at 8pm; Sun Dec 4 at 3:30pm; Trinity-St. Paul's Centre.  With  Alfredo Bernardini, guest director and oboe soloist.
Baroque Dresden's remarkable court orchestra attracted Europe's best instrumentalists and composers, resulting in flashy, stunning and technically demanding music. Join Tafelmusik, directed by the dynamic and entertaining Italian oboe virtuoso Alfredo Bernardini, for music by Fasch, Pisendel, Telemann and Vivaldi.
I FURIOSI BAROQUE ENSEMBLE: Hell Hath No Fury Sat, Dec 10th,  at 8pm; Calvin Presbyterian Church. Hell hath no fury like I FURIOSI scorned.  Not your average Christmas concert. Guest: James Johnstone, harpsichord
Tafelmusik MESSIAH: Wed Dec 14, Thurs Dec 15, Fri Dec 16, Sat Dec 17 at 7:30pm;   at Koerner Hall, directed by Ivars Taurins.
Tafelmusik Sing-Along Messiah Sun Dec 18, 2pm at Massey Hall
Handel and Haydn Society (Boston), January 20 & 22, 2012, Symphony Hall, Boston.
Concertmaster Aisslinn Nosky makes her H&H solo debut in Vivaldi's virtuosic The Four Seasons.  Audiences will tour Italy and experience the richness of the Italian culture from Handel's operas, written while he lived there, to J.C. Bach's dramatic symphony, composed shortly after a visit to the country.
Tafelmusik House of Dreams, Wed Feb 8 at 7pm, Thurs Feb 9, Fri Feb 10, Sat Feb 11 at 8pm, Sun Feb 12 at 3:30pm Trinity-St. Paul's Centre. An imaginative concert designed by Alison Mackay, creator of Metamorphosis, Chariots of Fire, The Galileo Project
The Eybler String Quartet will be making a recording of Haydn Opus 33 string quartets this January for future release on Analekta
Who is February's Child?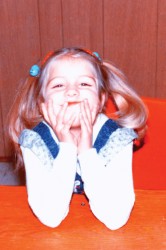 With roots in The Land of Song, and a dragon tatoo on her right ankle, this soprano is a match for
… the subtlety of a Palej or Berlioz song-cycle (Group of 27);
… the ecstasy of Vivaldi's Juditha (Ensemble Caprice);
… the stamina and humour for a TSO outreach tour (arias, semi-staged with props);
… the heat of an all-female a cappella ensemble in Svabda – Wedding (Queen of Puddings Music Theatre, June 2011);
… four characters and their puppets in Crazy to Kill (Toronto Masque Theatre, November 2011).
Think you know who our mystery child is? Send your best guess to musicschildren@thewholenote.com. Please provide your mailing address just in case your name is drawn! Winners will be selected by random draw among correct replies received by January 22, 2012.
SEASONAL GREETINGS TO OUR WINNERS! HERE'S WHAT THEY WON:
The Sing-Along MESSIAH at Massey Hall is a fine warm-up for seasonal merry-making (Dec 18, 2pm). Maestro Handel conducts the Tafelmusik Baroque Orchestra and Choir and guests: Karina Gauvin, Robin Blaze, Rufus Müller, and Brett Polegato. WholeNote readers Mary McColl and Joan Sayer each win a pair of tickets, and a copy of Tafelmusik's BEETHOVEN Symphonies Nos. 7 & 8. Nosky says: "I think we bring a roughness to our interpretation of the Beethoven symphonies which helps highlight how revolutionary they were — colours and textures that were almost beyond the capability of the instruments of the time. It sounds very on the edge to me!" (AN2 9947)  Hell Hath No Fury: I FURIOSI Baroque Ensemble's second concert of the season (Dec10, 8pm), with guest James Johnstone, harpsichord. Bach, Handel and Corelli, but "Not your average Christmas concert!" Dare to find out why, along with Robert Lescoe, Phoebe Cleverley and their guests!  Crazy: I FURIOSI's CD on the Dorian Sono-luminus label. The 16th–18th century repertoire diversely reflects the theme of insanity. Liner notes about the composers' twisted lives and times are fascinating. Crazy includes a haunting encore: Suzanne by Leonard Cohen. With guests James Johnstone, Stephanie Martin, Lucas Harris. (DSL-90802. A copy each for Diane Harvey and Nancy Martin.  Backofen and Mozart: an Eybler Quartet recording — quintets by virtuoso clarinetist and composer Backofen (contemporary of Mozart), and a Mozart quintet. Nosky: "I really like this recording because it features the brilliant playing of one of my favourite musicians, English clarinetist Jane Booth." AN29949. A copy each for Myrna Foley and Julie Goldstein.  NEW FOR 2012! Aisslinn Nosky's brand new, self-titled, independently produced recording of works for solo violin by Bach, Ysaye and Oesterle, will be available in January. Among the first to receive one of a limited number of CDs, Ed Boucher!