November's Child Joan Watson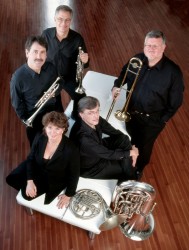 Joan Watson — horn soloist, principal horn, chamber musician, lecturer and educator — was born in Dauphin, Manitoba. Presently first horn of the Canadian Opera Comany Orchestra and a founding member of True North Brass, she was associate principal horn of the Toronto Symphony Orchestra for 14 seasons, and has been principal horn with the Esprit Orchestra, New Music Concerts, and the Victoria, Pacific Opera and Vancouver Opera Orchestras.
You've probably heard Watson on the CBC as a chamber musician, and certainly (without knowing who you were hearing) in numerous commercials, television shows and movie scores.
A member of the University of Toronto's faculty of music, Watson joined The Boston Conservatory faculty this fall. She also teaches a course called "Goal Setting for Musicians" (see Allan Pulker's column in this issue, or her website creativepeoplecoaching.com).
When you look at the childhood photo today? Apparently I've had an oral fixation for years! I moved from soprano sax to violin at age 5, played trumpet in grades 3–5 and switched to horn in Grade 6 for very self-serving reasons. I wanted to win the Best Musician trophy in Grade 12 and realized early on that I needed to be on a different instrument from the band director's son who played trumpet. He would likely win the trophy one year ahead of me and they did not give the trophy to the same instrument two years in a row. Horn was my only chance I thought the horn couldn't possibly be as difficult as everyone said it was. I did win the trophy!
My dad took an annual Christmas photo of the whole family with instruments. Music was his passion until art took over. He was a wonderful watercolourist by the end of his life. He always ran a stage band and my brothers and myself were the sax section, except for one on piano.
I took up the horn in 1963 and we took a family photo that Christmas. It was taken just a few days before my mother passed away. I was holding a violin, at age 10. I really treasure that photo.
Early musical memories? Dauphin did not have a school music program. We had a town band and it was comprised of kids and adults. The stage band was a mix of people who just loved to play. The local chiropractor was the guitarist, our band director played lead trumpet, the lead trombonist ran a construction company. They were wonderful passionate musicians.
We did play LPs and there was always music around the house of some sort. Lessons, rehearsals, chamber music, orchestra rehearsals, etc. Our home was the hub of Dauphin music making. My step mother started the Dauphin String Orchestra and a school music program. She was a concert violinist and had been in the Winnipeg Symphony before coming to Dauphin. She was also the founder of the Winnipeg Schools Orchestra, still thriving today …
Read the full interview, coming soon to thewholenote.com.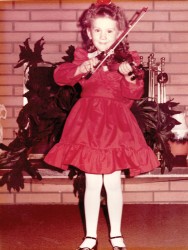 Who is December's Child?Never one to take things sitting down, she moved to Toronto by herself, as a young teenager. Today she tours internationally and commutes routinely to Boston, while furiously juggling chamber collaborations in Southern Ontario. You'll find her face no less than three times, elsewhere in this issue of The WholeNote.
Think you know who our mystery child is? Send your best guess to musicschildren@thewholenote.com. Please provide your mailing address just in case your name is drawn! Winners will be selected by random draw among correct replies received by November 22, 2011.
The Call of Christmas: An unforgettable afternoon of Christmas music presented by All Saints Kingsway Anglican Church  (Dec. 18, 4pm). The concert features The True North Brass with a massed choir, organist Simon Walker and mezzo-soprano Margaret Bárdos, and includes carol-singing. Shawn Grenke, conductor. Joan Sayer wins a pair of tickets.   Moussourgsky: Picture at an Exhibition: [TNB Records 2011] J. Scott Irvine's version for brass quintet and organ, recorded by True North Brass with Eric Robertson at All Saints Kingsway Anglican Church, was released November 1, 2011! John Brooker is the lucky winner of this CD.
The Call of Christmas [TNB Records, 2008]: a collection of 16 Christmas favourites, in arrangements by some of Canada's top musicians, for solo horn, strings, harp and percussion: The winner of this CD is Phoebe Lenez.   Songs my Mother Taught Me [2007 Phoenix Records] is a collection of favourite tunes in soothing arrangements (including a couple by TNB's Al Kay): a musical tribute to Joan's mother: musical memories of love, serenity and safety. This CD goes out to Myrna Foley.
Music's Children gratefully acknowledges Shawn, Ray, Andrea, Michael, All Saint's Kingsway Anglican Church, and True North Brass.