October 's Child James Parker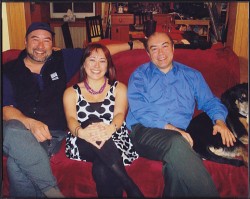 Pianist James Parker, ("Jamie" to many) lives in Toronto "with my wife Mim, our boys Dylan and Max, and our dog Mabel. I've got a Kawaii KG-2C baby grand piano, and a junky upright in the basement.
I love hockey. Music is a very close second in my life. You cannot know how disappointed I was with the Canucks Stanley Cup loss. June 15, 2011 ranks as one of the darkest days in my life. I'm only getting over it now. Belgian beer and chocolate might be third passion in my life.
Everyone should work on their wrist-shot accuracy. It'll help your octaves."
Born in Burnaby British Columbia, James Parker delights audiences at  solo, chamber, and orchestral concerts across Canada, and internationally. He has a huge discography which includes 3 Juno award winning records. Parker's musical roots are at the Vancouver Academy of Music and University of British Columbia where he studied with Kum Sing Lee. and received his Bachelor of Music degree. For over a decade,  Parker attended the Banff Centre, studying piano with Marek Jablonski, and chamber music with Lorand Fenyves  and then went on to complete his Masters and Doctoral with Adele Marcus at The Juilliard School.  Parker was an Associate Professor at Wilfrid Laurier University and now teaches on the music faculty at the University of Toronto as the Rupert E. Edwards Chair in Piano Performance.
Liz Parker had this to say about their mother:
The Matriarch grew up in Japan during the war - she learned to jump under her desk as a child during the air raids. She learned English in Japan and was pen-pals with my dad for 6 yrs - that's how they first knew each other. When she was sent a ring and proposal – she said yes and came to Canada - that's when they met. They received stares in public back then ... this was in the late 1950's.
Mom studied piano with my dad's brother, Edward Parker, and subsequently became a piano teacher but renowned as a music theory teacher. She was so strict, she taught on Halloween night: too bad! But you could show up to class in costume and then  trick-or-treat in her 'hood if you wanted to.
A strict Tiger Mother with a sense of humour at least:  she would come home and touch the TV screen (hot) and piano lamp (cold) to see if we REALLY practiced in her absence, and was upset with dad when he brought home the second TV (= less practice).
She "forgot" to pass on any social phone calls or messages (= less practice) but took us to McDonald's after every competition as a treat (even if we didn't place 1st).
Our mom is the epitome of class and ZEN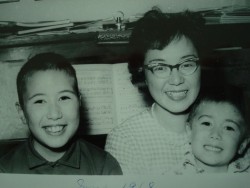 James Parker is  also a member of the Gryphon Trio, one of Canada's best chamber music ensembles. Well known to CBC listeners, the trio has toured many parts of the world, maintained a residency at Music Toronto from 1998-2008, and regularly commission works from Canadian and international composers. The Gryphon Trio's extraordinary schedule also includes major commitments to a wide range of initiatives working with student performers and composers.
Suppose you were with a child who is right now about the same age as you were in your childhood photo  – perhaps the child of a friend who is NOT a musical colleague. If they asked you  "What  do you do?", how might you reply?
I play piano. I also listen to other people play piano and help them get better at it.
You're travelling, and chatting with a friendly fellow traveller. After they have told you all about their career in pest control or medical imaging, they ask about your work. How might you reply? I'm a musician. I play piano concerts by myself and with friends. I've got a group, the Gryphon Trio, and we've been playing concerts together for almost 20 years all over the world. We're also in residence at the University of Toronto, where I'm the Head of Keyboard Studies, so teaching is also a very big part of my life. I also record a lot of CDs, so spending hours on end in a studio is something that I do once or twice a year.
When you look at the childhood photo today, what do you think about?
Jackie [Jon Kimura Parker] and I didn't do too much playing together as kids, since he was a prodigy and way ahead of me. It's been really great that every two or three years we get to do a two-piano concert.
Your absolute earliest musical memory?
There was always piano music in the house as far back as I can remember – my brother practicing, my mother teaching, my father listening to records
Other musicians in your childhood family? Older brother and younger sister are pianists. My mother is a retired music teacher, my father was an avid listener. My uncle is still teaching, with two sons – one who did his ARCT, and the other who performs. Ian and I will be doing a two-piano concert next season.
Where did hearing music, both formal and informal, fit into  your life as a child?
CBC radio was on all the time, and there was lots of practicing, lessons, and listening going on. I played clarinet in high school band which was a lot of fun (well, the band trips were fun!)
Why the piano?
Why? Genetics. If you're a Parker, you play piano. End of story. (Although, my little guys just started Suzuki violin, but they'll get piano lessons for sure.)
Do you sing? What is your first memory of  yourself singing?
Every pianist goes through this – you're playing for some famous guest artist master class during your studies, and they yell at you, "JUST SING THAT LINE …RIGHT NOW!." It's usually a bad memory! Now I'll sing passages for students during lessons and coachings, and occasionally threaten them to sing in front of the class.
What do you remember about your first piano teacher? Jessie Morrison taught the Kelly Kirby method, so I have vague memories of learning about Doggie D, Bumble B and so forth.
What were your first experiences of making music with other people? I was very late to chamber music – it's a classic pianist thing – we're always so busy practicing so many things. I did a couple of chamber pieces at the end of high school at the VAM.
Do you remember when you first performed alone for an audience? No, I seem to have successfully blotted that out! I played all sorts of festivals as a kid, and did all the RCM exams.
Do you remember the point at which you began to think of yourself as a career musician?
I didn't decide to go into music until the end of Grade XII, so it wasn't until my university years that I really focused on becoming a professional musician.
Do you remember ever thinking you would do anything else? I was planning on doing Pre-Med at UBC, and I still have a strong interest in alternative healing of all sorts, especially Energy Medicine.
If you could travel back through time and meet  young Jamie that childhood photo is there anything you'd like to say?
Not really. I have very few regrets in life. I may tell him to practice a little more each day, but then I may not have developed the kind of friendships in school that I have to this day.
UPCOMING!
Sat, Oct 1: Gryphon Trio and many UofT Faculty and students playing a benefit concert for Japan --  Walter Hall at 3pm
Sun, Oct 2: Gryphon Trio and Patricia O'Callaghan –- CD launch at the Lula Lounge at 8pm
Wed, Oct 5: Gryphon Trio various school concerts in Hamilton
Sat, Oct 15: Rachmaninov Paganini Variations with Mathew Kraemer and the Mississauga Symphony – Living Arts Centre at 8pm
Sat, Oct 29: inaugural recital on the St. Andrews' Bosendorfer – St. Andrew's Church at 7:30 or 8pm
CURRENT / NEW RECORDING PROJECTS!
Naxos: Jeffrey Ryan "Fugitive Colours" (Gryphon Trio performs his "Equilateral" Triple Concerto with the Vancouver Symphony Orchestra under Bramwell Tovey)
Naxos: Gryphon Trio CD anthology – 9 discs with the great trios by Beethoven, Mozart, Schubert, Mendelssohn, and Shostakovich
Analekta: Patricia O'Callaghan and the Gryphon Trio "Broken Hearts and Madmen"
Who is November's Child?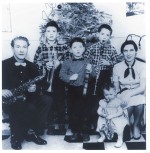 Today she juggles several orchestral, operatic and chamber collaborations, and combines these with teaching and mentoring all over the True North strong and free.
(This coming month you'll find her MassBrassing October 30.)
Think you know who our mystery child is? Send your best guess to musicschildren@thewholenote.com. Please provide your mailing address just in case your name is drawn! Winners will be selected by random draw among correct replies received by October 20, 2011.
CONGRATULATIONS TO OUR WINNERS! HERE'S WHAT THEY WON
The Sorcerer's Apprentice on Oct 15, at the Living Arts Centre, Mississauga: Jamie Parker plays the Rachmaninov Paganini Variations with the Mississauga Symphony Orchestra, guest conductor is Matthew Kraemer. Noreen Chong and Annie Odom each win a pair of tickets to hear the MSO's first concert of the season which also includes Dukas and Stravinsky.
The Gryphon Trio on Nov 17, at the Janet Mallet Theatre, Toronto: Jamie Parker, Annalee Patipatanakoon, and Roman Borys are Music Toronto regulars, this time treating the audience to a programme of Beethoven, Jordans, and Arensky. Daisy Leung and Laura Brocklebank each win a pair of tickets.
Broken Hearts and Madmen: just released! This collaboration between The Gryphon Trio and vocalist Patricia O'Callaghan features songs by Leonard Cohen, Nick Drake, Lhasa de Sela and Laurie Anderson alongside traditional melodies from Chile, Argentina and Mexico. (AN 2 9870). A copy each for Linda Devore and Paulette Popp.
Beethoven: Piano Trios Op. 70 No. 1 "Ghost" & No. 2; Op. 11: this Gryphon Trio recording won a 2011 JUNO award for "Classical Album of the Year — Solo or Chamber Ensemble". It's their 13th recording on the Analekta label and the last in their series of Beethoven piano trio recordings. (AN 2 9860). A copy each for Myrna Foley and Otto Rath.
Music's Children gratefully acknowledges Andrew, Eileen, Jennifer, Keiko, Liz, Sébastien, Orchestras Mississauga, Music Toronto and Analekta.