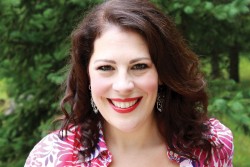 Soprano Sondra Radvanovsky was born in Berwyn Illinois, near Chicago but for 10 years her hometown has been near Toronto – first Oakville, and now on 10 acres in Caledon, where she lives with her Canadian husband and business manager, Duncan Lear. When not travelling around the world, she enjoys taking walks in the hills, gardening, splitting firewood, watching the wild turkeys cruise the driveway, entertaining friends, and,  most of all, doing absolutely nothing!
Radvanovsky is greatly admired for her interpretations of 19th century operatic repertoire, and Verdi in particular. Her voice is both agile and powerful, and a  deep  emotional intelligence informs her interpretation. Her acting is thoughtful and persuasive. She has performed at the Royal Opera House, Covent Garden, Paris Opera, Teatro alla Scala, Vienna State Opera, Lyric Opera of Chicago, San Francisco Opera, Los Angeles Opera and the Metropolitan Opera. Her Aida debut,  last autumn in Toronto, was also her Canadian Opera Company debut. This production will be broadcast on CBC RADIO 2,  Saturday Afternoon at the Opera on June 4 at 1pm.
The very same day at 8pm Radvanovsky's many admirers will have the rare opportunity to hear her perform live on stage at the new BlackCreek Summer Festival, with Placido Domingo.
What does the childhood photo cause you to think of or remember?
The photo makes me think of my grandmother on my mother's side because it was her purse at her house with her jewels on.  To me, she was the epitome of a grand dame and I guess even at a young age I wanted to be a diva!
Suppose you met a little child today – perhaps the child of a friend who is NOT a musical colleague. If they asked you  "What  do you do?", how might you reply?
Well, I would tell them the same thing I tell adults, "I get to dress up in pretty clothes, pretend to be someone else and sing like a little bird."
Suppose you were chatting with some nice person during a long wait whilst traveling, and after enthusiastically telling you all about their career in pest control or medical imaging, they asked about your work. What might you tell them?
This is a tough question because often times people don't really understand what I do.  I have told innocent people that I have sat next to on a plane that I was an opera singer and they said, "Oh, we just LOVEEEEEEEE the Grand Ole' Opry!|  So I have learned to read a person a bit before jumping in with both feet and saying that I sing opera – like Placido Domingo and Luciano Pavarotti – and instead just say I am in the arts or the music business.
Where were you born? Where did you grow up?
Berwyn, Illinois USA. We lived in the Chicagoland area until 1st grade and then my father was transferred to a *little* town in the middle-of-nowhere Indiana and later transferred again to Southern California for my Junior year of High School.
Where did you attend high school?
Both Richmond, Indiana High School and then Mission Viejo High School in Southern California
And after high school?
The day before I started my Senior Year of High School in California, my father passed away from a heart attack at 54 years old. I was in complete shock and didn't really know where to go with my life after that. It really was my singing that kept me together, as well as my wonderful mother, and she sought out a great voice teacher in Los Angeles and I studied with him every weekend while I was in High School.  He was a teacher at USC in Los Angeles and so I ended up getting a full scholarship to USC and spent 2 years there before transferring to UCLA as a drama major for 2 years.  After that, I finally realized that the whole college scene wasn't for me so I quit and studied voice privately while working full time until I won the Metropolitan Opera National Council auditions in 1995.  The rest, as they say, is history!
Music in Your Childhood
What is your absolute earliest musical memory?
My very earliest musical memory is of me singing along with my Karen Carpenter record when I was 4 or 5 years old.  I just LOVED her voice.
Are there (or were there) other musicians or performers in your family?
My mother always appreciated music but really could NOT hold a tune to save her life, as well as my father.  But my brother was a very good musician, much better than me, and played the piano very well.
Where did hearing music, both formal and informal, fit into various aspects of your life around  the time that photograph was taken, or a bit later?
Well, we went to church every weekend and I really think that hearing the Methodist hymns shaped my view of music.  My mother said that I would always sway along with the beat, even at a very early age.
What is your first memory of  yourself singing?
Hummmm, I would have to say it was of myself having my first little solo in our church choir, so I must have been around 6 or 7 years old.  I sang the butterfly solo and my mother bawled for DAYS!
What , if anything, was your first instrument?
I played the piano from around 9 to 10 years old and HATED it.  My mother and father said that they never wanted to make us do anything that we didn't want to do so I stopped taking those lessons and started playing the flute and piccolo.  And, actually, I had to toss a coin to determine if I was going to be a voice major in college or a flute major.
What were your first experiences of making music with ensemble?
I was in my Junior High School band and loved the music making.  Also, as I mentioned before, singing in my church choir from a very early age.
What were your first experiences of role-playing or acting?
I sang in my first opera, as a smoke girl in CARMEN, when I was 15 and I was HOOKED!
Do you remember when you first sang alone for an audience?
Oh YES!  My father was the head usher at our church in Indiana and I was asked to sing "He shall feed his flock" form the Messiah or an offertory.  So, I am standing at the pulpit, the organist plays the first chord, and I forget my words.  So, as every good 16 year old does, I said, into the microphone, "Oh shit!" I can't remember exactly when after that that my father dropped his collection plate but….
Do you remember the point at which you began to think of yourself as a musician? Do you remember ever thinking you would do anything else?
I can't remember a time when I DIDN'T think of myself as a musician.  There really was no question in my mind or my parent's minds that I was going to be involved in music in some way or another.
If you could travel back through time and meet face to face with the young person in that childhood photo (or maybe just  a little older), is there anything you would like to say to her?  Or ask her?
"You go girl!"  "It will be a tough life, in the music world, but the payoff is SO great.  And this is the gift that you have been given…use it and share the music."
Who is June's Child?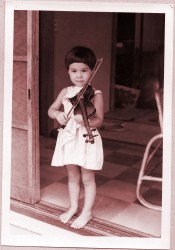 Ah…the simple pleasures of barefoot summer music for a serious young violinist!
Does that candid gaze see straight ahead, like Time's Arrow, into a future of international touring with a quartet – from Osaka to North America (via … some city in Austria)?
This lifelong chamber musician will once again conclude a busy 2010-11 season with a week in July, sharing the finer points of Forgotten Romantics, with emerging young artists in Toronto.
Think you know who our mystery child is? Send your best guess to musicschildren@thewholenote.com. Please provide your mailing address just in case your name is drawn! Winners will be selected by random draw among correct replies received by May 20, 2011.
CONGRATULATIONS TO OUR WINNERS! HERE'S WHAT THEY WON —
• June Rilett and a lucky guest will hear Sondra Radvanovsky and Placido Domingo sing together at the opening night of the BlackCreek Summer Music Festival. This concert is guaranteed to be a thrilling feast of opera duets and arias. One of the greatest tenors of all time whose voice has brought pleasure to millions around the globe, Domingo – "the King of Opera" makes his first Toronto appearance in over a decade! blackcreekfestival.com.
• Clement NG, Claire Lalonde, and Joseph Earls will receive Sondra Radvanovsky's glorious solo CD VERDI ARIAS – selections from Il Trovatore, Un ballo in Maschera, Il Corsaro, La Forza del destino, Ernani, and I vespri siciliani. Sondra Radvanovsky, soprano; Constantine Orbelian, conductor; Philharmonia of Russia Academy of Choral Art, Moscow. DELOS (#DE 3404)
• Charles Ritchie, Paul Sayer and Claudia Krawchuk will receive VERDI OPERA SCENES – Gala Live Concert from the Great Hall of the Moscow Conservatory, with Dmitri Hvorostovsky, baritone; Sondra Radvanovsky, soprano; Constantine Orbelian, conductor; Philharmonia of Russia. High drama, and great Verdi duet scenes from Il Trovatore, Un Ballo in Maschera, and Simon Boccanegra. Includes arias "O Carlo, ascolta," from Don Carlo (Hvorostovsky) and "Vissi d'arte" from Tosca (Radvanovsky). DELOS (#DE 3403).