April's Child Marie Bérard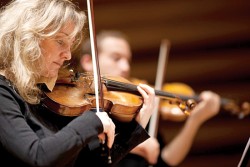 Concertmaster of the Canadian Opera Company Orchestra, and previously a member of the Toronto Symphony Orchestra Marie Bérard is also a chamber musician, soloist, recording artist and a passionate teacher. Bérard is a member of Trio Arkel as well as the ARC Ensemble which has tours extensively (Europe, China, USA) and had had two Grammy Award nominations for their recordings on the Sony label. The Arc Ensemble has a Koerner Hall coming up on April 26. Over the course of a season you are likely to find her collaborating with The Art of Time Ensemble,  Amici, ArrayMusic, and New Music Concerts to name just a few.  Bérard also holds the position of associate concertmaster of the Mainly Mozart festival in San Diego.
Born and raised in Trois-Rivières, Quebec, Marie Bérard attended high school at Collège Marie de L'Incarnation, a private school run by very musically enlightened nuns for kids with musical talent. "I didn't have to take Physics so I could practice during school hours. Of course now I know nothing of Physics…" She came to Toronto to study at UofT with David Zafer did summer programs with Lorand Fenyves, Sydney Harth and Nathan Milstein as well as the National Youth Orchestra.
Marie lives in Parkdale with her daughter Evelyne and a very quirky cat named Twister. She enjoys gardening all 12 square feet of her tiny garden and has been known to enjoy relaxing after performances with a good crossword puzzle and a tall glass of beer...
Do you remember the childhood photo being taken?
Not clearly but I remember sewing that funny jumper-dress! It was taken at a family gathering at my aunt's house.
Your earliest musical memory?
Coming home from school for lunch every day to the sound of my mom playing a recording of Brahms violin concerto with Christian Ferras. Listening to my dad come home from work and practice every day was a determining factor in developing the idea that music is just part of life, it's what you do and it's the most natural thing.
Other musicians in your family?
Everyone is a musician! My dad (in the picture with me, ubiquitous cigarette included…) was a fine pianist, graduate of the Conservatoire, my mom is a wonderful singer, a contralto, the most amazing of female voices, my sister is a hugely talented cellist and I have an aunt who has had a very successful series of house concerts for the past 30 years. My brother doesn't play anything but at heart, he's probably also a musician!
What is your first memory of singing (yourself or anyone else)?
I have a very precious cassette recording of myself singing " J'ai perdu le do de ma clarinette" at around age 5!
Your first instrument?
The recorder!
What were your first experiences of making music with others?
At the Conservatoire I met musicians who were founding what is now the OSTR, the symphony orchestra in town and they asked me to join them. I have since gone back and played as a soloist with that same orchestra, a wonderful trip down memory lane…
Do you remember when you first played alone for an audience?
Oh yes, catastrophic. CMC competition, terrifying!
Do you remember the point at which you began to think of yourself as a musician?
No!
Do you remember ever thinking you would do anything else? if so, what were those things?
I remember later on being amazed at (perhaps what was pure cockiness) having never even thought of what else I would do.
If you could travel back through time and meet face to face with the young person in that childhood photo (or maybe just  a little older), is there anything you would like to say to her?  Or ask her?
I would tell her to go practice! And I would tell her to stay open-minded and learn from every situation and every musician she encounters.
Please mention any engagements you have coming up in Southern Ontario over the next few months, and/or any new recordings you are involved in.
I will be performing Offertorium by Gubaidelina for violin and orchestra with Esprit on May 15th, and on June 4th we will have the first concert of the Black Creek Festival Orchestra with Placido Domingo.
Following festivals in California and Charlevoix, QC I will return to a beloved teaching and performing gig at Music at Port Milford in Prince Edward county.
I then have a concert at a wonderful new series in Gananoque with some colleagues from the ARC ensemble on August 22nd.
Music's Children gratefully acknowledges Joan, Phil, Randy, Amanda, Duncan and Svetlana, the COC, ESPRIT, and the ARC Ensemble
Who is May's Child?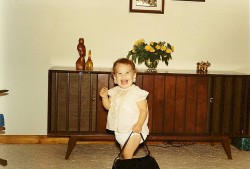 The Diva wears diapers, and is just walking, but already has a smile and a handbag that say "watch out for me – I'm going places!" This elegant little lady will soar to significant height, register, and an acclaimed international career
"La Donna e mobile" indeed! She will inhabit many favourite Verdi characters – best known, perhaps for Leonore in Il Trovatore.
Her Un ballo in maschera debut was in 2010 (Lyric Opera, Chicago – her other hometown) but clearly her appetite for ballgown glamour and fine costume jewellery began in babyhood.
In 2010, she made her Aida debut in a production which did NOT feature ballgowns.
To date she has performed only one role with the Canadian Opera Company, although has lived near Toronto for 10 years and is married to a Canadian.
Think you know who our mystery child is? Send your best guess to musicschildren@thewholenote.com. Please provide your mailing address just in case your name is drawn! Winners will be selected by random draw among correct replies received by April 20, 2011.
Photo taken 1970, near Chicago, Illinois.
CONGRATULATIONS TO OUR WINNERS! HERE'S WHAT THEY WON –
•Lise Ferguson: a pair of tickets to Richard Strauss' Ariadne auf Naxos (April 30-May 29). Sir Andrew Davis's Canadian Opera Company conducting debut features Adrianne Pieczonka, Richard Margison Jane Archibald and Alice Coote (also COC debuts); and of course our wonderful COC Orchestra with Marie Bérard! Directed by Neil Armfield.
•Mary McClymont: a pair of tickets to Musical Offerings (May 15). Marie Bérard is the guest of ESPRIT Orchestra for a concert which includes Gubaidulina Offertorium (concerto for violin and orchestra, 1980) centered around the royal theme of Frederick the Great from Bach's A Musical Offering (BWV 1079). Also: Pauk's Portals of Intent; Harman's Coyote Soul (world premiere & Esprit Commission) and Gougeon's Phenix.
•Noah Watson wins Two Roads to Exile: String Sextet – Adolf Busch; String Quintet – Walter Brunets. Chamber music by two composers of very different backgrounds who experienced equally different exiles: the result of Nazi persecution which destroyed their careers. Both tonal pieces are gorgeously shaped and coloured on this disc, demonstrating how they deserve a new life in the post-serialist 21st century. (John Terauds) Nominated for a 2010 Grammy award in the best chamber music category (RCA Red Seal 88697 644464490 2).