March's Child Alain Trudel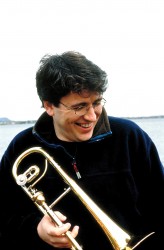 Alain Trudel began his musical life as a trombonist. He played his solo debut at   the age of 18 with l'Orchestre Symphonique de Montréal, but it would be hard to say which aspect of his work today he is best known for. Composing, educating, recording and conducting are all aspects of the life of this immensely well-liked musical man with a ready grin, infectious enthusiasms, and apparently endless energy, unquenchable even in the face of a rare and often lethal cancer, from which he recovered in 2006.
On the late February day this interview was completed, Alain Trudel was conducting his debut performance with the St. Petersburg Cappella Symphony Orchestra, but still found time, good-humouredly, to email these final details:
"Alain currently lives in Chambly, Québec, with his partner Christine, a nurse (and no, they did not meet at the hospital!). Between the two of them they have five teenagers: Alexis (14), Roxanne (14), Olivier (17), Elisabeth (19) and Alexandre (19). This lively house is also the home of Oreo, a tuxedo cat, and Kovi, their faithful Golden retriever."
Between that day at the end of February and the first week of May he will have been the guest conductor of the Hamilton Philharmonic (March 5), and connected with almost all of his main ensembles: he's music director of l'Orchestre symphonique de Laval (March 6, April 26), principal guest conductor of the Victoria Symphony Orchestra (March 26, May 6), conductor of the Toronto Youth Symphony Orchestra (April 10-16), and principal guest conductor of the Hannaford Street Silver Band (April 17). He's also music director of the National Broadcast Orchestra.
The recipient of several international and Canadian awards, and the first Canadian to be a Yamaha international artist, Trudel has conducted and been a guest soloist with renowned orchestras on five continents. Among his colleagues he is known as an eager collaborator: "Bellows and Brass" with Guy Few and Joseph Petric, and "Kiosque," which recreates the band music of small Quebec towns at the turn of the previous century, are two examples of the imaginative music making he embraces.
The lucky young people under his baton in the TYSO are only a few of those whose music futures he will shape. For more than two decades his summers have included time at camps such as Interprovincial Music Camp in Ontario and Camp Laurentide, in Quebec.
Do you remember that childhood photo being taken? My confirmation! One of the rites of the Catholic religion. I was 6 or 7, and was really excited about that suit… especially the shoes! I lived almost across the street from the church and used to play very often on the church grounds as a child. Later when I started playing in the community brass band (les Ritmiks de Montréal) we spent a lot of smoky nights playing music at the church bingo games to raise money for the different activities of our band.
Suppose a child of about the same age today asked "What do you do?" How might you reply? I am living my dream! If an adult asked you the same question? I am living my dream. With all the beautiful moments and the moments of sacrifice that it involves!
Where did you grow up and go to school? I was born in Montréal – what is now known as "le plateau"… before it was posh! My last two years of high school were the turning point in my life and musical career. I went to Joseph-François-Perrault High School where I met my two mentors, Raymond Grignet and Gerald Macley. They started a special intensive music program, with about 50 students in those days (now thriving with more than 700!). We had an orchestra and Monsieur Grignet use to let me conduct it, a little bit at a time but on a regular basis… and we all know how valuable early podium time is for a conductor! After high school I studied at the Conservatoire de Musique de Montréal. Great school, Old European training with huge emphasis on solfège, musical dictation, history of art… the good stuff!
What is your absolute earliest memory of music? My mother singing jazz. She was a cabaret singer. She had a wonderful voice. Other musicians in your family? My father was an excellent jazz drummer, back in the days when there were jazz clubs in Montréal! I started being interested in music around 12, so it was always around.
Your first instrument? Guitar (for a very short time)! It was the big Harmonium craze in Québec – a really great group, try listening to their album "si on avait besoin d'une 5ieme saison," – incredible musicians. Then trumpet and then valve trombone.
Your first experiences of making music with others? Right from the beginning! I joined "les Ritmiks," a community brass band, with a few of my friends and we started that very night.
Do you remember when you first performed alone for an audience? That would have to be when I used to practise outside in the summer, in a quiet corner of the botanical garden in Montréal!
Was there some point when you began to think of yourself as a musician? No! It really has been a process, and I think it's just fine that way.
Ever think you would do anything else? Before starting with the band, I wanted to be a veterinarian, a psychologist, an airplane pilot, and not to forget the all too famous astronaut! After entering the band I never looked back.
If you could travel back through time to the little guy in your childhood photo, is there anything you would like to say to him? I would tell him not to worry; life will be very interesting for you… But lose the shoes!
Who is April's Child?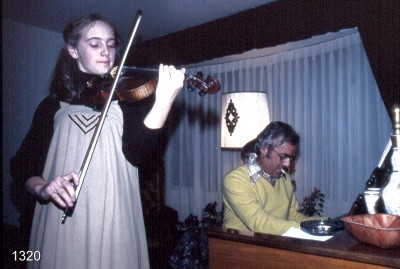 Will someone offer the young lady a chair?
Not yet, but she has one today that she's occupied since 1989 which will, by the end of this season, have taken her literally to hell and back again, visiting (among other places) Egypt, Venice, China and Naxos along the way.
Evidently not one to take life sitting down, today she plays musical chairs with numerous diverse chamber groups as well. Among her many collaborations, an ensmble whose name sounds like a kind of floating hotel for wild animals: how fitting for someone who must often commute to a city famous for its zoo – San Diego!
Think you know who our mystery child is? Send your best guess to musicschildren@thewholenote.com. Please provide your mailing address just in case your name is drawn! Winners will be selected by random draw among correct replies received by March 20, 2011.
CONGRATULATIONS TO OUR WINNERS! HERE'S WHAT THEY WON –
• Annie Odom: a pair of tickets to the Toronto Youth Symphony Orchestra's spring concert (April 13, George Weston Recital Hall) featuring Gershwin's An American in Paris, Copland's Old American Songs, Dvorˇák's Symphony No. 9 (From the New World), and the world premiere of Dreams of Voyage, by Canadian composer Tristan Capacchione.
• Phoebe Cleverley: a pair of tickets to the Hannaford Street Silver Band's Low Blows (April 17, Jane Mallet Theatre) featuring American tuba virtuoso Patrick Sheridan and the premiere of his new work, The Straights of Hormuz for tuba and brass band. The HSSB will perform Graham's Standing on the Shoulders of Giants. Also featured: HSSB's annual young soloist contest winner. Alain Trudel will direct all and play his trombone, closing the show with a blues duet.
• Doogie Simcoe: a CD/DVD set by the National Youth Orchestra of Canada, conducted by Alain Trudel, featuring selections from their 2009 national tour. This 2009 Juno nominated recording features Mahler's Symphony No.6 and Stravinsky's The Rite of Spring, and includes a DVD of their webcast concert.
• June Keys: a remarkable duo recording Conversations with Alain Trudel, trombone, and Yannick Nézet-Séguin, piano. Music by Elgar, Saint-Saëns, Ravel, Bruch, Tchaikovsky, Blazewitch, Kreisler, Glière, Jongen, Brahms, Fauré, Fièvet. (ATMA: ACD2228).