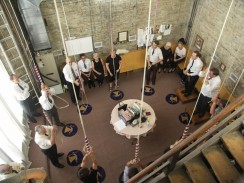 Once you get over the shock or excitement of thinking this striking photo is of cabinet ministers preparing an arts lynching, look more closely. What they actually are is bell ringers, three quarters of the way up the steeple of St. James' Cathedral at King and Church.
But if, for you as for me, the idea of Cathedral bells and ropes conjures the image of a mad carillonneur, Quasimodo-like, single-handedly making the whole cathedral sound like a giant glockenspiel, well again you may be disappointed. (He's locked further up in the tower.)
Pictured here are the change ringers of St. James', ringing the Bells of Old York. Sue White explains:
"The steeple in St. James' housed the only set of 12 bells in North America from 1997 until Trinity Church on Wall Street in New York installed a ring of 12 about three years ago. We know that the tower here had been designed originally for change-ringing bells in 1874 but legend has it that the original bells were sunk in the St. Lawrence on their way to Toronto and have yet to be found.
"Our band of enthusiastic ringers is still trying to master the complicated art of change ringing. The bonus of bell ringing is that, once you have learned how to handle a bell, a ringer is welcome in over 5,500 towers world-wide (mostly in England, but also Australia, the U.S. and the eight towers across Canada). You will be invited to, as they say, hang on and have a ring!
"Meantime, everyone is welcome to visit us in the tower. We will be taking part in Doors Open Toronto on Saturday May 29 from 10 am. So come and visit us. Apart from the fact that we love to show people how beautiful the bells are and how glorious they sound, we are always looking for apprentices to learn this ancient art. For more information please contact: Judith Hunt, secretary, at judithhunt@rogers.com."
Now to my point: for the full version of this story, click here.
It's a strange feeling for me, as a 20th century print junkie, to see our website's autonomous story-telling capacities starting to come into its own. (This month, in addition to Sue White's "Bells of Old York", the website contains a remembrance of esteemed choral educator Deral Johnson by Jenny Crober, one of many choral conductors on the local scene who stand in Johnson's debt. Regular blogger Cathy Riches took in the launch of Koerner Hall's 2010/11 season – lots to report there!)
I know some readers are going to bash us for not putting it all in print. (And believe me it's sometimes a tough choice.) But we are not cutting back. It's just that, if we rely solely on the magazine, we will never be able to tell all the stories out there waiting to be told. The way I am coming round to seeing things, timely use of www.thewholenote.com is one good medium for keeping you informed of all the interesting things we happen upon between monthly magazines.
As I said, I am a print junkie. But I'm open to suggestion. How about you?
—David Perlman, publisher@thewholenote.com