At last, it's finished. The Royal Conservatory of Music's Telus Centre for Performance and Education, behind the RCM's Victorian home on Bloor Street, is now officially complete, inside and out.
"The construction took three years," says a proud Peter Simon, the RCM's president. "And the planning began two years before that." Simon estimates that the final price-tag for the building was about $120 million.
The centrepiece is Koerner Hall, a 1,140-seat concert hall that opens with a gala concert on September 25 – followed by a season of 70 more concerts. And for Toronto's musical communities, the presence of this new facility in the heart of the city brings both opportunities and challenges. It's a bold venture that will surely change our musical culture.
Apparently, that's the whole idea. "Toronto needed a great hall," remarks Simon. "We didn't set out to build the kind of hall you find in a lot of music schools: a facility that's primarily there to serve the students and staff. We set out to build a hall that would attract international artists. There was nothing downtown like that. I consider the George Weston Recital Hall to be a great hall" – he pauses – "but it is where it is." (Where it is, of course, is up in northern Toronto at 5040 Yonge Street, in what was once the city of North York.)
Simon doesn't like to describe the new Koerner Hall as a copy of the George Weston, preferring instead to emphasize the differences. For one thing, Koerner's acoustics have received the highest possible rating ("N1" in scientific jargon), thanks to the giant rubber pads the building sits on. For another, the Koerner is slightly different in shape: higher and less oblong, with a much shallower balcony. Koerner is also outfitted with the latest high-tech equipment, including 24 robotic camera positions to facilitate broadcasting.
Yet the two halls are similar in many ways. Like the George Weston, Koerner Hall is first and foremost a concert venue, with a stage large enough to accommodate an orchestra – but it's not a "multi-purpose" hall. (Simon admits it won't be suitable for full-scale opera productions, for example.) As well, both halls are approximately the same size. And, as Simon explains, in the concert business, size matters.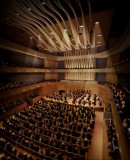 The "There's a whole range of artists that will sell 700-1000 seats, and economics make it impossible to present them in Toronto. If you want to present major artists, and you only have 600 seats to sell, you're limited. 1150 is the sweet spot. It's not a general rule, but the great halls in the world are in the 1100-seat size."
In building Koerner Hall and getting into the concert business in a big way, the RCM has bitten off plenty to chew on. The budget for concert expenses at the Conservatory this year is about $3.5 million, and Simon hopes to earn that money back from ticket sales. He believes that the new facility won't become the tail that wags the dog, requiring constant injections of cash from RCM's operating budget to survive. "We have no moral objection to making a profit," he quips, "but our goal is to break even. We haven't built something that's not economically viable."
That said, it will take more than blind "if-we-build-it-they-will-come" faith to make the RCM's new initiative work. And nobody is more aware of this than Mervon Mehta, the man that the RCM has hired to make Koerner Hall an artistic and financial success. An experienced impresario, he's programmed concerts for such big-name venues as Chicago's Ravinia Festival and Philhadelphia's Kimmel Center.
The name Mehta is a familiar one in the musical world: Mervon's father is the famous conductor Zubin Mehta; and his uncle is Zarin Mehta, executive director of the New York Philharmonic. As a result, Mervon grew up in a very musical environment.
"As a child, it seemed normal for Jessye Norma or Pinchas Zukerman to come to dinner," he recalls. "Looking back on it, I now realize it was pretty remarkable. My parents were very well rounded, musically. Growing up in Montreal, I heard a lot of classical music in our home – but there was also music by Ella Fitzgerald, Frank Sinatra and Ravi Shankar. And when I moved to the States in the 1970s, I discovered R&B and Motown."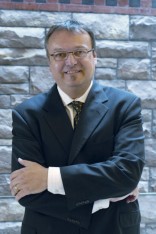 Mehta's eclectic musical experiences seem to have rubbed off on the programme he's put together for Koerner Hall. In the 2009/10 season, performers range from classical notables such as pianist András Schiff, violinist James Ehnes and the Emerson Quartet, to jazz pianist Chick Corea, sitar virtuoso Ravi Shankar and the Gypsy fiddler Roby Lakatose.
"We wanted to show that the Conservatory's open to all kinds of music," says Mehta. "Thirty to forty percent of what we're doing is classical, but we also have jazz and world music. I hope that when people see the totality of the season, they'll give themselves a chance to hear many different things. My feeling is that people are more open these days. It used to be that if people loved classical music – or jazz, or rock – they hated everything else. There's great music in every genre, and there's mediocrity in every genre. We certainly won't book an artist who is banal, or has nothing to say."
He also points out that he's trying not to offend or harm any of Toronto's established concert presenters. On the contrary, he's anxious to avoid the impression that the RCM is taking a hard-edged competitive stance – reminiscent of Garth Drabinsky's Livent, which aggressively promoted its concerts in the George Weston Recital Hall until the company collapsed in 1998.
"I'm in constant contact with Roy Thomson Hall," Mehta says, "and with other groups, like Luminato and the Toronto Jazz Festival. We've talked about the things we could do together."
As Mehta explains, some of the concerts in Koerner Hall will be entirely presentations of the RCM, some will be co-presentations with other organizations, and sometimes the hall will simply be rented out for a variety of purposes (weddings and bar mitzvahs included). But whatever the financial arrangements, all concerts will be single-ticket events: it's not possible to subscribe to a series in Koerner Hall. As a result, attendance will fluctuate from one concert to another in ways that Mehta can't predict. "If I knew for sure what would happen, I'd be a genius! But with a hall this size, we don't have to hit a home run every time."
Simon and Mehta speak confidently and reassuringly about the RCM's new hall and concert series. Yet these are risky times for ambitious enterprises, and Koerner Hall is nothing if not ambitious. So why, exactly, is the Conservatory – which is first and foremost an educational institution – getting into concert business, on a scale not seen in Toronto since Livent crashed and burned?
Simon has a ready answer. "If Canada is to have a great music school, then we have to offer what other great institutions have to offer. The Juilliard School in New York is part of Lincoln Center, and the students benefit from that association. With this hall, we're able to provide students with that kind of experience. You can't divorce education from performance. Any artists we engage are going to give a masterclass – and anything else we can get them to do for our students. Koerner Hall is a terrific tool: it makes the Conservatory a focal point of the musical community in a way that a smaller hall couldn't."