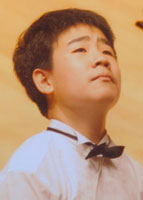 As we all know, Toronto's classical music scene has a lot going for it. But one thing that's never been established here is an ongoing international piano competition.
Back in 1985, the Bach International Piano Competition was launched with great fanfare. Unfortunately, it proved to be a one-off event. However, its first-prize winner, Angela Hewitt, achieved a distinguished international career – thereby endowing the ephemeral event with a 100 percent success rate, in terms of selecting laureates who go places.
In the first week of November, Toronto's Chinese Cultural Centre attempted to fill this gap in the city's musical life by launching the CCC Toronto International Piano Competition. A total of $28,000 cash was offered, a distinguished jury was convened, and competitors from ten countries (including Canada) were accepted into the competition.
I attended the last round, on November 8, at the Royal Conservatory's Koerner Hall. This was the only round in which the competitors – narrowed down to field of three finalists – performed concertos. For this purpose, an orchestra of freelancers, under the baton of the conductor Kerry Statton, was assembled and given 24 hours notice to prepare a programme.
The soloists were Vakhtang Kodanashvili (born in the Republic of Georgia), who chose Tchaikovsky's Concerto No. 1; Kirill Zvegintsov (from Ukraine), who performed Ravel's Concerto in G; and Jiayan Sun (from China), who played Prokofiev's Concerto No. 2. Never, in my experience, has a competition winner been easier to pick from the field of contestants.
Kodanashvili and Zvegintsov played with strength and agility (respectively). But Sun – by far the youngest finalist, at 20 years of age – left the others in the dust. His performance wasn't just good, it was masterful, with an intensity and sureness of direction that left this listener hanging on every note. I expect it took the jury about one minute to agree on awarding first prize to him. And I wouldn't be at all surprised if we hear more from this young man, who is currently studying in New York.
And what of the event itself? Has Toronto finally found its way into the international piano competition circuit? Perhaps. The organizers hope to continue, with an international competition every other year, but it remains to be seen if they can make it happen. If they do, I hope the competition finds more pianists of Sun's stature: until he started to play, I wouldn't have said that the event had attracted any serious contenders for a major career. Organizers might also think about incorporating performance opportunities into their prize structure. The cash is nice, but engagements are what young musicians need most.