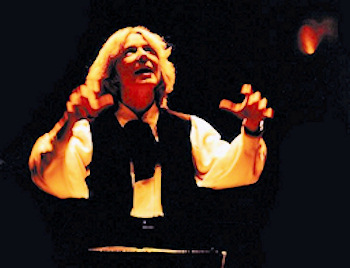 For four years Agnes Grossmann has been artistic director of the Toronto Summer Academy and Festival. Born into a musical family – her father was director of the famous Vienna Boys' Choir – she was a gifted pianist who enjoyed the benefits of an excellent musical education in Austria. However, she is no stranger to adversity: an injury to her right hand brought an end to her pianistic career. She then took up conducting – in a country where women are given few opportunities to enter this profession.
In 1981 she accepted an invitation to teach and conduct in Canada. Today she lives in Toronto, with her husband, the conductor Raffi Armenian. In June, she spoke about her musical career, and the festival that's been described as "a virtual oasis in the desert of the Toronto summer."
Colin Eatock: I understand that you began your musical career as a pianist, but were forced to abandon the piano because of an accident. Today, would you rather be a conductor or a pianist?
Agnes Grossman: Of course my real dream was to be a pianist. I certainly would have loved to do that all my life. Already as a child I wanted to be a pianist – and my father, who was my first teacher, discovered that I had absolute pitch. I went to the Academy, and developed very fast.
But because of my accident I discovered a new palette of musical expression. I'm grateful today to have experienced all this: it gave me new possibilities to learn how one can influence sound through movement. Through the orchestral and vocal repertoire I found a new musical world.
CE: Why did you move to Canada?
AG: Cynthia Floyd – who is a pianist at the University of Ottawa and who was a colleague of mine at the Academy of Music in Vienna – phoned me and asked if I would be interested in coming to Ottawa as an artist in residence, to take over the university's orchestra and choir. Cynthia knew I had become a conductor, and I occasionally conducted concerts with the Vienna Chamber Orchestra and Chorus. I came to Ottawa and stayed for two years.
I had never been in Canada before. But I had a good friend, Raffi Armenian, here. We knew each other already when I was 17 and he was 19, when he came to study at the Hochschule für Musik. Raffi and I have known each other since Vienna, and that was an important connection to Canada.
CE: How did your career unfold after you came to this country?
AG: From 1981 to 1983 I had a lot of guest appearances with the Chamber Players of Toronto, and was asked to become artistic director, starting in 1984. But I was also asked to return to Vienna to become the conductor of the Wiener Singakademie, the choir of the Vienna Symphony Orchestra. So there were three years when I was in Vienna at the Singakademie, but also the conductor of the Chamber Players of Toronto, so I came to Toronto six times a year. In 1990 the Chamber Players toured to Germany and Austria. But this was the last year of this ensemble: there was not enough money.
In 1986 I received an offer to become director of the Orchestre Métropolitain in Montreal. At that time I was with the Singakademie, but also teaching ear training and choral conducting at Vienna's Hochschule. I gave all that up, because I was mainly interested in performance, and I didn't have enough opportunities in Austria. That's when I permanently moved to Canada – and I have not regretted it. For nine years I was with the Orchestre Métropolitain. It had been in existence for two years, and had a small, mainly contemporary, repertoire. I decided to build this orchestra with German repertoire, because the Montreal Symphony under Charles Duotit concentrated on Russian and French music. Dutoit rehearsed his orchestra in English – but I rehearsed the Orchestre Métropolitain in French. It helped that I had learned French when I was a student in Paris.
I was asked to take over the Orford Arts Centre in 1989. Lots had to be done, because under Gilles Lefebrve it was wonderful, but after him it had come down a bit in artistic quality. I built it up with the greatest joy: I brought in pianists, vocalists, string and wind players from all over the world. And with the chamber orchestra I could do some important festival concerts in Orford.
In 1995 I was asked if I would be interested in taking over the Vienna Boys' Choir. That was the time when I left my positions in Canada. I went back to Vienna in 1996 and began to prepare for the celebration of the 500th anniversary of the choir. As you know, my father was for many years artistic director of the Vienna Boys' Choir. He established the vocal quality for which they are so famous.
I did a lot. I created a much larger repertoire, but I also reduced the number of concerts. At that time every boy sang 100 concerts per year: these concerts were necessary to keep this institution running, because it was self-financing. My idea was to slowly integrate some sponsors and government funding, and at the beginning that idea was applauded with enthusiasm. The quality rose considerably, and we did a celebration concert in 1998 with Haydn's Seasons, where I conducted not only the Choirboys, but also the Chorus Viennensis, the Vienna Chamber Orchestra, and soloists. This was very important because all the concert managers in the world came to this celebration, and realized that the Vienna Boys' Choir was back on track. We also did tours, including one to the United States and Canada.
CE: What was it like to be the only woman who has ever served as artistic director of the Vienna Boys' Choir?
AG: I think it was a breakthrough for a woman to be asked to become artistic director. There was enthusiastic support – even from the board, who are all former Choir Boys. But of course I also felt that it was very new to them, and a learning process. Austria is a Catholic country, where I was not allowed to conduct in the Royal Chapel: only men may conduct there. That gives you a picture of the situation. On the other hand, all my suggestions and plans were openly accepted in the beginning, and it was agreed that something had to be done to reduce the workload for the children: they had school in the morning, a one-hour break, two hours of rehearsal, another break, then supper, and then homework in the evening. There were also two concerts per week.
After the American tour in 1998 I came to a board meeting and was told they had decided to go back to the old way, which meant no sponsors or government money. That was the moment when I said I wouldn't stay, because I don't believe in this way of doing things. I came back to Canada, and Orford invited me to return as artistic director
CE: Let's talk about the Toronto Summer Music Academy and Festival. Was it your idea?
AG: The form of the festival as it is today was certainly my idea. But in 2003 David Beach, who was dean of the University of Toronto's Faculty of Music, had organized some summer workshops, for professional and amateur musicians. It was called Silver Creek. We talked about the workshops, and I said I was astonished that Ontario doesn't have an institution like Orford or Banff. I said it would be interesting to build something similar. He said maybe you come to our board meeting and present your plan. That was at the end of 2005.
My idea met with a very enthusiastic reaction. I planned a four-week summer festival and academy for 2006, with three concerts per week, including concerts by the young musicians. I also planned for an opera: we started with Don Giovanni, and had auditions across the country. We also brought some very important musicians to Toronto, including pianist Richard Goode, who gave a wonderful recital.
CE: Other people have tried to launch summer festivals in Toronto, without much success. Why has it been so hard to attract audiences in Toronto during the summer? And why have you succeeded where others have not?
AG: I do think that the "cottage effect" is one of the reasons why this has been a problem. Many people leave the city in the summer. And I know that others have tried to start festivals, but perhaps there was not enough money to do something important. We had a good board to raise the money, thanks to Jane Smith, who's a real go-getter. The whole board is really supportive. After every concert there's a reception, either at one of the homes, or in a club. It's really wonderful how they are working for this event.
Also, I'm connected with many important institutions in Canada. I had a network, and I could ask people if they were interested in coming. Well, of course they were interested. My experience has allowed me to invite musicians who would come for a very friendly price: people who were with the Chamber Players or the Orchestre Métropolitain, or whom I know from Europe and Japan. They strongly believe in my musical vision. I could ask people like Menahem Pressler and Janos Starker, and great musicians from Canada: André Laplante, Shauna Rolston, the Gryphon Trio, and all the artists who have participated.
And the Faculty of Music building was empty in the summer time. It's a perfect place for chamber concerts and opera.
CE: Did some people say you were crazy?
AG: People said, "You can try, but I'll tell you right away that it would be most astonishing if it works. There's already Stratford, Shaw, Parry Sound, Elora, Niagara, and other festivals. How will it work in Toronto?" But it worked.
CE: In the last three years, what have you learned about running a summer festival in Toronto?
AG: I think what I learned was that there is a public that is most attentive. When the Berlin Philharmonic Wind Quintet came, they said, "Wow, there's a public that listens with a remarkable attentiveness." And they were absolutely right. One aspect of attraction is coming to the masterclasses, to listen to teachers teaching young students and witnessing the transformation that can happen within one hour. This enhances the experience.
I have also learned that chamber music and opera need new kinds of publicity – creative ways of publicizing classical music. It's a never ending process to explain to people the beauty of classical music. And the idea of thematic programming is also very important.
CE: How did you select the programming for this summer's festival?
AG: As you know, we have our theme of "Eternal Stars." This year is an accumulation of important composer anniversaries: Haydn and Mendelssohn, and also the 50th anniversary of Martinů's death. This year these composers will be performed – but certainly not exclusively. "Eternal Stars" also refers to the performers who will give us sparkling performances. On Tuesdays we'll have duos. We'll start with violinist James Ehnes and pianist Jon Kimura Parker who will play together for the first time. And on Thursdays we will demonstrate the beauties of quartets, starting with Pressler's quartet and then the Leipzig quartet. On Saturdays we have stellar artists from around the globe, whether Japan or Canada or France.
We have no fully staged opera this year, but we have an opera gala concert. We plan to have a staged opera again next year.
CE: You are running both a summer festival and an academy. Why the academy? And what is the relationship between the two?
AG: Most of the performers are also giving masterclasses. It is very important for the young musicians to experience their teachers on stage: that's how they understand fully what their teachers are talking about. Twice a week the young musicians will perform at the Church of the Redeemer, and we'll also have student concerts at the Royal Ontario Museum for the first time.
And thanks Bill Waters' support, we are able to give scholarships. Many of the American summer schools give out full scholarships, and we are competing with them. This allows us to bring in the best young musicians.
CE: I notice there are no Dixieland bands, Celtic harpists or pop singers on your festival. It's just classical music – and this is rather unusual these days. Why have you chosen to only present classical repertoire?
AG: There is already lots of jazz and world music in Toronto, at Harbourfront and in other places. And the mission of Toronto Summer Music is classical music. But jazz is definitely something that's important for classical musicians because of the improvisation skills required. We plan to integrate that in the future.
CE: We live in difficult economic times. Do things look good for your festival this year?
AG: We have no fully staged opera, and this is a reaction to the financial difficulties. But we see that ticket sales are better than ever. This is astonishing – and it could be that people are staying closer to home. Also, we're well established, and not very expensive. We offer a very reasonable way of experiencing great music and artists.