Sharp-eyed readers may already have spotted John Miller's Hitchcockian cameo appearance as a satyr, silhouetted against the moon, on the cover of this year's Stratford Summer Music program book. It's a distinctive profile, almost as distinctive as his artistic fingerprint on the festival itself – one that he's curated for 18 years – and this year for the last time.
The moon is a fitting backdrop for Miller's final appearance as SSM artistic director, heralding as it does the upcoming appearance at Stratford of Luke Jerram's Museum of the Moon. It will be the third Jerram creation to be part of Stratford Summer Music; the relationship cultivated with Jerram over the years is quintessential Miller. He finds talented people, notices that essential something in them that works for him, and then having forged the relationship he maintains it. Artists and performers come back, and so do audiences.
In a recent visit to The WholeNote Miller talked about Jerram's first SSM visit in 2007, describing Jerram as "an inventor … a futurist … a guy who has experiences and then leads them in directions that most of us would never think of going." That first visit was with a project called Sky Orchestra, Miller explains. "It was inspired by a trip to the Middle East and Jerram's first experience of hearing, from several imams simultaneously, the call to prayer; suddenly the sound of compelling music was everywhere." Back in the UK Jerram collaborated with composer Dan Jones to create eight hot air balloons, each with two speakers attached, which take off at dawn or dusk and fly across a city of sleeping or waking people. Each balloon plays two different tracks of a 16-track orchestral score, creating a huge audio landscape. In the case of Stratford Summer Music the music of Sky Orchestra flooded the early morning sky as it took off from Stratford and flew towards St Mary's.
Jerram's popular Play Me I'm Yours project – artist-decorated street pianos, for anyone to play – came to Stratford for the first time in 2012, and returns in 2018 for a fourth time. So this summer's Museum of the Moon is Jerram's third project at Stratford and its premiere Ontario appearance. Jerram's 23-foot balloon, illuminated from within, is a reproduction of the exact surface of the moon: an assembly of actual photographs taken by NASA cameras from lunar space craft. As part of its world travels it will float over Stratford's Tom Patterson Island for ten August days and nights.
"Since the moon shines everywhere all over the world we will have heritage world music every night under the moon, including First Nations artists Jeremy Dutcher, Laura Grizzlypaws and Tanya Tagaq," says Miller. "It somehow feels fitting to characterize a festival that embraces music, dance, literature, movies, family celebrations, photographic and astrological ideas as being 'everything under the moon.'"
Jerram's presence at SSM reflects aspects of how the festival's own identity has evolved during the Miller years in two ways particularly important to Miller. One is about putting music and performance art in public spaces – like the Jerram projects or Murray Schafer on Tom Patterson island or the BargeMusic series. The other is the cultivation of SSM's own loyal audience, drawn by SSM's earned reputation for attracting the finest Canadian and international artists, not just once but on an ongoing basis. Artists come back because they feel part of a community: not just as part of a festival circuit. Sometimes it's their only Canadian appearance or else one of very few. And their Stratford experience is not typical of the daily grind of a tour: they walk and rest, go to the theatre or other performances, enjoy the restaurants and café brunches and the generally relaxed atmosphere.
Miller has always believed that it was better for music in Stratford to be its own festival, with its own board, personality, experience and sense of accomplishment in spite of the original vision of a consolidated theatre and music festival. He credits his friend, Stratford Festival's Richard Monette, for believing in and encouraging variety. Today SSM both has its own faithful audience and manages to put itself in the path of the tens of thousands of people who come to Stratford for "that other festival."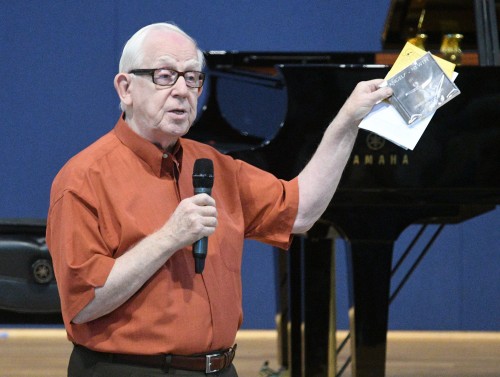 Miller reflected that during these formative 18 years it was good that he is not, himself, a musician, because he was able to bring an open appetite to the task. "It might not have been like that if I'd had a particular instrument or history that I was bringing along. With music if you only program what you enjoy then you shut the door to all sorts of other people. Variety is what a real festival is about."
Visitors this year can look forward to re-encountering, or meeting, some returning SSM favourites: the Blind Boys of Alabama, Orchestre de la Francophonie, John MacLeod's Rex Hotel Orchestra, the Langley Ukuleles, the Mzansi Youth Choir of South Africa, to name a few. And while this year, more than any, Miller is going back to the well in terms of inviting or re-inviting the artists who have helped make SSM what it has been over the last 18 years, there will also be artists he's finally "landed" after hoping to present them for years.
Four important Canadian pianists who will be featured are a striking example of this range. Marc André Hamelin makes a long-anticipated SSM debut. Angela Hewitt, featured last summer, returns to perform JS Bach's entire Well Tempered Clavier in two concerts over one weekend. Jan Lisiecki takes time out of a now very international career to make his ninth consecutive appearance, and Jean-Michel Blais will be featured for a second consecutive year.
Musicologist, music writer/broadcaster Robert Harris returns for the fifth year of illustrated lectures "Music That Changed the World"; this July SSM will release their newly published book The Stratford Lectures: Ten Perspectives about Music by Robert Harris which includes ten of the Harris lectures in an expanded form. The book initiative is another example of the kind of artistic relationship building, and audience building, that is a Millerian hallmark.
Equally a tribute to Miller is the fact that SSM won't be going out in a blaze of glory with its founder. There has been nothing last minute or ad hoc about the process of going about finding a successor. The orderly process is already complete with the announcement earlier this year that violinist Mark Fewer will succeed Miller in the post. Miller will continue in an advisory capacity for a couple of years only: Fewer will take the helm as artistic director in October.
Stepping down, Miller said, is a little bit like how he imagines walking one's daughter down the aisle. "But it feels as though I'm giving her away under the best possible circumstances" he says.
If Miller's face on the satyr in front of the moon is this year's opening salvo, then perhaps the BargeMusic finale, with the Border Cities Caledonia Pipe Band, is another whimsical Miller autobiographical touch. Learning to play the bagpipes has always been on his bucket list, he explains.
Fittingly, SSM's final evening festivities – the "J.A.M.boree" – will be a picnic on Tom Patterson Island with another Miller favourite – the Lemon Bucket Orkestra, under the August 26 full Sturgeon Moon, and the Jerram moon. And with J.A.M. (Miller's initials) as one last sly signature touch.
mJ Buell, a regular contributor to The WholeNote, can be reached at musicschildren@thewholenote.com.