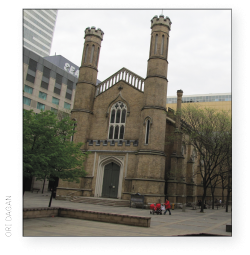 In early April I happened to attend a concert by two distinguished Canadian musicians, pianist, William Aide and flutist, Robert Aitken. Friends since their student days in the late 1950s at the University of Toronto's Faculty of Music, where they used to play together frequently, each has had his own individual, successful career. But they had not played together since those distant days until getting together to prepare for this concert, a benefit to help pay off Church of the Holy Trinity's new piano, showcased in this concert.
Arising from this experience, in May I sat down with Ian Grundy, artistic director of the May-to-September Music Mondays noon-hour concert series, as well as music director at Holy Trinity, to talk about the piano, Music Mondays and his new role as its artistic director in this, its 25th season.
Knowing of the fabulous reputation of Bechstein pianos, I asked why Holy Trinity had decided to seek out a new instrument rather than rebuild their old Bechstein. The trouble with rebuilding, he told me, is that you really do not know how the rebuilt piano is going to sound; there are no guarantees. With a new piano, on the other hand, you can hear it before you buy it.
On behalf of the church, Aide evaluated dozens of pianos. When he tried a seven-foot Steinway, to which Alex Thomson, the general manager of Steinway Piano Gallery had directed them, he knew at once that he had found their instrument. Only 12 years old and little played, its action was good enough to play a double glissando; its tone, strong but not overpowering. "It's the perfect instrument for chamber music," Ian told me. Its sound is big enough to fill Holy Trinity's live acoustic environment but controllable enough to balance other instruments, even with the lid on full stick. An added benefit is that the case is made of Indian rosewood, which makes it extremely beautiful. Piano technician, Leela Khurana, one of only two Steinway-trained technicians in Toronto, who tuned the instrument for this concert, described it to me as "fabulous...young, flexible, resilient and powerful."
The acquisition of the Steinway is a major step towards the realization of Grundy's vision for Music Mondays as a first-class venue with first class instruments. One is the Steinway, of course; the other, the Casavant tracker organ acquired seven years ago from Deer Park United Church. A guiding principle for upcoming seasons, he says, is for the series to be a worthy platform for emerging young artists and to continue to feature a variety of musical genres.
"First-class publicity" is another part of the picture - to attract a more diverse audience and build audience size. He is interested in "taking music out of its compartment and reaching out to the community." To this end he has joined the Yonge-Dundas B.I.A., a partnership which, he told me, is proving as welcome to the B.I.A. as it is to Holy Trinity.
With this kind of dynamic leadership, we can expect Music Mondays to grow into an even stronger cultural force than it already is and a major contributor to live music in the city in the summer. Stay tuned!
(And meanwhile enjoy the rest of this summer's series. Deails are in our GTA and festival listings.)
Flutist Allan Pulker is chairman of the board of The WholeNote.