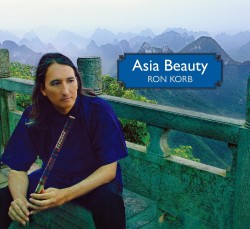 Asia Beauty
Ron Korb
Humble Dragon 2015 (ronkorb.com)
Ron Korb's new CD, Asia Beauty, is a charming hybrid – sad, sweet melodies with a Chinese and sometimes a Celtic feel – played on a variety of instruments, traditional and modern. Korb's melodies are accompanied by small ensembles which include an astounding 27 musicians playing 15 different plucked, bowed or hammered Chinese, Celtic and Western string instruments, one of which is always the piano, playing harmonic progressions recognizably of the Western tradition.
Reflecting on this amalgam of East and West, Korb muses in the liner notes, "In the 1930s...Hong Kong, Shanghai, Singapore and Hanoi were meeting places between East and West. ...I wondered how the cultures intermingled and all the secret romances that must have occurred." Later he writes about the "bittersweet feelings" and "sublime romantic tragedy" expressed by both traditional and contemporary pop Asian music. The same atmosphere is to be found on most of the tracks on this CD.
Most intriguing, however, is the Celtic influence, which never seems far away in Korb's music, helped along at times by, but never dependent on, Sharlene Wallace's Celtic harp and Korb's penny whistle. In fact the Chinese bamboo flute (dizi) and the traditional Chinese clarinet (bawu) seem made for the Celtic idiom, which mysteriously and frequently appears.
Both Eastern and Western musical currents are part of who Ron Korb is as a musician and as a man. He has totally assimilated the musical language of both traditions; the result is music which is really neither one nor the other but both.