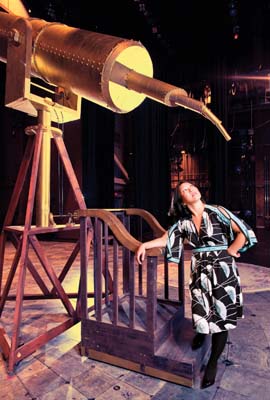 One of the curious things about the profession of vocal coaching is that people don't generally begin their musical training with it in mind as a career goal. The average beginning piano student doesn't even know what a vocal coach is.
And so it was with Miah Im, the newest addition to the vocal teaching staff at the University of Toronto's Faculty of Music: not until her undergrad years at the University of Michigan did she take an interest in working with singers. Yet she progressed rapidly, and upon graduation at the age of 25, she became the youngest person ever appointed as music director of the San Diego Opera Young Artists Ensemble Program. After that, she taught at Juilliard for a couple of years, and then became director of the opera studio at the University of Maryland.
Im is a Canadian – born in Winnipeg, and raised in Toronto – and, in her view, her appointment at U of T last year seemed almost fateful. "I'd lived in the States for 16 years, since 1993," she points out. "I did all my schooling and work there. But there was a part of me that was always drawn back to Canada. I knew that I would return some day."
Still, it was a tough decision. "I had to really think about it," Im recalls. "I was extremely close to my students in Maryland. When I announced I'd be leaving, I started getting phone calls. Some of them were crying."
Im's arrival at the U of T's Opera Division coincided with the departure of Stephen Ralls, who retired as director of the programme in 2008. In a sense, his retirement led to her engagement, but Im hasn't exactly stepped into Ralls' formidable shoes: she's at the Faculty of Music as a vocal coach and conductor. (Since Ralls' retirement, the Opera Division has been co-directed by Michael Albano and Sandra Horst.)
Since her return, she's been quietly adjusting to her new position, and life in the city where she grew up. "I wasn't part of the music scene when I lived in Toronto," she recalls. I didn't study with hot-shot teachers. I was kind of doing my own thing – and now I'm back. It's been a baptism of fire. I'm trying to figure out who's who, and people are trying to get to know me, and wonder where I'm coming from."
Im made her Toronto conducting debut last spring, in the Faculty of Music's production of Il Matrimonio Segreto. This month, she leads four performances of Haydn's Il Mondo della Luna at U of T.
"The music is magnificent," she says of the comic opera, first produced in 1777. "It's like chamber music, because there's nothing to hide behind – it reveals everything. The arias are not easy, and it requires really fine singers. After working on this piece, I have a newfound respect for Haydn."
Like many of Haydn's operas, Il Mondo della Luna ("The World on the Moon") was written for performance at the palace of the composer's patron, Prince Nikolaus Esterházy. With a libretto by Carlo Goldoni, in 18th-century parlance, it's an "opera buffa" – but today it might be called a screwball comedy. Simply put, the opera is about an astronomer-charlatan (Ecclitico) who convinces a wealthy man (Buonafede) that he can be transported to the moon, with the aid of a magic potion. The scheme is so successful that the gullible Buonafede is convinced that he's actually on the moon.
There's a timeliness about U of T's decision to stage this rarely performed opera: this year marks the 200th anniversary of Haydn's death, and 2009 is also the International Year of Astronomy. As well, Im also stresses the educational value of Il Mondo della Luna: "I want my students to think about how to engage the audience. And techically it's so difficult, it forces the students to address a lot of issues. I feel like this is a 'bread and butter' opera. It disciplines singers – and forces them to count!"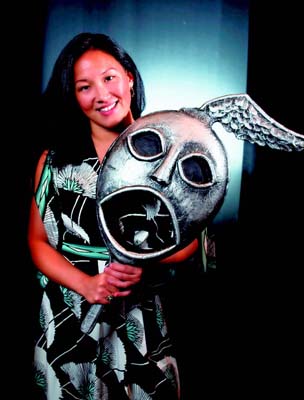 Staging is by Albano – and Im will conduct the performances not from a podium, but from a harpsichord in the orchestra pit. She's addressing issues of period performance in other ways, as well. "There's a lot of embellishing, and I try to pay close attention to dynamics. I'm not going totally 'period' – I still want warm vibrato and a beautiful tone. But I want clean articulation."
Im has worked for several professional companies – Opera Theatre of St. Louis, the Ravinia Festival and at Wolf Trap, among others – but most of her professional work has been with students. "When I look back and compare myself with colleagues," she says, "a lot of them start at an opera house, and then move into an academic situation. I went backwards."
Her career took its unusual path for pragmatic reasons: she found it easier to get visas for work in academic institutions than for engagements with professional opera companies in the United States. But, that issue aside, she readily acknowledges that there's something about working with students that strikes a sympathetic chord in her.
"I love it!" she exclaims. "I love working with young singers. There's a real sense of openness. When I began working I was still at the same age as some of the singers, so there was a sense of camaraderie."
Her own youthful demeanour has not waned: at 35 Im might easily be mistaken for one of her own students. Yet she's also built up valuable experience and knowledge, and her work in the USA has given her some ideas about what she'd like to see happen in Canada.
For one thing, she's very much aware of the economic gap between opera programmes in this country and in the USA – and the impact the disparity has on students. "The U of T has many strengths – a wonderful faculty that really cares about its students. But what I'd love to see is free tuition. I think it's possible! – and it would accomplish much. It would allow students to pour all their energy into their craft, and not be pulled away because they have to work three part-time jobs. At the University of Maryland everyone was on scholarship."
Something else she's noticed since her return to Toronto is that the Canadian students sometimes lack knowledge about what the opera world has to offer young singers – and what it expects of them.
"What I hope to achieve," she explains, "is to broaden the perspective of my students. What I hope to pass on to them is the idea that there's a lot more out there than they may be aware of. I encourage my students to audition not only in Canada, but to go to Europe, and see what's out there. They need to see where they fit in, and how much harder they need to work – because they're all capable of it."