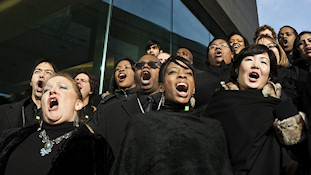 The Nathaniel Dett Chorale is no stranger to prominent people and occasions: over its ten-year history, the Toronto-based choir has sung at events honouring Nelson Mandela, Desmond Tutu and Mohammed Ali. But last month's engagements in Washington DC were in many ways unprecedented, thrusting the group onto the world stage.
"We were pleased and flattered by the invitations," said the choir's director, Brainerd Blyden-Taylor (with understated delight), shortly before his choir sang at the festivities surrounding Barack
Obama's inauguration. "We not only represent Afrocentric music, but also a kind of diversity that's responsive to Obama's ideas about community and coming together."
The only Canadian musical group to take part in the inauguration events, the choir performed on January 19 (Martin Luther King Day) at the Smithsonian Institution's
Museum of the American Indian. On January 20 – the day of Obama's inauguration – the choir sang a concert at the Canadian Embassy.
I first heard the Nathaniel Dett Chorale about a year ago, in rehearsal at St. Timothy's Anglican Church. In many ways, this was a typical choir rehearsal, as the conductor, Brainerd Blyden-Taylor, coaxed a longer line from one section and a more pronounced dotted-rhythm from another.
However, it was obvious from the bright focus of the voices that this group of 21 singers is no amateur choir. And the repertoire they were singing was unusual: Hiawatha's Wedding Feast, by the 19th-century Afro-British composer Samuel Coleridge-Taylor. As well, the ensemble has a distinctive appearance: it's the only professional choir in Canada made up largely (but not entirely) of singers of African descent.
A few days later, the 55-year-old Trinidad-born conductor talked to me about his choir over lunch. He's clearly proud of how his group has developed – but he also notes that his reasons for creating the Nathaniel Dett Chorale haven't changed since its founding, a decade ago.
"The idea was to do more that just sing notes well. There was also a social component to it – to build bridges of caring, understanding and appreciation through the medium of music. And we wanted to do that within what is perceived to be the larger black community. When I started it, I decided that I didn't want to name the group after myself – I wanted a name that would honour black Canadian heritage somehow."
So who was Nathaniel Dett? According to the Encyclopedia of Music in Canada, he was born near Niagara Falls, Ontario, in 1882. He studied music in the USA (where he spent most of his life), and in 1925 went to Paris to receive instruction from the famous musical pedagogue Nadia Boulanger. Returning to America, Dett established himself as a distinguished organist, composer and teacher, who performed in Carnegie Hall and for American presidents. He died in 1943.
The encyclopedia makes no explicit mention of Dett's race – although the entry notes that he served as president of the National Association of Negro Musicians. However, a little more research reveals that his ancestors made their way to Canada, via the Underground Railroad, before the American Civil War. "The name has served us well in Canada, and internationally," says Blyden-Taylor. Dett was very well known in the United States, certainly among black circles, and even beyond."
Since its establishment, the Nathaniel Dett Chorale has become a regular fixture of Toronto's choral scene. The choir currently maintains an annual three-concert season, including its "Indigo Christmas" programme. They've performed with jazz pianist Joe Sealy and soprano Kathleen Battle, among other prominent artists.
The choir has toured extensively, performing at France's Polyfollia Festival, and throughout the United States: at New York's Dance Theater of Harlem, Washington's Library of Congress, and in other venues. There have also been tours to both Western and Eastern Canada, including a recent trip to Halifax, where the choir sang at a benefit concert for the Black Loyalist Heritage Society. This month they're out west again, singing in Alberta, BC and the Yukon.
And there have been recordings. The Nathaniel Dett Chorale can be heard on two CDs: "Listen To the Lambs" (which American Record Guide magazine called "most excellent") and "An Indigo Christmas." There's also an "Indigo Christmas" DVD available, and a documentary film called "Carry Me Home."
In addition to these accomplishments, Blyden-Taylor points out that his choir has also made progress in the arena of public perception. "When the choir was starting, some people assumed we existed just to support the music of Nathaniel Dett. That was a bit of a misconception." And there were other misconceptions to overcome. It's often been assumed that the group is a gospel choir – an impression that Blyden-Taylor has worked hard to dispel. "We can do gospel, but we can also do spirituals and jazz. We've done whole programs of Cuban, Brazilian and Ghanaian music. We can do a lot of things – we could sing Mozart, Brahms or Poulenc, if we wanted to."
From the start, the group's diverse repertoire made it essential for each and every member to be a classically trained musician, and so Blyden-Taylor was highly selective when putting his choir together. (One of the members in the first year was soprano Measha Brueggergosman.) "I needed singers who could read well," he told Toronto's Globe and Mail newspaper, in 1998. "There are any number of phenomenal singers in the black community in Toronto, but many of them are not formally trained in music – they learned by rote."
Blyden-Taylor soon came to the conclusion that it simply wasn't possible to assemble an elite professional choir in Toronto entirely made up entirely of singers of African descent. And so, with some reluctance, he decided to open up membership in the group to people of all races, while maintaining a policy of preference towards black musicians. In adopting these criteria, he encountered inevitable criticisms: on one hand, there were those who believed that the choir should be entirely black; on the other hand, some people felt that musical skill should be the only basis for membership, and race should not be a factor at all.
"If I had been able to find enough people of African heritage at the beginning," he says, "maybe it would have been all black. I wanted black youth to know that if they want to have a career in music, or to do something with their voices, there's a place they could come where they'll be welcome. They need to be able to hear their own music done by people whom they recognize as being predominantly of their kind, in order to feel empowered."

He continues: "But it soon became clear that there was a real benefit to the ensemble not being entirely of African heritage. We have people who are white, South Asian, and mixes of various things." (He points out that he himself is part Scottish.) "People understand that we're an Afrocentric choir – but they also understand that you don't have to be of African heritage to embrace and perform this music."

Brainerd Blyden-Taylor Photo: Hudson Taylor
The musical and social ideals he speaks of are echoed by members of his group. "This choir feels like a musical home to me," says Ali Garrison, a blonde-haired contralto who has sung in the choir since it first started. "We sing many kinds of music, but there's always a strong sense of spirituality – in a non-denominational way – in everything we do." She also explains that the choir has a strong personal significance to her, as her Quaker ancestors ran a station on the Underground Railroad in Michigan in the 19th century, and helped slaves escape into Canada.
Another member of the chorale is tenor Akufuna Sifuba, originally from Zambia, who joined the choir when he came to Canada, two years ago. "When I came here," he recalls, "I knew African music – but I've learned a lot about music from other countries."
The choir makes sense as an expression of Canadian multiculturalism – but elsewhere the unique ensemble can raise eyebrows. When the Nathaniel Dett Chorale performed at a convention of America's National Association of Negro Musicians, in Detroit in 2004, Blyden-Taylor noticed a distinctly different attitude.
"Some people were openly skeptical about who we were, and why we were there," he recalls. "They said things like, 'So you're the integrated choir – you've got white folks singing with you.' But after our concert, people said, 'You are performing what we consider "our music" at the highest level – and have literally shown us how it can be done.' The ripple effects from that performance can still be felt."
Like many other choral conductors in Canada, Blyden-Taylor holds down more than one job. He's also director of St. Timothy's Church choir, often works with the Toronto Board of Education and recently served as Artistic Director of the Roots Festival, in Chatham, Ontario.
But the Nathaniel Dett Chorale takes up most of his time – and he's always looking for new ways to expand upon the group's activities. This season he established a training programme for young singers. "We asked teachers across Toronto to nominate students for the programme," he explains. "The apprentices come out to our rehearsals and are taught by members of the professional choir." He also recently struck a deal with the Corporation of Massey Hall and Roy Thomson Hall, which is co-presenting the choir's 2008-09 season at the Glenn Gould Studio.
And he has big plans for the future. "We have not yet done anything with dance, and that's something I'd like to do. It's something that's going to happen soon. And we haven't had the financial wherewithal to get into the orchestral repertoire with Afrocentric composers, just because of the cost of presenting an orchestra. But there are several large works like that that I'd like to approach."
Beyond all that, he's open to proposals – and he receives them with increasing frequency. "People are starting to compose things for us, or to submit scores. In the early days it was difficult to find repertoire, but now people are saying, 'Oh, there's a group in Canada that is not just sacred, or not just secular.'"
"As well," notes Blyden-Taylor, "people write to us from all over the world, asking for Nathaniel Dett's music. We're considering resetting it – going into the publishing business – because nobody else is doing it."