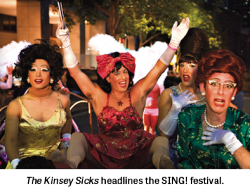 Early on in the development of this magazine we decided on a genre-based approach to our regular beat columns to guide our readers through the vast range of "musics," as columnist Andrew Timar likes to call them, regularly encompassed in these pages.
In many ways it makes sense to do so – if you are on a forest walk and mycology or ornithology are your particular thing, you're going to gravitate towards the guide with a mushroom or bird pin on their lapel. Similarly columns with names that include "New" or "Opera" or Early" or "Jazz" in them offer readers who already know what they like the comfort of a regular "go to" guide.
But it is an organizational device that even now allows interesting content to fall through the cracks, and probably needs a bit of a rethink as the sharply delineated features of the musical and social landscape continue to erode and change.
For one thing, increasingly, we find that musicians, no matter how specialized their training, are choosing not to be pinned down in terms of their practices – seeking partnerships and collaborations all over the musical landscape.
For another, in a digital universe where all music is available to any higher order primate with app-posable thumbs, it's just possible that audiences are also becoming less categorical in their likes and dislikes, daring boldly to go where a decade or two ago they wouldn't have.
As an individual whose life follows the volcano method of filing things, I am delighted to see that the world we live in is changing, breathtakingly quickly. It was once ruled by people good at sorting and filing. It is morphing into a world in which the skillful searcher is king. In this new world order, the usefulness of categories and labels shifts from the way content is pre-sorted by the supplier to the way content gets tagged for individual users to do their own personalized arranging.
Does this mean that genre-based "beat columns" in a publication such as this are destined to go the way of the dodo? I suspect not (or at least not yet). But the question needs to remain as regular food for thought for all us publishing types.
Here at The WholeNote, for example, we should recognize that notable events end up being overlooked editorially, because they fall through the cracks between our tidy genres. Sometimes the oversight takes the form of chronic flurries of "mere mentions" by several different writers; sometimes, sadly it takes the form of no mentions at all, with each of our writers assuming that one of the others would give the event its due.
But enough with the theory: here are some interesting examples!
SING! This year's third annual SING! Vocal Arts Festival (May 30 to June 1) is a good example: devoted to a cappella music, it falls between being part of the mainstream choral scene, and catching the attention of a public interested in the art of song.
Its curator is Aaron Jensen, an accomplished vocalist, arranger and choral conductor. Jensen first came to my attention as a member of a vocal ensemble called Cadence, renowned not just for tight and tricky arrangements of repertoire, both standard and new, but also for laying down astonishing "instrumental" tracks for those arrangements using only voice for the instruments.
The first two SING! festivals took place at Harbourfront Centre – a fantastic incubator for a fledgling festival, because, like any federal agency, Harbourfront has all kinds of clear-cut operational do's and don'ts which are a relief in the early years. But like any incubator, what was comforting in the swaddling years becomes suffocating when the fledgling tries to spread its wings: this year's SING! has flown the coop, so to speak, to the Distillery district – a move that allows for weekend and day passes and a more chaotic and varied mix of ticketed and unticketed events. Taking place while schools are still in session, drawing on an extraordinary range of vocal ensembles and styles, and putting the unadorned collective human voice in the spotlight, this is an event worth attending now, and supporting as it grows.
Cantemus, Latin for "Let Us Sing" is a very popular choir name. A quick internet search shows it in use on the north shore of Massachusetts, in Cardiff, Lincolnshire, Canterbury, County Cork, Nyiregyhaza (Hungary), Sweden, Lithuania and on and on. But the 16-voice Toronto choir that bears the name, the Cantemus Singers, has its own unique voice print. Originally based in the Beaches, the 16-voice ensemble, under the direction of Michael Erdman now rehearses in the High Park area and performs mainly Renaissance and early Baroque repertoire, both secular and religious.
Back on March 22, they presented a giant of their chosen repertoire, a concert version of Purcell's semi-opera The Faerie Queen at the Church of the Holy Trinity (alongside the Eaton Centre). Choral?