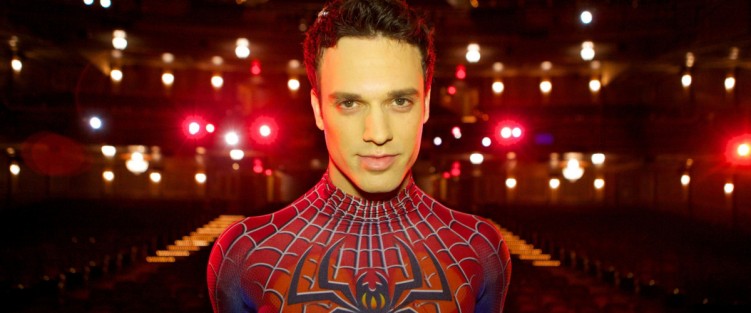 On July 12, I went an hour and a half early to Kensington Market in the hope of being first on the waiting list to get tickets for the brand-new solo musical at the Toronto Fringe Festival: Boy Falls From The Sky: Jake Epstein at Supermarket. Others had beaten me to it and I was number 3 in line, but I took my chances and waited.
The run had sold out very quickly, perhaps because of how well known Jake Epstein is from his time starring on TV in Degrassi: The Next Generation, and more recently on Designated Survivor and Suits – or perhaps because he was so brilliant as Bruce Springsteen in The Musical Stage Company's 2017 theatrical concert Uncovered: Dylan and Springsteen. In any case, the word of mouth from long before the start of the Fringe was that this was a "must-see" production.
Written and performed by Epstein and supported onstage by music director Daniel Abrahamson on piano, the show was developed with director Robert McQueen (Fun Home, Life After) and is produced by Derrick Chua for Past Future Productions.
This is Jake Epstein's first solo show, and is based on his own experiences of both the highs and unexpected lows of following – and achieving – his dream to be a performer on Broadway. The stories, interwoven with songs throughout, start off with relatable memories such as family road trips to New York, Epstein and his sister singing along in the back seat to recordings of Broadway cast albums from Lion King to Les Mis, imitating the voices of their favourite performers. Inspired by the audience reaction to the child performers they see in the musical Big, he auditions back home for the Claude Watson School for the Arts, and soon is auditioning for professional productions in Toronto and landing the role of the Artful Dodger in the Mirvish production of Oliver. Later he wins a leading TV role on Degrassi: The Next Generation, but when he auditions for the Juilliard School in New York he doesn't get in – just one of the many self-deprecating stories about unexpected setbacks that he shares with us along the way. However, meeting with two strangers on the street outside Juilliard, they ask to take a selfie with him because they love him in Degrassi and he is inspired to stay in New York and soon lands leading roles in North American touring productions of cutting-edge musicals American Idiot and Spring Awakening.
When in 2012 he is cast as the alternate for the lead in the troubled Julie Taymour/U2 musical Spiderman: Turn Off The Dark, it's a dream come true (complete with actually flying around the Broadway theatre), but he gets hurt and doesn't want to tell anyone back home. A year later he has another iconic chance – to create a leading role in a new Broadway musical, Carole King's husband and songwriting partner Gerry Goffin in Beautiful. Once again there are brighter and darker sides to the story, and as a result he spends more time back home in Toronto.
A recurring theme in Boy Falls From The Sky (yes, the title is a tongue-in-cheek reference to his role in Spiderman) is Epstein not wanting to seem ungrateful for his luck and the success he has achieved, marked by the repeated singing of snatches of "give them the old razzle dazzle." Luckily for us in the audience, eventually he did tell the full stories of what his life on tour and on Broadway was really like, and friends and family encouraged him to turn those stories into this show.
This is excellent musical theatre storytelling by a performer with natural star power – including the ability to make everyone in the audience feel as though he is talking to them alone. Add to that the edgy energy of a BYOV "Bring Your Own" Fringe Venue in Kensington Market and the fact that the star and writer is a hometown boy made good, and the 70 minutes speed by too fast and are over too soon.
Jake Epstein's Boy Falls from The Sky is from the first moment engaging and fun, his presence electric and yet relaxed, his timing perfection and the laughs strongly rooted in self-deprecating honesty. I loved this show – as I had hoped I would.
Boy Falls From The Sky: Jake Epstein Live at Supermarket ran from July 4 to 13 at Supermarket, Toronto, as part of the 2019 Toronto Fringe Festival.
Jennifer Parr is a Toronto-based director, dramaturge, fight director and acting coach, brought up from a young age on a rich mix of musicals, Shakespeare and new Canadian plays.