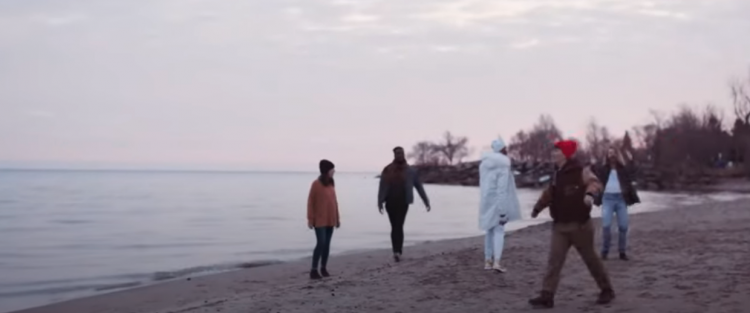 I still remember my first Messiah: seated in the rather uncomfortable pews at St. Paul's Basilica in Toronto, gazing up at the church's ceiling instead of following along with the text in the program, and only drifting back into attentiveness for "All we like sheep have gone astray," the lyrics of which I found most amusing at age eight. My appreciation for long-form classical music and my attention span have both, thankfully, matured since then, such that I can more properly enjoy and be challenged by a work such as Soundstreams' Electric Messiah: a lively, free-spirited adaptation of Handel's oratorio, performed with unbounded joy and more than a few electronics.
The Toronto-based music group Soundstreams usually produces Electric Messiah as a cabaret-style event at the Drake Underground, bringing together a vocal quartet with instrumentalists both classical and modern to rethink the melodies of Handel's original. This year, Electric Messiah has moved online, taking the form of an hour-long music video paying homage not only to Handel's timeless work, but also to the city of Toronto and its own artists. The YouTube premiere on Thursday, December 17 was no lagging live-streamed event: Electric Messiah is a highly-polished affair, a delight to both eye and ear, and available for multiple rewatches until the end of December 2020.
The film is both comfortingly familiar and jarringly different from the start: in the opening shots, the camera comes to focus on an electric pedalboard and then a turntable, while ambient digital sound and layered vocalizing slowly build in the background as music director Adam Scime conducts. It's reminiscent of an orchestra's warm-up, introducing the musicians who will take us through the hour to come. But it's also a hint at the wildly experimental nature of Electric Messiah, which has blended contrasting musical styles since its inception in 2015.
The film's first two selections continue to play with expectations. "Comfort Ye," performed in Kingston Road United Church, seems at first a traditional interpretation – but the four vocalists are accompanied by reverberating guitar and electric organ instead of violins, and Kyle Brenders' arrangement adds vivid harmonies to the piece's final lines. A weirdly thrilling "Ev'ry Valley" follows, with tenor Jonathan MacArthur interpreting Handel's coloratura phrases over an undeniably catchy dance beat, filmed in a deserted Ontario Place. As with the rest of Electric Messiah, there's an initial adjustment to hearing Handel's familiar music played by different instruments and in unconventional locales, but the boundary-breaking strangeness is this Messiah's brilliance: every piece is interpreted lovingly, and every performer brings their own flair and character to present the classic work in new light.
Soprano Teiya Kasahara's ethereal arrangement of "He was despised," for example, is performed in a snow-covered graveyard, with Kasahara walking among the tombstones while singing in English, their own voice providing a circular supporting harmony in Japanese. Baritone Andrew Adridge pairs "The People that Walked in Darkness" with an original spoken word composition, giving voice to this year's ongoing fight for racial justice. His solemn performance is both haunting and convicting, preaching of the light that brings hope to the suffering. And soprano Lindsay McIntyre provides Electric Messiah's stunning penultimate act, an eloquent performance of "I Know That My Redeemer liveth," accompanied by the crashing waves of Lake Ontario, and the ringing tones of the Japanese sho played by Wesley Shen.
The vocalists are not the only innovators here. Electric Messiah features multiple types of musical reinvention throughout. Freestyle dancer Lybido and turntablist SlowPitchSound remix the Hallelujah Chorus and the Pastoral Symphony with new rhythmic pulses in several mesmerizing interludes. By contrast, the premiere of Canadian composer Ian Cusson's "O Death/O Grave" offers a sombre, operatic meditation sung by Adridge and Kasahara, gorgeously staged at the Art Deco-era R.C. Harris Water Treatment Plant in the Beaches. Electric Messiah delights in its visual displays as well as those auditory: director Rob Kempson and cinematographer Blake Hannahson showcase the breadth of Toronto's dramatic potential from east to west, from the majestic Greek temple at Guild Park and Gardens to the front steps of The Grange at the Art Gallery of Ontario.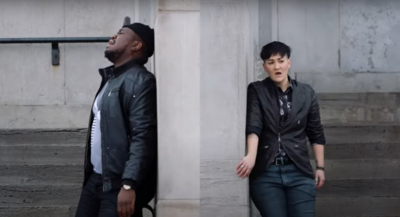 The film feels like a love letter to the city of Toronto, its artists, and their creative gifts: united by a beloved Christmas tradition, devised under unusually challenging circumstances, the creative team behind Electric Messiah have offered a bold reimagining of Handel's original, bringing it out of the bounds of a conventional performance space and into the light of day to be enjoyed by all. And every voice here shines.
Soundstreams presented their 2020 edition of Electric Messiah on Youtube on December 17, 2020. The video is available to watch online, free of charge, until December 31, 2020. To register for the performance link, visit: https://soundstreams.ca/performances/main-stage/electric-messiah/.
Marie Trotter is a Toronto-based writer, avid theatre-goer, and occasional director. She studied Drama and English at the University of Toronto with a focus on directing and production, and recently completed her MA in English Language and Literature at Queen's University.