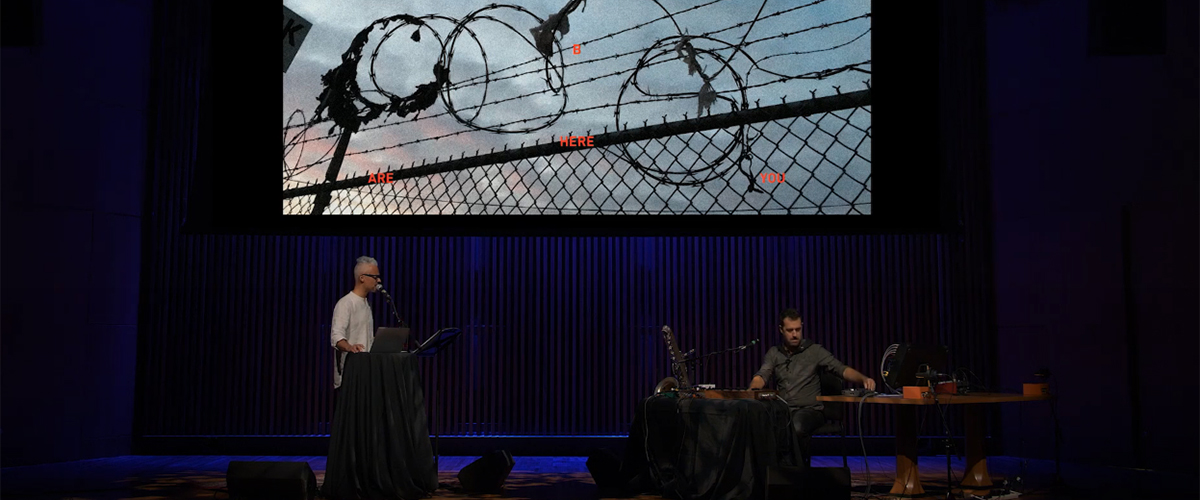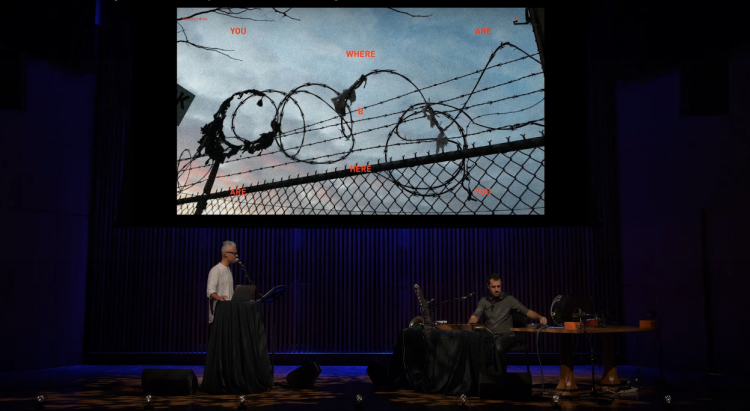 This year's X Avant festival at the Music Gallery, now in its 15th year, was of a different sort. Stretched over three weeks, and by necessity entirely streamed online, this year's edition was curated by Music Gallery Artistic Associates Pratishtha Kohli and Olivia Shortt. It explored the theme of Transmissions—how artistic knowledge and creative vision are passed along to the audience and from one generation to the next. On October 15, the Aga Khan Museum, in collaboration with X Avant, presented the online release of music/spoken word/poetry duo Kaie Kellough and Jason Sharp's new work UBGNLSWRE, recorded on-site in the museum space.
Sharp is a saxophonist, composer and electronic artist, while Kellough brings his work in the literary world as a poet and fiction writer into his collaboration with Sharp. The third voice in the collaboration was Kevin Yuen Kit Lo, who created visual projections by combining different typesettings of words and phrases from Kellough's text with a wide assortment of images.
The text appeared as various words and phrases that were broken-up and reshaped in a vast array of different fonts, colours and sizes. In a pre-concert online interview with the Music Gallery's David Dacks, Kellough stated that these projections can be read or not read and can be seen as a way to broaden the conversation.
UBGNLSWRE was created specifically for the Aga Khan Museum and is one long extended work that spans 30 minutes. The piece began with the continuous and rapid repetition of words and phrases that were constantly being rearranged, re-ordered and reiterated, with changing accents on different syllables. Kellough's masterful way of delivering the text with barely a perceptible inbreath was mesmerizing and ritualistic, like an extended mantra that slowly evolved over time. He began with the words "You are but not here / Do not belong here / Are not a single unified being / But a collection of elsewhere," spoken alongside a complex drone that gradually increased in volume and rose in pitch until arriving at an enormous climax.
At one point during this opening extended gesture, the text became chopped up, until the whole progression was cut off and everything thinned out with a short decrescendo into a series of chords. When Kellough's voice re-entered, the words were articulated more slowly, before gradually speeding up once again. There was a constant and endlessly permutating dialogue between the electronics and spoken text, with the music at times overtaking the voice and at other times the voice standing alone and exposed.
About halfway through the piece, Sharp switched from electronics/voice to his bass saxophone, adding yet another flavour into the mix. At that point we heard the words: "The story arrives with a cast of anonymous characters / Becomes them / They become you / It is you." A sequence of saxophone multiphonics was accompanied by the text: "You / You are among the others / Words are time swirling in your body / Time is you."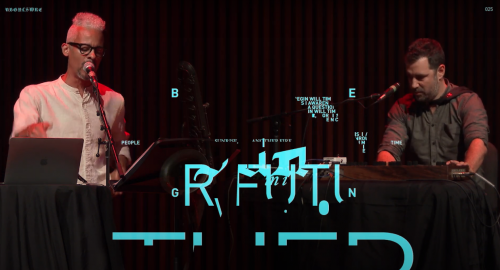 During the pre-concert interview, Kellough spoke about the influence of dub poetry on his work, dub being a poetry movement that came out of Jamaica in the seventies as a way of addressing social concerns using the language of the people and the rhythms of reggae music. The phrase "word sound power" was a traditional way of describing dub, but Kellough created his own version of it, naming his work "word sound systems" as a way of emphasizing the structure of the piece and the relationship between words and sounds and how they operate in the world.
Sharp works with his own customized analog electronic setup, creating a different system for each new piece he does with Kellough, with new patches and circuitry to achieve the artistic goal of the work. He thinks of his systems as organic and malleable, and uses the delivery of the text to trigger different musical events, such as rhythms and accelerations in tempo.
One theme of UBGNLSWRE was to bring in language that conjures this moment in time—a moment that includes the COVID pandemic. The piece presents an opportunity to "think about what it means to exist and feel about the world, to face it in this moment," Kellough explained during the interview. In a world fraught with uncertainties and multiple inequalities, he asks: "what does it mean to exist in the face of those tensions?"
This transmission of sonic energy and lingual dexterity was utterly captivating and hypnotic. One of the advantages of it being a streamed online video was that our attention was could be visually directed: at one moment, the camera focused on the two performers onstage surrounded by the modules and knobs of the electronic setup, with the images visible behind them on the screen; at another, we could see the artistry of the text's graphic design close-up. That text truly did serve to enhance the entire communication of the artists' vision of how we find ourselves living in the midst of these chaotic and precarious times.
Kaie Kellough and Jason Sharp presented UBGNLSWRE on October 15 as part of the Aga Khan Museum's You Begin Elsewhere programming and the Music Gallery's X Avant XV festival. The Music Gallery's X Avant XV: Transmissions ran online from October 1-16, 2020.
Wendalyn Bartley is a Toronto-based composer and electro-vocal sound artist. sounddreaming@gmail.com.

*Updated 11/11/2020 (12pm EST). A previous version of this article described the show as co-production created for X Avant, rather than as a part of both co-presenters' programming.