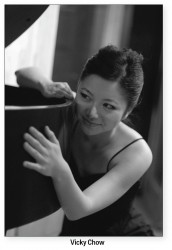 If you are a fan of minimalist music and are craving more after the recent performances of Steve Reich's music in Toronto, you'll want to experience Surface Image, performed by Vancouver-born pianist Vicky Chow and composed by American Tristan Perich. The hour-long piece characterized by a constant pulse of repetitive rhythmic patterns for piano and electronics will be performed at the Music Gallery on May 14 and at the Open Ears Festival in Kitchener on May 28. Chow commissioned the work in 2013 and already there is a recording on the New Amsterdam label along with a growing list of live performances. As she said in a recent phone interview, "It just happens to be a piece people are interested in, and I end up performing it a lot."
The piece begins for solo piano, with patterns based on one harmony and simple rhythms. As the first section unfolds, the electronics slowly enter, and before you know it you're immersed in a huge sea of piano and electronics. Throughout the piece, the relationship between the live piano part and the electronics changes, as human and machine dance with the other. Accompanying, supporting, leading, following and departing from one another, each of the sections highlights different ways the piano and electronic sounds interact with one another. Each section is like a different planet with a completely different mood, becoming almost like its own island in the larger ocean of sound.
The electronics component consists of 40 speakers, each individually connected to an electronic circuit board. Each of these boards has its own program which generates lo-fi 1-bit electronic sounds through its attached speaker. Once the entire system is turned on, it runs on its own. Chow likened the process to an electronic greeting card, where once you open it, the piece turns on and just goes. Unlike Reich's Music for Eighteen Musicians for example, where the number of repetitions of patterns can be varied, Surface Image is precisely notated from beginning to end. The main variations that occur happen due to the type of acoustic space the work is performed in and the way the sound is reflected. Usually the 40 speakers are set up flanking the piano, but if the space is narrow, a different arrangement will be needed, with the speakers closer together. Chow told me, "Every time I play the piece, I hear different parts of the electronics. Depending on the space, the sound bounces in different ways and there have been times when I've wondered if I was in the right place in the score, since I hadn't heard that part before."
Chow is the pianist for the well-known Bang on a Can All-Stars ensemble based in New York City. She initially met Perich through a Bang on a Can summer festival, and was drawn to his work because of his ability to combine 1-bit sound technology with writing for the acoustic piano. It is this mix of piano and electronics that lies at the heart of her musical passions. And although Surface Image can be defined as being part of the minimalist aesthetic, she doesn't consider herself a minimalist pianist. She's more interested in finding ways that push at the boundaries of the piano repertoire and canon, rather than just a specific genre of music.
Besides her work performing with the All-Stars ensemble, Chow has a flourishing solo career and is increasingly finding herself working with Canadian composers such as Eliot Britton from Winnipeg and Adam Basanta from Montreal. In this context, she is able to pursue her interest in piano and electronics. For example, in a work by Basanta created for piano and hand-held mini transducers, devices that needs a resonant body in order to make sound, Chow performs the work by manipulating the transducers on different areas of the piano strings and frame. Her forthcoming album on the New Amsterdam label will feature six works for both prepared piano and piano with different forms of electronics, including tape, prerecorded piano sounds and live processing. One upcoming venture will be a collaboration with Montreal-based drummer Ben Reimer. Together they have commissioned works from Canadians Vincent Ho and electronics wizard Nicole Lizée to be premiered at next years PuSh Festival in Vancouver.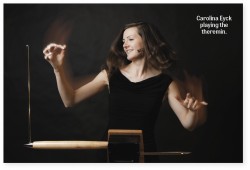 Open Ears Festival: From May 26 to June 4 the Waterloo region will once again be taken over by the sounds of the Open Ears Festival. At the heart of this festival is the act of listening to a diverse range of musics – including new classical, electroacoustic, musique actuelle and sound installations. As mentioned, Surface Image will be performed on May 28, and the composer and media artist Tristan Perlich will be in attendance on May 29. He will be presenting an artist talk at 1pm covering the range of his work, including his Machine Drawings which will be on display, and his explorations into 1-bit music and other sound-based technologies.
Continuing on with the theme of electronics, the concert June 2 will focus on works for the theremin, the world's first motion sensor music instrument patented in the United States in 1928 after being originally developed by Léon Theremin when he lived in Russia and was working on a government research program. The concert at Open Ears will begin with author Sean Michaels reading from his historical novel, Us Conductors, to set the scene for the theremin's beginnings. Next, an influential work for the theremin and chamber ensemble, composed in 1944 by Czech composer Bohuslav Martinů will be heard, followed by a new work for Karlax – a new-motion sensor instrument designed and performed by D. Andrew Stewart. The highlight of the evening will be the opportunity to hear Carolina Eyck, the world's foremost theremin virtuoso. She will perform several works, including the ones previously listed, as well as a new work by Omar Daniel involving Nicola Tesla's high voltage coil invented in 1891. And because Open Ears is all about listening, the appearance of three Listening Choir events makes complete sense. From May 27 to 29, the Listening Choir project by Christopher Willes and Adam Kinner will invite participants on group walks through urban spaces to experience collective and individual ways of listening. The walks will also include the recording of different places, objects, language and ideas within the soundscape using homemade recording devices. Thus the act of listening becomes an act of performance. For a complete overview of the full range of the festivals program, definitely check out their website: openears.ca
Sounds of Finland, Japan and the Indonesian Gamelan: This month offers opportunities to tune into the sounds coming out of these three distinctive cultural traditions. First of all, the music of Finnish composer Tomi Räisänen will be performed on May 19 at a concert presented by the junctQin keyboard collective. Finnish-Canadian pianist Heidi Saario will join the junctQin collective in the performance of two world premieres by Räisänen: Falls, for piano six hands, and Superdodecaphonium for solo piano, as well as others of his works.
On May 24, two days before their Japan: NEXT concert at the 21C festival, Continuum Contemporary Music will be presenting another event at Gallery 345 to celebrate the Japanese concept of Ma. In music this concept translates into the idea that what you don't play is as important as what you do play. It's the space or tension between sounds, and to take it further into the nonmusical domain, the space between two people or two objects. Lining the walls of Gallery 345 will be an exhibition of 30 prints courtesy of the Japan Foundation, some of which deal with Ma in graphic design. Beginning with a film on how Ma is expressed in woodblock art, the concert will then showcase the Okeanos ensemble, a UK-based group of westerners who will perform both traditional works for the koto and sho and contemporary works, all focused on the communication of Ma.
Finally on May 19, the Evergreen Club Contemporary Gamelan, will perform a concert of works from their recent CD, Higgs Ocean. Evergreen Club is an ensemble committed to the performance and commissioning of contemporary music for the gamelan, an ensemble of bronze and wooden instruments from Indonesian culture. In this concert they will team up with the Bozzini string quartet to perform five works by Canadian composers especially written for this collaboration of strings and gamelan sounds.
Additional New Music Performances
May 1: Royal Conservatory. Kaija Saariaho: Changing Light for soprano and violin.
May 4 and 5: Toronto Symphony Orchestra. John Adams: Scheherazade.2 – Dramatic Symphony for Violin and Orchestra.
May 4 to 8; 11 to 15: Coleman Lemieux et Compagnie. Against Nature/À Rebours. Music by James Rolfe.
May 5: Royal Conservatory. Glenn Gould School New Music Ensemble; works by Boulez, A. Norman and Sokolović.
May 13: Canadian Music Centre. "Fantastic! Barbara Pritchard in Recital"; works by Beckwith, Pentland, McIntyre, Hatch, Pearce and Parker.
May 25 to 29: Royal Conservatory's 21C Music Festival; seven concerts with 28+ premieres.
May 26: Music Gallery. Emergents IV: Kiri Koto Ensemble and Boomwhackers.
May 26: Canadian Music Centre; premiere of a new work by Chris Paul Harman, Julia Den Boer, piano.
May 28: Array Music Young Composers' Workshop Concert 2016.
Wendalyn Bartley is a Toronto-based composer and electro-vocal sound artist. sounddreaming@gmail.com.