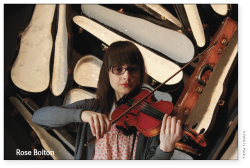 As I sit to write this column, I'm still feeling the after-effects of the May 25 concert with the Kronos Quartet and guest performer Tanya Tagaq at the Royal Conservatory's 21C Music Festival – an event that was featured in last month's WholeNote. It was a truly sublime moment in time, making it difficult to find words that encapsulate the experience of being transported into a kaleidoscope of global musical styles and then beyond into uncharted territory – and all within the scope of the two violins, viola and cello, plus voice. The anticipated commission from Tagaq for the quartet was, as first violinist David Harrington said during his introduction, "unlike anything you've ever heard for the string quartet." With a string quartet score created from transcriptions of recorded improvised vocalizations made by Tagaq in a studio a few months ago, and Tagaq adding a live vocal layer, it was as if the earth itself was opening up to reveal new layers and aspects of what's possible. It began with creaking string tones and subterranean vocal tones which started out so low in range that I couldn't help be reminded of another vocal pioneer, Roy Hart, whose principle of the eight-octave voice was at the heart of his company's research throughout the 1960s and 70s. It was this push into stretching vocal boundaries that opened up possibilities for composers to write for the extended voice. The performance of Nunuvut, the second work performed by Tagaq and the quartetin the concert, was more improvisational in nature, with a series of intense, intimate and sensual duets that Tagaq engaged in with each individual performer before turning to the capacity audience to deliver a sonic portrait of our collective presence. It was a spectacular beginning to the upcoming summer season.
Launching into the summer season usually means it's festival time, which often translates into opportunities to experience music that pushes at the far outer edges. Certainly with the Luminato Festival this year, this will be the case, and not just with its music programming since this year's primary venue, the Hearn Generating Station, will be making its own artistic statement. Situated on the waterfront, it's the site of a de-commissioned power station that will be turned into a temporary cultural venue for the next ten years of Luminato. With a series of interlocking areas designed for performances and exhibitions, along with restaurant and club spaces, the building will take on the air of an architectural installation. Another in-house feature of this environment will be a state-of-the-art surround sound system and projection space with multiple screens. Which, as it turns out, is the perfect venue for the fully immersive music and visual concert piece created by composer Rose Bolton and filmmaker Marc de Guerre being performed on June 22.
The piece, Song of Extinction, is just as its title suggests – a work that raises the critical issue of species extinction through the combination of melody, word and image. And although songform is at the heart of Bolton's compositional language for this piece, the musical scale of the project is extensive, combining youth and adult choirs, an instrumental chamber ensemble, percussion, two keyboard players, and electronics. The work was originally initiated by Music in the Barns under the direction of Carol Gimbel whose specialty is in creating multimedia and site-specific installation concerts.
Despite the focus on the difficult and critical theme of what is happening to the mass disappearance of species on our planet, the work is not activist in nature. As de Guerre explained in a recent conversation both he and Bolton had with me about the piece, "I believe in the power and beauty of images. In the same way that music gets under your skin and moves you, and you don't really know why or what it means or what it's doing to you, the images are functioning in very much the same way." He continued to reflect on this topic by saying "I find it odd given what's happening on the planet that there hasn't been a body of work with this theme from a more art perspective rather than it just being about political activism."
And that's why using song is so important for both of these creators. They think of the piece as "a heartbreak song in the same way that songs are about heartbreak. This is about our heartbreak because of what we do to the earth, to the planet." Their ultimate priority is to make a work that is emotionally powerful, to lead people into an experience of "feeling what we are doing to the earth." In fact, de Guerre says, "If I don't feel anything when I experience a work of art, then I don't consider it to be successful." Thus the nature of the piece is a poetic, impressionistic and non-literal approach to the theme, with the film images conceived around the music.
Bolton's approach to song was to create melodies that people would love to sing and love to hear – melodies that would "stick in people's heads after the performance." For inspiration, she first turned to the songs of Robert Burns and his way of writing that asks universal questions. The next step was to ask the Order of Canada-appointed poet Don McKay to become involved. She asked him if he could write in a similar way, creating texts that addressed her questions related to the theme of extinction. The Newfoundland-based McKay is a poet whose strong personal connection to the land infuses his work, creating poetry that both Bolton and de Guerre described as "grounding." His way of using precise language to create images that are sweeping and allegorical in nature was a perfect fit, and with these texts, Bolton was able to take their essence and turn them into lyrics for the songs. The texts will also be published as a book of poems that will be available at the concert.
The songs will be performed by both the VIVA! Youth Singers of Toronto and Tafelmusik Chamber Choir, with the adults representing the current generation and the children the generation of the future. Both choirs will be engaged in conversations between the present and the future. The keyboard players will also perform on the harpsichord as well as electronic keyboards, with the composer performing the electronics on her laptop as well as triggering the spatial movement of the sound amongst the multiple speaker sound system. The electronics are more ambient in nature, like a wash, and will include live processing of the instrumental sounds with simple delay effects. The overall arc of the piece begins with an air of innocence in the first half, with almost a feeling of reverence towards nature and nonhuman species. Then at a pivotal point, things take a turn for a more solemn and desperate view towards our world and the reality of extinction. Song of Extinction promises to be a powerful and evocative meditation on those realities that are often difficult to cope with. No doubt however, we as audience members respond, we will be left with more stirring questions than solid answers.
One of the other boundary-pushing musical events of Luminato is the return of Unsound Toronto, a two-night sonic playground on June 10 and 11 combining ambient, drone, noise and other forms of experimental soundmaking. As well, a giant listening party is being planned on June 16 for all those who want to experience the recording of last year's Apocalypsis performance composed by R. Murray Schafer and performed by a cast of 1000 or more.
Parallel to these events at the festival is the concert celebrating 40 years at the Music Gallery on June 11. Combining new music, video, performance and site-specific installation works, the evening promises to be a sonic portrayal of past, present and future. Starting the evening off will be a performative walking tour of St. George the Martyr's courtyard highlighting oral histories, followed by performances with Mridangam master drummer Trichy Sankaran, Tenderness (aka Chrissy Reichert) alongside dancer Allison Peacock, and turntable artist SlowPitchSound (Cheldon Paterson) who will mine the Gallery's sound archives to create new visions out of past performances. And while on the topic of summertime wild and untamed sound events, I must mention the Electric Eclectics festival that takes place from July 29 to 31 in the countryside near Meaford. Directed by Gordon Monahan and Chris Worden, the festival combines experimental music, sound art, DJ artists and sound installations in a relaxed camping environment. Check out their website for the extensive lineup, which includes two noteworthy duos: Not the Wind, Not the Flag, and the duo of Jennifer Castle and Mary Margaret O'Hara.
The Rest of the Summer: Here are my listings of what else to look out for during the hazy and hot months ahead.
JUNE
One highlight early in the month is Spectrum Music's Tower of Babel concert on June 4 with new compositions evoking various interpretations of this iconic story which appears in Christian, Islamic and Jewish religious texts. The pieces will explore the question of whether this ancient story can shed any light on contemporary divisons amongst nations and religious groups. Globally acclaimed oud player, Amos Hoffman, will be one of the performers. For improvised music lovers, there is DroneDoctor, a drone music meditation concert on June 5; the CCMC performing at Gallery 345 on June 11; and Audio Pollination on June 25.
Sounds of the Next Generation (SONG) will be performing Spirit Garden: Spring Planting by R. Murray Schafer, an outdoor music drama, running June 11 and 12 on a farm in Cold Springs, near Cobourg. The piece involves planting a garden, and will be followed up by a harvesting concert on September 25. On June 25 the Canadian Music Centre presents new works by Chris Paul Harman including his Five Japanese Children's Songs and the world premiere of his Five Pieces for Clarinet and Piano. Other new and traditional works inspired by Japan will also be included.
JULY
On July 17, Soundstreams Salon presents the premiere of Emilie Lebel's collaboration with Jumblies Theatre and community participants. Over at the Stratford Summer Music Festival, TorQ Percussion will perform Strange and Sacred Noise by John Luther Adams, on July 26. The work is a visual and aural exploration of the sonic geography of Alaska, answering the composers question "What would it sound like if the wilderness could sing, and I could hear it singing?"
One of the largest summer festivals to include an extensive amount of new concert music is the Ottawa International Chamber Music Festival. I've compiled a summarized overview, but I also recommend checking the listings for more details. On July 22, there is a concert of seven Canadian works for oboe and piano. Two events for new music lovers take place on July 26: a performance of Reciprocity, a multidisciplinary work by UK composer Patrick Cohen is followed later in the evening by a series of boundary-crossing works performed by Jesse Stewart, David Mott and Ernst Reijseger. On July 29 the Cecilia String Quartet performs works by four Canadian women composers, while on July 31 Morton Feldman's masterwork, Clarinet and String Quartet, will be played by James Campbell and the Quatuor Bozzini.
AUGUST
Continuing with the Ottawa Chamberfest, their special New Music Miniseries comprised of three concerts spread throughout the day on August 1. The first includes works by Canadians Palmer, Di Castri and Murphy, followed by a second concert of seven works by Canadian composers for violin and piano. The miniseries ends up with a more international concert, with two works by Pierre Boulez among others. The final new music work of the festival is a performance of Christos Hatzis' landmark multidisciplinary spectacle, Constantinople, on August 2.
Mr. Shi and His Lover, a contemporary Chinese language music theatre work composed by Torontonian Njo Kong Kie will be presented as part of this year's SummerWorks Performance Festival, running from August 5 to 8 and 11 to 13. The Classical Unbound Festival which occurs in Prince Edward County has a Living Canadian Composer Stream of concerts, with pieces by Morlock Buczynski and Mozetich spread throughout their concerts on August 19, 24 and 26. And finally, Summer Music in the Garden's September 1 concert will feature works by Ann Southam.
Have an enjoyable and relaxing music-filled summer and keep your eyes posted for details of Contact Contemporary Music's annual extravaganza on Labour Day weekend at Dundas Square.
Wendalyn Bartley is a Toronto-based composer and electro-vocal sound artist. sounddreaming@gmail.com.