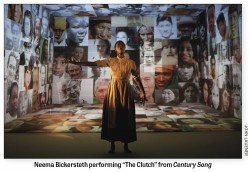 I find it fascinating how particular themes that surface in new music events happening in the city have a way of rolling into each other. In my interview in the March issue of The WholeNote with Owen Pallett, he spoke about how he was bringing a different focus to the TSO's New Creations Festival by emphasizing music related to gender and Indigenous identities as well as genre diversity. A similar theme of exploring identity is at the heart of Century Song, a music, dance and image-based stage work created by soprano Neema Bickersteth in collaboration with choreographer Kate Alton and theatre director Ross Manson of Volcano Theatre. The piece runs from April 19 to 29 and is presented by Nightwood Theatre.
Using Virginia Woolf's novel Orlando as an inspiration, Century Song moves through a series of scenes spanning 100 years as it follows the story of a black woman in Canada. The tale is told using the language of the body – both the wordless sounds of the voice and the physical gestures created by the choreography. And the story it tells is one close to Bickersteth's heart – in fact it is an embodiment of her own personal journey. The work however didn't start out with this goal in mind, Bickersteth told me during our recent phone interview. Rather it emerged during the development process. The initial question she wanted to explore was whether a classically based singer could both sing and dance as is done in music theatre. Together with Alton, they chose a series of 20th-century compositions for soprano that used only vocal sounds and no text. While rehearsing, it became apparent from the feedback that "I had been putting a persona on top of what I was doing. The music was just a song with no character or text. But I realized I was pretending to be a white woman while singing, something I had always done with classical music due to my university training."
Bickersteth grew up in Alberta and is a first-generation Canadian born to parents originally from Sierra Leone. She grew up with a love of singing and eventually studied classical voice and opera at UBC. During the rehearsal process when she became aware she was singing as a white woman, she also discovered that this wasn't conscious, but "something that had entered me from early on. It was a personal issue I needed to take a look at. What are the layers that I don't even know are there?" These discoveries took the piece into a different direction, becoming the threads that tied the entire work together. The character that emerged "came from within me," she said.
Each of the selected compositions is staged within a particular location and time period with a focus on highlighting aspects of Canadian black history. This is accomplished through the set design, projected images and costume. Beginning with Rachmaninoff's Vocalise written in 1915, the setting is Alberta during the second decade of the 20th century. At that time black communities were relegated to the outskirts of town, with the men often forced into leaving home to find work in Edmonton and the women and children struggling to survive. However, Bickersteth says, "there is always a way through," and her character finds that necessary inner strength.
After WWI, things change, and the character is now a well-dressed jazz singer in Montreal. There is a sense of things being easy and beautiful, communicated through the shimmering colours of Messiaen's Vocalise-Étude composed in 1935. As the music progresses into an uneasiness, the character begins to raise questions through her sounds and physical movements about whether this new place she has landed is really so great after all. This uneasiness grows darker during the performance of the second Messaien piece, an excerpt from his 1941 composition Quartet for the End of Time during which Bickersteth becomes a wartime factory worker. The creators adapt a section where the violin and cello lines play in unison into a vocalise, using electronic processing on Bickersteth's voice to create the doubling effect.
Between each of the composed vocal works, Gregory Oh (piano) and Ben Grossman (percussion) perform structured improvisations on their respective instruments along with various electroacoustic sounds sourced from their laptops. These transitional improvisations were created in collaboration with the composer of Century Song, Reza Jacobs, along with Debashis Sinha, who performed during earlier productions of the piece. The music following the Messaien piece is explosive in nature, highlighting the character's internal war coming to terms with things "once believed in, but not anymore. It's that identity struggle that causes a breakdown."
This storm leads into calm with the performance of A Flower by John Cage, composed in 1950 and set for voice and percussive piano sounds. The setting is Vancouver, where during the postwar period the small black community was moved to housing projects, making way for the Georgia Street viaduct. Using film footage with a rapid succession of images to create the transition through to the 1970s, the next persona to appear is modelled after Bickersteth's mother, who juggled being a wife and mother while studying and working at a job. She, like many other women of the 1970s, was determined to do it all and this level of intense activity is aptly portrayed through the performance of Récitation 10 by Georges Aperghis. The musicians pick up the heightened field of action and push it to an extreme tempo while Bickersteth dances her way through to the final work composed specifically for her by Jacobs. During this frenetic transition we see images of different faces wearing clothing from all times and cultures. Bickersteth explains how this ties into her personal journey with the piece: "It's all me. Am I pretending to be someone else? Who am I, who are you, who do we see each other as? If you see a black woman dressed up in a sari – what does that mean to you?"
The final Vocalise by Jacobs is the musical moment where Bickersteth can finally land within her own voice. "Working from a personal perspective as opposed to a put-on perspective creates a freedom that can be heard and seen in my body. It's a freedom that comes from your heart, from within your creative centre. My voice is still my voice, I am classically trained, but I do have this curiosity for my 'other voices.' What else can my voice do, what else can my body do?" Of Jacobs' piece she says: "I think of it as an anthem. He told me to do whatever my voice wanted, since he knows that my voice wants to do many things other than straight classical. You can hear the freedom and discovery in my voice."
Changing the conversation in the musical world to include race and gender has been much slower to emerge than in the visual arts, film and theatre worlds for example. Bickersteth commented on this: "What I love and see happening is the mixing of all art and genres. The more overlapping and connecting that occurs, the more these conversations will happen and changes will be quicker. I'm hopeful too that we can be free to do what we want."
Emergent Events:
With the month of April marking the end of the academic year comes an abundance of student concerts occurring at all the local universities. I suggest you check out the listings for the full roster, but here are a few highlights: On April 3 at the Don Wright Faculty of Music, Western University a concert by the Contemporary Music studio and on April 4, an "Electroacoustic Music Compositions Concert." Also on at the University of Toronto, the gamUT: Contemporary Music Ensemble will be performing. Outside the academic world, two concerts from the Music Gallery's Emergents series presents opportunities to hear the latest from young creators. The concert on April 7 offers performances by Castle If, the electronic composer Jess Forrest who works with a collection of analog synthesizers to create soundworlds inspired by the pioneers of electronica, and Laura Swankey, an innovative improvising vocalist. The May 5 Emergents concert features performances by The Toronto Harp Society, whose mandate is to encourage new works for the harp by Canadian composers, and Toronto's newest saxophone duo Stereoscope Duo, with Olivia Shortt and Jacob Armstrong. They too share a passion for developing repertoire for their instruments, while also mixing in electronics and collaborations with dancers.
Quick Picks:
Apr 1: Academy Ballet Classique/Slant. "River Flow: Confluence of Music, Words, and Dance." Interdisciplinary work celebrating rivers. World premiere by Owen Bloomfield; Cambridge.
Apr 2: Esprit Orchestra. Works by Thomas Adès (England), Arthur Honegger (Switzerland), Alexander Mosolov (Russia), John Adams (USA), Chris Paul Harman (Canada).
Apr 6, 13: Toronto Symphony Orchestra. Sesquies by William Rowson (April 6) and Marc Bélanger (April 13).
Apr 7: Canadian Music Centre. Centrediscs CD launch: Worlds Apart by pianist Christina Petrowska Quilico.
Apr 14: Music at Metropolitan. Music for Good Friday. Works by composers Eleanor Daley, Stephanie Martin, Jeff Enns and others, along with Eternal Light – A Requiem by Howard Goodall.
Apr 21: Canadian Music Centre. French ensemble Hanatsu miroir presents works by Canadian, Brazilian, French and Italian composers.
Apr 23: Gallery 345. "The Art of the Flute: A Musical Aviary." Works by James Shields, Andrew Staniland, Takemitsu, Saariaho, Hindemith, Feld and Richard Rodney Bennett.
Apr 28: New Music Concerts. "Celebrating John Beckwith." Works by Beckwith including premieres of two works: Calling and Quintet; John Weinzweig and Stravinsky.
Apr 30, May 7: Wellington Winds. "Wind Symphony Whimsy." Featuring The Seven Deadly Sins by Michael Purves-Smith.
May 5: Spectrum Music. "Portraits de Georgian Bay." Spectrum composers' arrangements of songs composed by the Georgian Bay duo Kelly Lefaive and Joelle Westman.
May 5: Array Ensemble. "The Hits: Array Percussion Trio." Works by Jo Kondo, Rolf Wallin, Guo Wenjing and Erik Oña.
May 6: Haliburton Concert Series. "Guy & Nadina." Includes a work by Canadian Glenn Buhr.
Wendalyn Bartley is a Toronto-based composer and electro-vocal sound artist. sounddreaming@gmail.com.