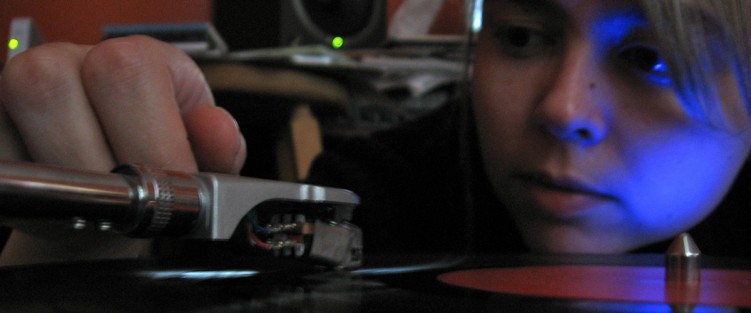 Each year at the University of Toronto's New Music Festival, a composer is invited to be the Roger D. Moore Distinguished Visitor in Composition. This year the festival, which runs from January 21 to 28, will host Canadian composer, sound artist and keyboardist Nicole Lizée. I've been fascinated by Lizée's unique approach to working with technology and instruments, so this felt like a perfect opportunity to learn more.
One of the key features of her work is the use of what she calls "glitch." In our recent interview she offered an inspiring description of her unique relationship to working with media-based technologies and what it is that fascinates her about malfunctioning machines.
"I was born into that world. My father is an electronics repairman, salesman and collector who was always repairing or beta testing new technologies and devices. During the 1960s, 70s and 80s there was a lot of experimentation, and many of the machines didn't always work at first. I grew to love these machines – the way they looked and smelled, as well as the sounds and visuals they would produce."
Lizée's parents were huge fans of music, including classical, soundtracks and easy listening, and had an extensive LP collection. Old films were also a favourite, and she grew up watching films on video by Hitchcock, Kubrick and Bergman. "We would watch on repeat, repeat, repeat, and inevitably the tapes would melt or malfunction. This is when those movies became the most interesting to me. The version of The Sound of Music that I know is not the version most people know."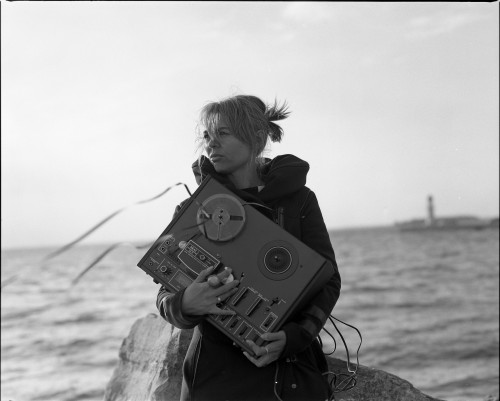 Lizée's passion for both music and film led to a desire to merge these worlds. This, in combination with her strong emotional connection to the malfunctioning analogue technologies of her childhood, inspired her vision to bring this world into the concert hall and to mix it with live instrumental performers.
The main source of fascination was the glitch – machines malfunctioning and not behaving as planned. "Analogue devices have a life beyond what they're intended to do. They continue to live. The tapes would become chewed or worn down, but would still play back. Their material would then become altered and new rhythms would emerge." She gives the example of a video game machine that would play, "but if you pushed a certain button in a particular way, something else that wasn't supposed to happen would start happening. It was crazy – and like going into a portal. I wanted to capture those sounds and those visuals, and compose with that in mind. Capturing glitch means capturing the malfunction, the stuttering, the rhythms and sounds that would be produced."
Many of her works also use video, but not as accompaniment to the music – rather, the video becomes an instrument itself that the performer engages with in a synced-up dialogue. Even the glitches themselves become instruments.
On the stage, Lizée uses both malfunctioning technologies such as reel to reel tape recorders and old synths, as well as "behaving ones" – usually performed on by others. The glitching devices are unpredictable, so she needs to perform with that in mind and often she has no idea what will happen with them. It requires keeping an open mind and working with whatever happens. Using such devices gives new colours such as hums and hisses, and even when they don't work properly, other things will be present. Despite the glitches, the analogue machines will always offer her something to work with. They won't shut off or fail to function – unlike digital devices. "I have never come across an analogue device that completely shuts down. It may go crazy and be unpredictable in a concert, and sometimes there will be a malfunctioning cable, but it will never shut down. It just keeps going."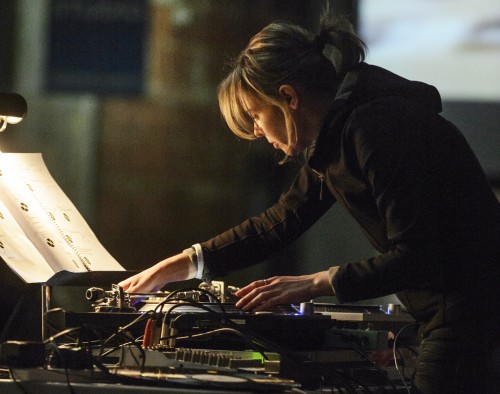 What enables Lizée to use these glitch features in the composing process is the notation system she has devised. And she doesn't just approximate the sound, but rather employs great precision to accurately translate what is occurring within the glitch. Using changing time signatures for example, rather than adjusting everything to regular 4/4 time, is one outcome of her approach. Spending years developing her transcription process was essential to developing her perspective on composing music.
And yes, she admits, it is labour intensive, but "ultimately it has pushed me in many ways, and performers tell me repeatedly how it has made them play differently. They all have their stories and it's extremely interesting to hear how their relationship to this element has pushed them. It taps into different emotions and requires a spot-on precision. The stops and starts, changing tempos, metres, volume extremes, this all requires a player to completely commit to delving into this world."
Working with glitch brings up emotions in players that are of a different order than usual. The glitch often creates a "forlorn and plaintive sound which gets into the ears and head of the player. People tell me how they've gone through shock, fear and sadness, and that's because of the source material and the way it is dealt with. It is being torn apart, hacked and taken into a different direction than originally intended."
At the U of T New Music Festival, Montreal's Architek Percussion will be joining forces with Lizée's ensemble SaskPwr on the evening of January 25 to perform selections from Lizée's The Criterion Collection. These short works are an homage to both glitch and to her favourite film directors, Alfred Hitchcock and Stanley Kubrick. While watching these films growing up, "I was getting into the language and techniques of the director, but also while watching it, the tape was deteriorating and this whole other world was being created by the glitch and malfunction. The sound and image are completely synonymous and intertwined. When the glitch happens, it happens to both. The performance will be one hour long, nonstop. Everything will be live and synced, with heavily glitched scenes."
Another of her works, Malfunctionlieder, will be performed during the festival's noon concert on January 25. This piece was commissioned as a test piece for voice and piano for the 2017 Eckhardt-Gramatté Competition, which is designed to encourage the performance of Canadian and contemporary music. Lizée's piece includes an accompanying soundtrack and video and represents the first time in the history of the competition (which began in 1976) that the repertoire has included the worlds of both acoustic music and technology. This work also represents a more recent direction for Lizée – to write works for voice. Writing for the voice "opens up the possibility of a whole other world where the live human voice engages with the glitched characters on the screen as well as with the audience."
And finally, her work Isabella Blow at Somerset House will be performed on January 24 by the Cecilia String Quartet, who played the work earlier this year at the 21C Festival in May. Lizée wrote the piece as an acoustic representation of fashion designer Isabella Blow and what her impact on the fashion industry might sound like. If you are intrigued to experience more of Lizée's fascinating work, I encourage you to attend not only the concerts, but also her composition masterclasses on January 24 and 26, and the composers' forum on January 23.
The festival will also feature concerts from the Faculty of Music's opera, chamber music and orchestra series, a night of improvising music from the jazz department and a concert devoted to electroacoustic music. In addition to Lizée's Isabella Blow, the Karen Kieser Prize Concert on January 24 features Tyler Versluis' 2017 prizewinning work 3 Unuttered Miracles for accordion and percussion, along with past prize winner Riho Maimets' Three Movements for Marimba.
What's New? In the New Year (and Previously Mentioned)
On January 26 in the Array Space on Walnut Ave., The Array Ensemble performs four new works by four Canadian composers: Rebecca Bruton (Calgary), Marielle Groven (Montréal), Stephen Parkinson (Toronto) and Holger Schoorl (Toronto). Bruton's work happens in the intervening spaces between avant-pop, experimental chamber music and noise, and one of her current projects is co-creative producer of Tidal ~ Signal, a Vancouver-based festival dedicated to increasing representation of women and transgender artists within the fields of sound art and experimental music. Groven's work draws on raw and emotionally charged sounds, with attention to connections between evocative human and instrumental sounds. Parkinson is a composer and performer with the Drystone Orchestra. His work, Desires Are Already Memories, is part of Arraymusic's New World CD. Schoorl is a guitarist who is an active participant in Toronto's improvisation community. The day following the concert, all four composers will re-gather and spontaneously compose together in various combinations.
Many of early December's events of new music were mentioned in my November column, including the "Urgent Voices" concert presented by Continuum Contemporary Music on December 8 and 9 at the Daniels Spectrum Aki Studio, ...as well as New Music Concerts' "Concertos" on December 3 at the National Ballet School's Betty Oliphant Theatre.
Upcoming New Music Concerts productions in the new year include "Kammerkonzert" on January 14 at the same venue, with a focus on music by the primary composers of the Second Viennese School, Arnold Schoenberg and Alban Berg. Michael Oesterle's Chamber Concerto will also receive its world premiere there. Then on February 4, NMC presents Calgary's Land's End Ensemble at Gallery 345 on Sorauren Ave., performing compositions by Canadians Hope Lee, Sean Clarke and Matthew Ricketts. Anton Webern's 1922 chamber arrangement of Schoenberg's Kammersymphonie Op.9 will round out the program.
And finally, the Music Gallery presents their first Emergents Concert of the season on December 7 at the the 918 Bathurst Centre for Culture, Arts, Media and Education, with four contemporary song cycles created as part of the Sounds Of Silence Initiative. After just one year, this initiative has brought together over 50 composers, poets and musicians to create new Canadian art song that tells the story of a diverse Canadian cultural identity, and supports, in particular, artists from Indigenous, immigrant, black, refugee and LGBT communities.
For details on all these and other performances of interest, consult our comprehensive concert listings in this December-January double issue of the magazine, or online at thewholenote.com/just_ask, where you can filter the listings by genre to simplify your search.
Wendalyn Bartley is a Toronto-based composer and electro-vocal sound artist. sounddreaming@gmail.com.