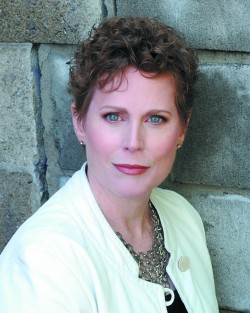 Part of the life of being a composer is filling out grant applications and submitting proposals. Living with the uncertainty of not knowing the outcome of all this work is part of the lifestyle. So imagine the feeling when you find out you just won a major prize, a $50,000 prize – the largest one available for Canadian composers. This was the experience that Ottawa-based composer Kelly-Marie Murphy had recently when she got the phone call from the Azrieli Foundation informing her she had been chosen as the winner of the Azrieli Commission for Jewish Music. Murphy was recently in Toronto attending the rehearsals and world premiere performance of her work Curiosity, Genius, and the Search for Petula Clark by the Toronto Symphony Orchestra on September 22 and 23, so I was able to sit down with her and talk about this exciting new development in her life.
To enter the competition, composers are required to submit a proposal as to what they would write if they received the prize. The only requirement is that the piece of music is to reflect Jewish culture in some way. Murphy began by asking friends and associates for ideas. Her daughter's singing teacher suggested she look at Sephardic music, and once she began listening to the music that originated from the cultural mix of Jewish, Arabic and Spanish cultures from the Iberian Peninsula during medieval times, she was hooked. She loved the expressive quality of the music, the ornamentation, and the pitch bending similar to that in blues and slide guitar music, which she also has a passion for. After the Jews were expelled from Spain and Portugal, the music also travelled with them, picking up influences from Morocco, Argentina, Turkey and Bulgaria for example. The question of how music changes in different contexts is what fascinates Murphy. The wonderful thing about winning this prize, Murphy says, is that it's an "open invitation to explore the music of this culture, and to make it into something new and different with my own understanding. This is what makes me grow."
As part of the process, she is consulting with music scholars who are experts in the field of Sephardic music traditions. One such person is Toronto-based Judith Cohen, who has carried out extensive fieldwork and research among Sephardic Jews in the Mediterranean, Portugal and Spain. Murphy sees her role not as a collector of sources however, but rather preparing herself to allow these musical influences to become part of her consciousness and eventually become part of her sound. Early on in her life as a composer, it was the music of Stravinsky and Bartók that really woke her up to different possibilities. She allowed the essence of that music to mix with jazz, bebop, and slide guitar influences to create her own expression. "Influences are a wonderful thing," she says. "I like to bring it all in, let it steep, live with it and see what happens."
She acknowledges that working with materials from cultures outside one's own is a hot topic of debate in the cultural community. However, she states "I'm not appropriating, I am acknowledging and learning something and isn't that a good thing? I'm learning about a culture I wouldn't have known about." The open invitation from the Azrieli Foundation is a perfect opportunity for this type of exploration. It also gives composers such as Murphy a chance to keep her orchestral writing skills in shape, which she admits is a challenge these days with limited opportunities to take on writing a lengthy work for orchestral forces. Murphy's completed composition will be a 20-minute double concerto for cello and harp, premiering October 15, 2018 in Montreal and featuring the McGill Chamber Orchestra.
This has turned out to be a golden year for Murphy, as she is the winner of two other composition awards – the Maria Anna Mozart Award from Symphony Nova Scotia, as well as being selected by the Women's Musical Club of Toronto as their annual commissioned composer. For the WMCT commission, Murphy will compose a piece for eight cellos for a performance on May 3, 2018 at Toronto's Walter Hall. This piece will be inspired by a story of painter Jackson Pollock who "went off the rails" during a Thanksgiving dinner, sending food and dishes flying. His wife's response was simply: "Coffee will be served in the living room." Murphy is intrigued by the dramatic and emotional possibilities of this scene, and will use the various combinations of duets, solos and quartets amongst the eight cellists to play out the tensions and dynamics suggested by this story.
Murphy's curiosity and sense of musical adventure can be summarized by this question she poses: "If you don't explore, don't connect outside of yourself and your own experience, how can you move on? Wouldn't you just keep creating the same sound?"
Canadian Electronic Ensemble
It's a new look for the Canadian Electronic Ensemble, which can proudly boast of being the oldest continuous live-electronic group in the world. Formed in 1971 by David Jaeger, Larry Lake, Jim Montgomery and David Grimes, the CEE is gearing up for "New Look CEE," their October 13 concert at the Canadian Music Centre. This concert marks their new configuration as a quintet, with the addition of David Sutherland to the current ensemble membership made up of founders Jaeger and Montgomery, Paul Stillwell (who joined in 1995) and John Kameel Farah (who joined in 2011) – fellow current member Rose Bolton is not playing in the October 13 concert.
In the early days when it wasn't so easy to use synthesizers in live performance, members of the group would design and build their own instruments. Performing concerts of their own music as well as works by other composers became their focus, with their first Canadian tour happening in 1976. Other activities in the 1970s included being consultants for a sound synthesis project at the University of Toronto, as well as coordinating a research project on the work of electronic music pioneer Hugh Le Caine. Browsing through their website, one gets a strong impression of life as a pioneering electronic music ensemble, and all the rich experiences and professional associations that were had.
With improvisation being their standard mode of performance, the instrumentation is varied, using both old and new analog instruments, laptops, acoustic instruments, found sound and field recordings. So what will the new look sound like? Impossible to know at this point, but the group is excited to welcome Sutherland aboard. He brings expertise from both the digital and analog worlds, including a mastery of the EMS Synthi AKS (the iconic 70s analog synth). Definitely worth checking out this enduring ensemble whose activities span four and a half decades.
Spectrum Music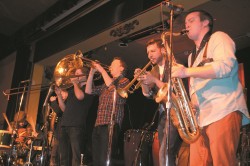 On the other end of building ensemble legacies, Spectrum Music continues its energetic agenda of bringing audiences a series of themed concerts that combine diverse traditions and intriguing cultural issues. This collective of composers and curators came together in 2010 with a mission to celebrate difference, inclusivity and community. Their October 28 concert is organized around the topic of legends and lore, combining mythologies about the lost city of Atlantis, Dutch folklore about the mermaid and stories of the Aztec deity Quetzalcoatl. The Heavyweights Brass Band are the featured performers in this concert, which aims to bring jazz, classical and pop audiences together.
Worthy Mentions
Flipping through the pages of this month's issue of The WholeNote, the reader will no doubt notice the abundance of events celebrating the music of Claude Vivier, an important Québécois voice who left behind an enduring body of musical works after his untimely death in 1983. I just happened to be in Montreal studying composition at McGill University during that year, and this devastating news shook the musical community there profoundly. Fortunately, his powerful and compelling music lives on, and the month of October will be an excellent opportunity to hear and experience the magic of his musical imagination with concerts by both Esprit Orchestra and Soundstreams.
Finally, an important reminder of two events I wrote about in my September column – the Music Gallery's X Avant XII Festival (October 11 to 15), organized around the theme of Resistance, and New Music Concerts' first program of the season featuring the Meitar Ensemble from Tel Aviv (October 22). The X Avant festival offers a variety of approaches and soundworlds created by artists who seek to combat the various threats currently facing the world – from oppressive regimes (including the USA) to climate disasters. Check out the listings for a full menu of what is on the agenda for this hot and cutting-edge festival. The Meitar Ensemble is a virtuoso group dedicated to commissioning and performing new works. Five players from their core membership will be visiting Toronto to perform compositions by Philippe Leroux, Ofer Pelz, Ruben Seroussi and Uri Kochavi. This concert will be a great chance to hear some leading-edge music by stellar performers.