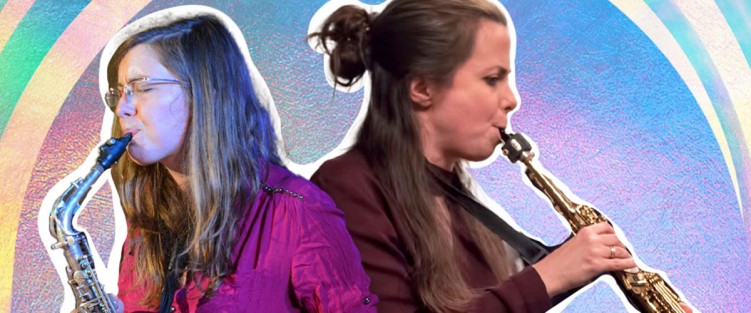 Women from Space is a very special festival, highlighting creativity across a diverse range of music and mixed-media work, often improvisatory, sometimes electronic, scheduled each year to coincide with International Women's Day weekend.
First launched in 2019 just a week before the COVID-19 lockdown, the event highlights many of the ways in which women are expanding and redefining the sonic landscape, shifting any remaining boundaries between genres and fusing them into new forms. Last year, in full lockdown, founder/organizers Kayla Milmine and Bea Labikova made available an innovative three-dimensional projection box that allowed home viewers to watch the festival in a unique miniature environment. For the fourth edition, the festival is back on stage, this time in the Tranzac's main hall for three nights and then at 918 Bathurst for the finale. As with past editions there are events that will be better experienced than described. Pre-show panels and chats, presented by Musicworks, run from 7:00 to 7:30 with four to five performances per evening beginning at 8PM.
Thursday April 28
Montreal voice-and-movement artist Susanna Hood's past works have included explorations of sometimes subtle, sometimes visceral poets, including P.K. Page (The Muted Note) and the 15th-century Zen master Ikkyū (Impossibly Happy). Here Hood explores the saxophonist-composer Steve Lacy's Packet settings of poems by Judith Malina, co-founder of the Living Theatre. Hood matches Lacy's original instrumentation with two stellar Toronto improvisers, soprano saxophonist Kayla Milmine and pianist Tanya Gill. That spirit of improvisation is matched by trumpeter Nicole Rampersaud's solo performance, while the same integration of the arts is evident in vibraphonist/pianist Racha Moukalled's compositions, inspired by works of the pioneering abstract painter Hilma af Klint. Moukalled's quartet includes violinist Aline Homzy, oboist/flautist Elizabeth Brown and interdisciplinary artist Ilyse Krivel.
Friday April 29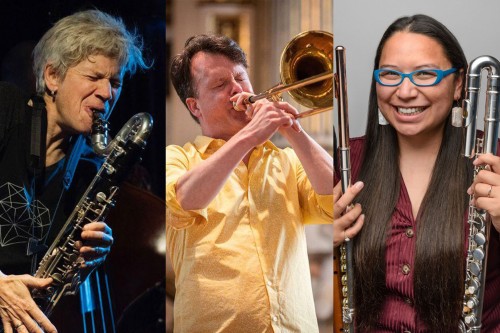 Shadow puppeteer Kristine White, dancer Bee Pallomina and percussionist Germaine Liu combine their diverse media in an exploration of plant mythology; Sara Constant provides a set of solo flute; Lori Freedman and Scott Thomson, collaborators since 2010, combine the full range of clarinets and a century of jazz trombone tones with virtuosic aplomb.
The Understory Project has been a major event in Canadian improvised music during the lockdown, connecting trios of artists across the country in real-time, online interactions. Here Understory co-produces a trio performance with operatic soprano and multi-disciplinary artist Neema Bickersteth, joined online from Alberta by flutist Jessica McMann and, from Ottawa, by computer-based audiovisual artist Dot Starkey.
Saturday April 30
Saturday promises to be the most eclectic and surprising night of the festival, beginning with a co-presentation (with Coexisdance) of choreographer, dancer and poet Aisha Sasha John with multi-disciplinary artist Brenda Joy Lem whose individual works suggest they may extend connections between dance and the language of dreams.
Saxophonist Kayla Milmine and guitarist Geordie Haley perform with visual artist Peter Morin. Singer/songwriter Ronley Teper melds her songs with a myriad of musical genres, while TUSH presses the boundaries of dance-club culture.
Sunday May 1
Kathryn Merriam, Isabelle Clermont, Grace Scheele and Elysha Vorstenbosch all play harp and here present the spectacle of four people doing it at the same time. Marilyn Lerner improvises solo piano works, distilling them into a profoundly personal language with passion and precision.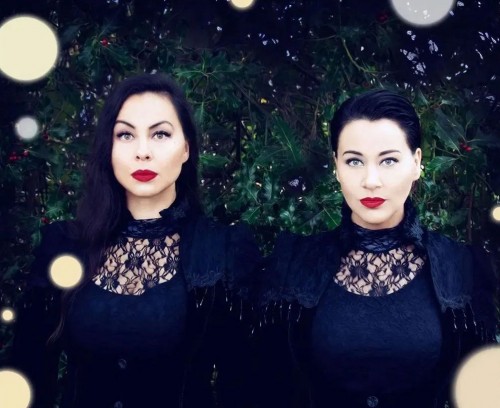 PIQSIQ, the British Columbia duo of sisters Tiffany Kuliktana Ayalik and Kayley Inuksuk Mackay, have grown up in the traditions of Inuit throat singing, extending them with electronics and looping to create complex, hypnotic auditory environments that are at once mysterious and compelling. Filmmaker and musician Sook-Yin Lee closes the festival with a solo performance.
Women from Space runs April 28-May 1, 2022: Tranzac, 292 Brunswick Ave. April 28, 29, 30; 918 Bathurst Centre for Culture, Arts, Media and Education, May 1.
For details of times, dates, venues, addresses, tickets and complete lists of performers, visit womenfromspace.com.
Stuart Broomer writes frequently on music (mostly improvised) and is the author of Time and Anthony Braxton. His column "Ezz-thetics" appears regularly at pointofdeparture.org.