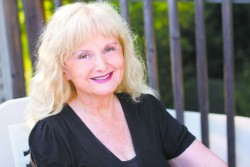 Our cover story bypasses all of December to focus on a January 21 event. So I thought I'd push the envelope a day further and start by calling your attention to an event happening on January 22! On that day, at Glenn Gould Studio, pianist Christina Petrowska Quilico launches a two-CD Centrediscs recording, Visions: Rhapsodies & Fantasias, consisting of composer Constantin Caravassilis' books of rhapsodies and fantasias for solo piano. "Visions in sound, transcending lyricism to become a dramatic opera for the keyboard," is how Petrowska Quilico describes the works, a description which sounds considerably less flowery and vague when one notes that composer Caravassilis, like Sibelius, Rimsky-Korsakov and, some would say, Mozart before him is a "synaesthete," someone whose perception of sound is inextricably linked to colour and movement.
Petrowska Quilico, a visual artist in her own right, entered into the world of Caravassilis' sound palette so completely that she rendered the works into nearly 100 paintings before committing them to disc. Some of these paintings will be projected at the concert, and displayed at a Canadian Music Centre-hosted reception in the lobby afterwards.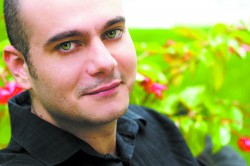 This project's road to fulfilment has passed through the Canadian Music Centre, in more ways than one: it started out when Caravassilis and Petrowska Quilico were named recipients of the CMC-administered inaugural Harry Freedman Award back in 2010; and "View From Pluto," one of the works on the CD, was performed by Petrowska Quilico, along with a portion of Ann Southam's Rivers on October 30, as part of the official launch of the CMC's new 50-seat, intimate performing and recording space.
Tucked in behind the reception desk on the ground floor of Chalmers house, the new venue occupies the part of the building formerly taken up by the CMC's score library and a nest of offices. It already looks as if it has always been there. I almost couldn't remember how it looked before till I closed my eyes and remembered Petrowska Quilico seated in the corner of the score library, sometime last year, somehow coaxing from composer John Weinzweig's reluctant old upright piano some of the astonishingly nuanced harmonics of Southam's "Rivers."
The new space, in contrast, is anchored by a superb Steingraeber grand piano and a more than adequate adjacent reception area, and has already built an impressive list of users.
As far back as September 23, 13-year-old pianist Anastasia Rizikov (already a poised and accomplished performer) and composer/pianist Adam Sherkin gave the new Steingreber its first real workout the day it was moved in, in an event that served as a kind of after-party to the "Renegades, Dreamers and Visionaries" Glenn Gould at 80 event that was our September cover story. Sherkin, who is a CMC associate composer played some of his own works from an upcoming Centrediscs release, while Rizikov, in her first public essay at contemporary Canadian repertoire, tackled "Riffs" and "Escape Velocity" from composer John Burge's Studies in Poetry. Burge, via the miracle (to a Luddite like me) of a technology known as "Mondo Pad" listened in and watched from, I think, Kingston and participated in a conversation with the pianist and the audience.
A second example: Friday December 1, soprano Suzie LeBlanc, with pianist Dinuk Wijeratene, has sold out the space for an intimate fundraiser for something called the Elizabeth Bishop Legacy Recording Project, essentially a series of art songs, commissioned by LeBlanc, based on Bishop's poetry, by composers Christos Hatzis, Alasdair MacLean, John Plant and Emily Doolittle. Interestingly, the recording is a project of the Nova Scotia Elizabeth Bishop Society and LeBlanc herself, not of Centrediscs, but the way the project meshes with the CMC's mandate is at the very least serendipitous. Expect to hear a lot more about the goings on at this interesting new venue.
All Too Brief: In the tiny bit of space left to me, here is a glimpse into some of the other events relevant to this beat uncovered in my search through the listings in this double issue. (I have arranged them by theme, but if flipping back and forth to the listings is too much of a chore, use the genre search function in our online listings! It may make life easier.
Korean Festival: December 6, 7:30: Royal Conservatory. Glenn Gould School New Music Ensemble. Celebration of Korean music; December 7, 8:00: Music Gallery. Emergents II: Claudia Chan, piano + Veronique Mathieu, violin; December 9, 2:30 and 8:00: New Music Concerts. Korean Music Festival: The Korean Music Project (2pm), and Sukhi Kang and His Class (8pm).
At and by the Music Gallery: December 1, 8:00: Music Gallery/Manifesto Arts. Jazz Avant Series: House of Spirit: Mirth – Pheeroan akLaff with Ian Kamau; January 19, 8:00: New Music Concerts. Ensemble SurPlus; February 2, 8:00: Music Gallery. Emergents III: Maylee Todd & Jesse Futerman.
Improvisers: January 5, 8:00: Arraymusic. Array Session #15; January 18, 8:00: York University Department of Music. Improv Soiree; February 1, 8:00: Kitchener-Waterloo Chamber Music Society. Annual CIA Program: Composer and Improvisers; February 7, 8:00: TorQ Percussion Quartet. Off the Page.
U of T New Music Festival: January 20, 2:30: University of Toronto Faculty of Music. Opera Student Composer Collective. Modern adaptation of Sophocles's Antigone; January 21, 6:30: Luciano Berio 1925–2003: A Retrospective: The Complete Sequenzas; January 23, 7:30: Nexus + 2x10; January 24, 12:10: Chamber Music of Steven Mackey; January 25, 12:10: Electroacoustic Music Concert; January 25, 7:30: Karen Kieser Prize in Canadian Music. January 26, 12:10: Chamber Music of Steven Mackey II; January 27, 7:30: deVah String Quartet Concert.
And more: December 2, 8:00: Robert Bruce Music. Classical Nouveau; December 7, 7:30: Canadian Opera Company. The Brothers Grimm; December 14, 7:30: Alliance Française de Toronto. LunAnimation. January 23, 7:30: Soundstreams. Salon 21: Instruments of the Middle East – Then and Now; January 27, 3:00: Soundstreams. The Three Faces of Jerusalem; January 29, 12:00 noon: Canadian Opera Company. Piano Virtuoso Series: Meditations and Miniatures; February 3, 8:00: New Music Concerts. Canadian Music: Past, Present and Future; February 5, 7:30: University of Toronto Faculty of Music. Student Composers Concert; February 7, 3:00: York University Department of Music. CageSpace. Multi-disciplinary celebration of John Cage's 100th birthday. 
David Perlman can be reached at publisher@thewholenote.com.