Once upon a time, we regularly ran, alongside this column, a companion piece called New Music QuickPicks. The idea of QuickPicks was to give the new music aficionado a filtered list of all the concerts that might be of interest. But since these QuickPicks consisted of short form listings only (i.e. date, time, presenter name, concert title), one still had to go to the main listings for the details if something in the QuickPicks caught one's eye. It was very handy, but also very irritating when the main listing in question turned out to be only of passing interest.
So we built in a rating system: NNN before a listing meant that new music was the main event (usually with a live composer or two in attendance). NN meant new music was not the main thrust but was of more than passing interest. And N meant, well … that was the problem. What did N mean? Did it mean there was a work of Britten's on the programme, so you should come to pay homage to the pioneer? Or did it mean that the 10-minute contemporary work right before the intermission had actually been commissioned a few years back and/or had already been played more than twice?
That was the problem: the N's started out as a time saving device; once they became viewed as a comment on the worth of events they lost their utility. It's a pity, though, because at each of these three levels of intensity, N to NNN, so much is happening this month, and all of it plays its part: keeping composers busy, and enabling players and audiences to break new sonic ground.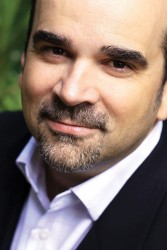 Starting with the Ns: Born in Newmarket, Ontario, John Estacio has single works on two different upcoming symphonic programmes: Friday November 4, the University of Western Ontario Symphony Orchestra plays his Variations on a Memory; Wednesday, November 9, Symphony on the Bay plays his Frenergy.
Frenergy's highest profile performance in our catchment area was with the Toronto Symphony Orchestra September 26, 2009 —
the season opener with violinist Joshua Bell. "The concert opened with John Estacio's Frenergy,"wrote The Globe and Mail, "a splashy short work full of propulsive rhythms and dramatic flourishes that should have tipped us off, when the piece was new in 2003, to Estacio's future career as an opera composer. Somebody should use it for a film score." And of Estacio as an opera composer (Filumena and Frobisher) arts writer Paula Citron, also in The Globe, wrote "If ever a contemporary opera deserved a shelf life, Filumena is the one."
There are several other noteworthy single new works on upcoming programmes. Abigail Richardson-Schulte's "Crossings" for cello and piano in four movements (2011) will be performed by Rachel Mercer and Angela Park at a Les Amis concert, Tuesday November 8 at the Toronto Heliconian Club, along with works by Mahler, Mozart and Brahms. Saturday December 3, East York Choir's Winter Solstice: Seasonal 25th Anniversary Celebration features a world premiere by Stephen Hatfield. Sunday November 6, Antonín Kubálek Projects' Music for Anton features a premiere — Daniel Foley's Music for the Duke of York. Thursday November 17, at Music Toronto, The Gryphon Trio includes the Ontario premiere of Calgary-based William Jordan's Owl Song in their programme, between Beethoven and under-performed late nineteenth century Russian composer Anton Arensky … The list goes on.
Moving up to NN on the intensity scale, a number of presenters this month provide main portions of new music in well rounded programmes. Saturday November 5, Vesnivka Choir/Toronto Ukrainian Male Chamber Choir present a concert titled 120th Anniversary of Ukrainians in Canada. Their guests will be Het Lysenko Koor (The Lysenko Choir) from Utrecht, a choir that focuses on Ukrainian folk and Byzantine sacred repertoire. The concert features two Canadian composers with strong Ukrainian ties — Laryssa Kuzmenko and Roman Hurko. Kuzmenko's newest work Behold the Light helped to kick off both the 2011 TSO and Toronto Children's Chorus seasons. And one of Hurko's works, Panachyda/Requiem for the Victims of Chornobyl was performed in concert at Toronto's Roy Thomson Hall on April 9, 2006, by the combined Elmer Iseler Singers, Orpheus Choir, Amadeus Choir, Vesnivka, and the Ukrainian Male Chamber Choir. It was then rebroadcast on CBC Radio 2 on April 26 that year (the 20th anniversary of the disaster).
There's more: Friday November 18, Sinfonia Toronto gets into the NN act with Gems Old and New, including two premieres: Rob Teehan's Zephyr (Toronto premiere) and a world premiere by Christos Hatzis, titled Extreme Unction (In Memoriam Gustav Ciamaga); Thursday November 24 the Royal Conservatory's Discovery Series presents Véronique Mathieu, violin, in works by Donatoni, Dufour-Laperrière and Boulez; also on November 24 is a recital titled Fallen Realm by pianist/composer Adam Sherkin, that will include works by Brahms, Rihm, Froberger and Sherkin himself; and on Friday November 25, Alliance Français de Toronto, who seem to be getting into music programming in a serious way, present a programme with the self-explanatory title Maurice Ravel, Omar Daniel: One Century, One Ocean.
Also steadily climbing the ladder in terms of a commitment to new music programming are the COC's regular lobby concerts in the Richard Bradshaw Amphitheatre. Tuesday November 8 Array Ensemble present a programme titled Three. T(w)o. One, featuring music by Komorous, Kondo, Riley and Array director Rick Sacks himself. (And this is by no means the last you'll hear of Array this month: they also have a concert at the Music Gallery, Saturday November 19, followed by an "improv concert," in their own Atlantic Avenue space on Saturday November 26.)
But returning to the Richard Bradshaw Amphitheatre for a moment: make sure also to check out Thursday November 17, What to Do 'Til the Power Comes On, featuring the TorQ Percussion Quartet in works by Lansky, Ligeti, Southam and Morphy (premiere).
Top of the NNN ladder: the good news for true new music aficionados is that the higher up the ladder we go, the more crowded it gets. Friday November 4, York University Department of Music presents Improv Soiree. Thursday November 10, Music Gallery/Goethe Institut Toronto/Istituto Italiano di Cultura presents Pop Avant Series: Whitetree. Saturday November 12 Hannaford Street Silver Band/Amadeus Choir present The Armed Man: A Mass for Peace. Tuesday and Wednesday November 15 and 16, the Talisker Players Chamber Music Series has an intriguing programme called Rumours of Peace. And Tuesday November 29 and Wednesday November 30, Soundstreams and Esprit Orchestra respectively are back for the second concerts of what promise to be thoroughly compelling seasons.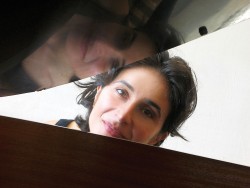 To conclude, two NNN concerts that nicely bookend the month: Sunday November 6, at the Music Gallery, Continuum Contemporary Music kicks off their season with a programme titled Fuzzy Logic, which is also the name of one of the works, by Alex Eddington, premiered on the programme. "How would you make music that sounds like a sheep? And more importantly, why?" It's a cheeky start to what looks like a delightfully eclectic programme.
And last, Friday December 2 brings an eagerly awaited Earwitness Productions/Eve Egoyan CD release concert. The disc is called Returnings and consists of works by Ann Southam for solo piano, including Returnings II: A Meditation (world premiere). Count on this CD to add to a burgeoning appreciation of Southam as a composer, and to Egoyan's reputation as a wholly truthful and compelling interpreter, not only of Southam's work, but of new music in general.