Over the past 15 or 16 years we've seen Toronto's new music community taking a wider and wider detour around the 11 days (September 8–18) during which the Toronto International Film Festival is the biggest circus in town. Some sneak in ahead, like InterSection, this year's fifth annual New Music Marathon, which runs noon till 10pm, Saturday September 3 at Yonge/Dundas Square. (We'll be there!) But after that, with one notable exception, it's mostly bits of this and that until New Music Concerts' Opening Gala on September 25. After which it's into October before some of the other local heavyweights like Soundstreams and Esprit kick into action.
The notable exception is Kitchener-Waterloo based presenter NUMUS Concerts, which rolls into town September 17 — the day before TIFF folds its tents — with a Glenn Gould Studio concert featuring the Manitoba Chamber Orchestra in a program of the film music of Philip Glass.
Founded in the mid-80s by composer Peter Hatch, NUMUS has become a catchword in Kitchener-Waterloo, where the organization is associated with contemporary music productions, occasionally on the wild side, like Jeremy Bell's production — Nude Show — a few years ago. "The poster for that concert," says current artistic director, composer Glenn Buhr, "showed composer Omar Daniel shirtless and hanging upside down from a trapeze pole while he manipulated some electronics. That was our all time best seller."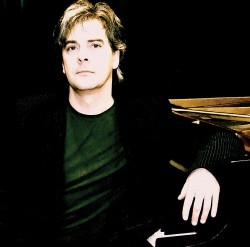 Toronto audiences may also remember their more recent "Battle of the Bands" concert last January at the Music Gallery. "I curated that show," says Buhr, "and it featured my progressive jazz/blues ensemble the Ebony Tower Trio (Rich Brown, electric bass, Daniel Roy, drums, and myself on piano) doing battle with the Penderecki String Quartet. The idea was to contrast contemporary music with roots in old Europe alongside new music with roots in the blues and jazz traditions of North America. I think it's still there on CBC's Concerts on Demand."
I joked with Buhr about invading Toronto during TIFF. The plan, I suggested, was a) crazy like a fox, b) just plain crazy, or c) a stroke of genius. But he refused to rise to the bait.
"NUMUS is a presenter as well as a producer," he said, "so I'm always looking for projects to buy in to our season. I was approached by the Manitoba Chamber Orchestra about the Philip Glass program. I was particularly interested in the new Piano Concerto adapted by Michael Riesman from Glass's music for the film The Hours. Riesman has been playing those Philip Glass arpeggios for quite a while and has developed a formidable technique."
"So my answer is neither. It's pure accident. The MCO wanted to tour this material in preparation for a recording and was looking for a presenter. The fee was so reasonable that we decided to present them in Toronto and Guelph as well as Kitchener-Waterloo. The overlap with TIFF is serendipity; this was the only possible date for the MCO. I have no idea if TIFF will work in our favour or otherwise."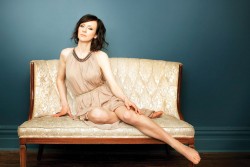 The September 17 concert will be the first of two NUMUS visits to the Glenn Gould Studio within this issue's listings period. The second, October 6, will also ring bells for Toronto audiences. Titled "Song of the Earth," it was presented August 10, 2010, at Walter Hall — one of Agnes Grossmann's final programs as artistic director of Toronto Summer Music. It paired a new commission, Song of the Earth, by Buhr himself, with Mahler's master work. "Yes. I vowed to repeat that program if I was given the opportunity," says Buhr, "because I felt that it could be curated a bit differently — by ending with the contemporary work and beginning with the Mahler. Also, we've hired popular songstress Sarah Slean to sing, and also record my work. I'm more interested in contemporary singing styles than I am in European classical singing, and I've worked with Sarah before. She was soloist in my third symphony (a choral symphony). Her presence on stage, and also the Margaret Sweatman libretto — which alludes to the Gulf of Mexico oil disaster in 2010 — puts the Mahler masterpiece into a more contemporary context. The new work is still a 'Song of the Earth,' but it poetically underlines our more current concerns." You can read more about NUMUS at www.numus.on.ca.
Other TIFF tamers
Though it's fun to think of NUMUS as the only new music mouse brave enough to bell the TIFF cat, I don't want to overstate the case. There is new music throughout the middle of the month, if you pick your spots. Sunday September 11, the Music Gallery's Pop Avant series presents Esmerine with guest Muh-he-con. Music Toronto's Thursday September 15 season opener (the Tokyo String Quartet with Markus Groh, piano) features a world premiere of a new work by Music Toronto's composer advisor Jeff Ryan. And on September 18, Contact Contemporary Music presents "Walk on Water," at Gallery 345, with Wallace Halladay, saxophone, Mary-Katherine Finch, cello, Ryan Scott, percussion and Allison Wiebe, piano.
Once the curtain falls on TIFF, the pace picks up: Friday September 23 Tapestry New Opera's "Opera Briefs" gets under way at the Theatre Passe Muraille Main Space, with new works from their annual Composer-Librettist Lab. And the same day the Toronto Heliconian Club presents Emily, The Way You Are, a one-woman opera celebrating the life and work of Emily Carr, with music by Jana Skarecky and libretto by Di Brandt.
The following day, Sunday September 25, will see many of us back at the Glenn Gould for the opening gala concert of New Music Concerts' 41st season — a concert titled "Secret of the Seven Stars" that will showcase not only NMC's stellar players, but a numinous constellation of Canadian composers and works.
Friday September 30 and Saturday October 1 bring two concerts by AIM Toronto in their "Interface Series" at Gallery 345, featuring Sylvie Courvoisier, piano and composer.
To close, it would be remiss of me not to mention several out of town festivals that not only extend the summer well into September, but pay more attention to new music than one might expect. The Prince Edward County Music Festival, September 16 to 24, has Ana Sokolovic as composer-in-residence; and Barrie's Colours of Music, September 23 to October 2, has the forward looking Ames Quartet on board, and several other notably adventurous programs on display.
David Perlman can be reached at publisher@thewholenote.com.