It's here, it's here, the Toronto Jazz Festival is here! On the Old Mill Inn website, where they list the jazz concerts happening at the Home Smith Bar, they refer to their lineup as a "year-round jazz festival." I like that. But I would object that the term describes not just that venue, but the whole city. The festival never stops. There's jazz happening every day and night of the year, and it's not too hard to find the really top-shelf players. So in terms of local talent, the week of the TJF isn't much different from the rest of the year: Toronto heavies just being heavy in Toronto.
What is different is that the Jazz Festival brings us some of the best international talent.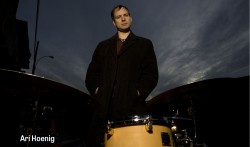 Ari Hoenig: Born in Philly but based in New York, Ari Hoenig, the monstrous, melody-playing, time-bending drummer, will be coming back to Toronto for more. Last time Hoenig was here in town, he brought his own ensemble (but not his own cymbals – he used mine, which is perhaps a story for another time and place), playing his original music, which is consistently both rhythmically intricate, as you would expect from a drummer, and harmonically sophisticated, which you might not. Hoenig's original music is something else, and it must be heard. But if there's one recording that I think captures the group at their best, it's a rendition of a song by another composer: their take on Bobby Timmons' Moanin' from the album Lines of Oppression is pure gold. The recording begins with Hoenig demonstrating what he's at least partially known for, which is his ability to play coherent, discernible, tonal melodies on the drums, capturing the notes of a given chord with the drums' open tunings, and achieving in-between notes and bending pitches with his hands and elbows. He plays the melody, but the solos are done with all the instruments in their traditional roles. Over a dirty jazz shuffle that swings hard and pushes everything forward, his bandmates do Moanin' justice, to say the least. Honourable mention goes to Tigran Hamasyan's piano solo which is dripping with attitude on that track.
Hoenig will be coming to The Rex for two nights to play with Alex Goodman's trio – Alex is a U of T alum who did his master's degree in music at the Manhattan School and settled in the Big Apple. Rick Rosalo, the bassist in the trio, incidentally, is also a jazz musician of Canadian origin who was drawn to NYC like a moth to the flame. Sensing a pattern here?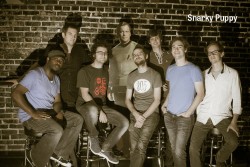 Snarky Puppy used to have a modest fan base in Toronto. A base of which I was a part. Around 2011 to 2013, I attended every single concert they played in Toronto. If they played two nights, more often than not, I went to both. I wasn't alone in being such a dedicated fan – the band regularly sold out The Rex, leaving behind a handful of people who were naive enough to think they had a chance of getting in without coming early. I remember one snowy night in 2012; I was one of those naive kids. I waited 90 minutes outside in the freezing cold, but was eventually let in and caught a set and a half. It was worth it.
I say they used to have a modest fan base, because that base has since exploded and become anything but modest. It may have been simply word of mouth, but more likely it had something to do with that Grammy they won. Since then, The Rex has become way too small for the gigantic audience they would inevitably draw – they started playing bigger venues, like Lee's Palace and Adelaide Hall. Sometimes, they'd do a surprise late night set at The Rex, which, despite the short notice, would still end up packed. Snarky Puppy's studio recordings and videos show their music being represented by a gigantic ensemble, practically an orchestra, including a string section, too many keyboards, and just enough grandeur. But when they play live, at least in Toronto, they bring a condensed version of the ensemble which sounds not worse, not better, but different. There's a certain rawness and aggression present in their live shows that is softened in their studio recordings. To say the least, it's worth checking out, if only once.
For a survey of what this group is all about, listen to three songs: Skate U, Binky and Lingus. All appear on different albums and all can be found online. Snarky Puppy will be crowding the Toronto Star stage at Nathan Phillips Square for the festival on June 26. As someone who's seen them live at least 12 times and never got tired of it, I can confidently say you'll have fun.
Other out-of-towners gracing Toronto stages for the TJF include: Branford Marsalis, Dan Weiss Trio, Phil Dwyer Trio, Robert Glasper, Tower of Power, Kurt Elling and a supergroup featuring Dave Holland, Chris Potter, Lionel Loueke and Eric Harland. A lot of these groups (and others not mentioned!) are appearing on the main stages, which haven't been listed in the Clubs section, so make sure to go to
torontojazz.com for all the details you need to plan your festival week, and pick up paper guides at any of the main stages.
Are you ready? Let's do this thing.
Bob Ben is The WholeNote's jazz listings editor. He can be reached at jazz@thewholenote.com.