Since the days when sleazy speakeasies gave birth to saucy numbers like "Gimme a Pigfoot and a Bottle of Beer," jazz and booze have gone together like film and popcorn. Thirsty? Good: the venues tend to depend on patrons drinking up in order to keep the music going.
In the collective "spirits" of spontaneity, swiftness and curiosity, a few days before this column was due, I sent out an email to The WholeNote's jazz contacts, asking if there were a) any drink specials that our readers might wish to know about, and b) what the most popular drink at their venue was, with an open invitation to share their recipes.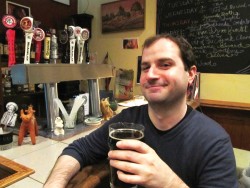 Bold and Distinctive, Indeed! "Our top selling drink isn't a cocktail or a wine," says Robbie Luster, general manager of the Tranzac (292 Brunswick Ave.). "It's a bold and distinctive Scotch ale — a perfect complement to the brash, avant-garde jazz we often feature at the Tranzac. It's traditional with an adventurous and inventive twist. St-Ambroise Scotch Ale is dark ruby red with a tawny head — sweet and malty, with hints of vanilla and butterscotch, and a long hop finish. With its 7.5% alcohol, this beer evokes the classic "wee heavies" or the full-bodied 90-shilling strong winter ales of Scotland. The ingredients are water, pale malt, Munich malt, peated malt and hops."
Mojito Madness! Short and very sweet: "We specialize in pisco sours, mojitos, margaritas and Cuba libres, and our best sellers are mojitos, pisco sours and Chilean wines," says Alfredo Cardoso, owner of Latinada (1671 Bloor St. W.). See our club listings for the regular musical happenings at this intimate venue, including residencies for violinist Alex Gajic, pianist Ruben Vazquez and vocalist/guitarist Onelvis Fernandez.
"Our most popular beverage is by far the Mojito Classico," writes Vas Cranis, general manager of the Lula Lounge (1585 Dundas St. W.). "While mojitos are somewhat trendy at the moment and you can get them pretty much anywhere, it's truly a rarity to find a spot that makes them properly, the authentic Cuban way. Likely because of the time and effort that needs to go into each one. But as we have a large Cuban clientele that is very vocal when they don't like something, we stick to the traditional method … we offer a few variations on our classic recipe: the spiced mojito, the mango mojito, the coco mojito and the cherry bomb mojito, all of which go for the same price as the classico ($9.30) but hands down, aren't as popular."
Listenin' with Miles. The signature and best-selling drink at Harlem is the Miles Davis: a two ounce cocktail, blending Jamaican Overproof rum, peach schnapps, mango juice and passion fruit juice. "It's sweet, intense and powerful. Like Miles!" says Harlem Restaurant owner Carl Allen. There are actually two Harlems — East and West — both great destinations for soul food and live music. Harlem East (67 Richmond St. E.) features Open Jam Night hosted by Carolyn T, which has become a hotbed of local talent, showcasing jazz, R&B, soul, funk and spoken word.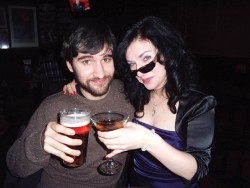 Priceless Moments & Six Dollar Martinis. Speaking of open mics, now in its seventh year is Lisa Particelli's GNOJAZZ jam — aka "Girls Night Out (where Gentlemen are welcome too)." Particelli founded the vocalist-friendly jazz jam in 2005 and since then well over 1000 singers have graced the stage, from curious amateurs to seasoned professionals. The weekly Wednesday event began in Cabbagetown's defunct Cabbage Patch (now the Flying Beaver Pubaret) and then moved to Ten Feet Tall (a venue very much missed) before settling at Chalkers Pub Billiards and Bistro (247 Marlee Ave.) in North York. "My fav premium martini at Chalkers Pub is the Chocolate Swirl," says Particelli. "It's all about the cherries for me. The best part is that they're only $6 on Wednesdays during GNOJAZZ. [Chalkers Pub proprietor] Steve Greco launched the $6 martini and free billiards special in January 2011 to celebrate the GNOJAZZ 6th anniversary and he has kept it going by popular demand."
Connect the Shots. If you love tequila, Reposado (136 Ossington Ave.) calls your name! The Dundas and Ossington joint prides itself on providing more premium tequila than anywhere else in the city, highlighting nearly 70 varieties on their website. Made with freshly squeezed juice, their most popular cocktail is a blood orange margarita, selling over 1500 units monthly! Reposado never fails to attract a crowd on live music nights, so get there early. Among their weekly roster of bands is Spy vs Sly vs Spy: guitarist James Robertson, drummer Sly Juhas and bassist Michael Herring performing classic spy and Spaghetti Western themes, surf and eclectic covers.
Somewhere There's Music. "Somewhere There is a temple of art, not a den of sins!" wrote back Michelangelo Iaffaldano from Somewhere There (227 Sterling Rd., Unit 112) to my query. "Just kidding. Thanks for asking; we're not licensed, but we'll make you a mean cup of green tea at no charge." Personally I am looking forward to checking out the creative music presented in this space, including an experimental performance of sound poetry on March 13 scored by vocalist Zoë Alexis-Abrams; and on March 20, a saxophone duet by Marian Jago and Paul Newman.
Don't Sample Them All in One Night! "The Emmet Ray specializes in Whisky from all over the world," says Andrew Kaiser, general manager of The Emmet Ray (922 College St.). "Canadian, American, Scottish, Irish, and some unique single malts from Japan, France and India. I find sipping on a nice whisky while listening to jazz, blues or rockabilly is a perfect match. The jazz enthusiasts seem to prefer single malt whisky from Scotland … now with a great blues band or rockabilly trio, North American matches it best. The bottom line is, you pair one of our 130 whiskies with one of our 47 beers or ciders, great live music, and you will have just made it a night to remember."
A Licence to Celebrate. A few months back I wrote about the Gallery Studio Café (2877 Lake Shore Blvd. W.) in Etobicoke, which has been doing very well in recent months, with a new Tuesday night jazz jam featuring a Humber College Alumni house band: Riley O'Connor on drums, Scott Kemp on bass, Scott Metcalf on piano, Shirantha Beddage on saxophones and Lee Wallace on guitar. The Gallery's owner Derek Houghton emailed me enthusiastically with some big news last month: the venue is now licensed to sell alcohol! On March 10, the sensational Steve Koven Trio will be performing as part of a grand re-opening. Congratulations to Derek Houghton and the Gallery Studio Café!
Please enjoy your beverages of choice, responsibly. Cheers!
Ori Dagan is a Toronto-based jazz vocalist, voice actor and entertainment journalist. He can be contacted at jazz@thewholenote.com.