ERNESTO Cervini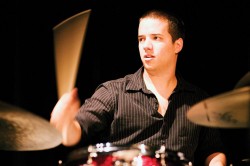 Deeply musical and infectiously energetic drummer and composer Ernesto Cervini is keeping very busy these days: leading his own quartet, playing in the Myriad Trio with pianist Chris Donnelly and bassist Dan Fortin, as well as playing frequently as a sideman. Cervini only recently relocated to Toronto after attending the graduate performance program at the Manhattan School of Music.
"Manhattan was kinda perfect for me in terms of timing. I went there straight after U of T; I was pretty young and very immature. When I got out of U of T I felt that I was a pretty good drummer. Then I got to New York and realized that I really wasn't! At Manhattan School, I learned how to practise and realized that I had a lot of work to do. That's where I learned how to make music my life and my career, where I took it to the next level … I realized that this has to be a part of everything in my life."
In the last issue of The WholeNote, Geoff Chapman reviewed Cervini's new recording, There, calling it "an album that has to be one of 2011's best." In support of the recording, Cervini's quartet recently came back from a ten-city European tour. The quartet features two New York City-based players: Dan Loomis on bass and Joel Frahm on tenor saxophone, rounded out by fellow Torontonian and recent JUNO nominee Adrean Farrugia on piano. I asked Cervini about playing with this particular band and what the highlight of the tour was for him.
"This band has now gone on three tours together, they are all such good people, which makes it easy and so much fun to tour. No attitude, no divas, they are amazing musicians and amazing people … the tour was really, really great — the audiences were pretty packed and very receptive — we got an encore at every show … 
The highlight? Hmmm. The first gig was very memorable because it was surprising. It was in this artist woodworking workshop, with big tables and saws on them, it was a bit weird, I have to say. In the corner of the room there was a piano and a sketchy-looking drumset, so we were just like 'whatever, we'll see how it goes,' [laughs] we weren't expecting it to be a great gig. So we went out to dinner with the owner of the place and when we got back it was completely packed and the audience was really into it. It was a really nice surprise."
The quartet will be touring Canada this month, including three stops in Toronto: at the Rex on November 6 and 7, and at a new jazz venue that Ernesto himself has recently started booking, the Cherry Street Restaurant (275 Cherry St.) on November 24, presenting live jazz every Thursday night.
"It's tricky in the sense that it's not on a main street the way the Rex is … but at the same time, it's a good room, and I am hoping that people will check it out. I think it's important as musicians that we support it. We all cry that there aren't more clubs, but we really need to be a part of the promotion, because there isn't really a huge amount of money in it for the clubs."
Specializing in pulled pork, smoked brisket and baby back ribs, here's hoping that Cherry Street's Thursday night live music series will also attract some listeners hungry for great jazz.
Victor Lewis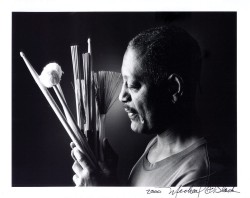 Like Cervini, meaty-toned saxophonist Ryan Oliver also got his masters south of the border, graduating from New Jersey's Rutgers University in 2009. While there, he met and studied with a variety of jazz legends, including drummer Victor Lewis.
"Getting to know Victor Lewis was certainly a highlight," says Oliver. "Victor is the drum teacher at Rutgers, and I was already very familiar with his work as he's the drummer on a lot of my favourite records — Stan Getz's Anniversary, Dexter Gordon's Sophisticated Giant, just to name a few." In addition to his stints with Getz and Gordon, Lewis, a professional since his teens, has appeared on dozens of notable jazz recordings, including ones by Chet Baker, Kenny Barron, J.J. Johnson, Carla Bley and Mike Stern. As an educator, his generosity of spirit had a profound influence on Oliver's music.
"I was fortunate to get the opportunity to play drum/sax duets with Victor at his rehearsal space in New York on a weekly basis for about a year. It was an amazing experience. We would play through tunes, and I learned so much about phrasing, time and making musical statements, just from being around Victor and hearing him play and talk. He's also a gifted composer, and we would play through some of his originals during the sessions … one thing that struck me the most was that Victor's drumming would be so rhythmically strong and melodically clear that you wouldn't need bass or chords to make these tunes sound. You can hear this depth every time he plays. When I left New York to return to Toronto, one of my goals was to bring Victor up here to play. I'm very excited to bring a musician of his stature to the city. These days it's not happening as much, and I hope folks will take advantage of the opportunity to hear a real jazz legend. We'll be playing some standards, some of my original compositions and some of Victor's tunes as well."
Catch the Ryan Oliver Trio with special guest Victor Lewis on drums, November 18 at the Trane Studio and November 19 and 20 at the Rex.
Ori Dagan is a Toronto-based jazz vocalist, voice actor and entertainment journalist. He can be contacted at jazz@thewholenote.com.