Very recently I attended bebop-singing pioneer Sheila Jordan`s 83rd birthday celebration in New York City. There was a great turnout of well-wishers present, including loved ones, friends and pupils. Seconds into the third song of the first set, a rude patron became engaged in conversation and if that wasn't bad enough, he began snickering audibly, repeatedly, obnoxiously, as if it the Blue Note was a Yuk Yuk's. "Shut up, shut up, SHUT UP!" I thought silently to myself, but the insensitive man was unaware of the filthy looks he was receiving from numerous angles. Thankfully, an angered music appreciator approached the clueless culprit and aggressively shushed him, as if putting out a kitchen fire with baking soda. (Heroes like this particular shusher prove that we've all got to get over our shyness when it comes to shushing. Sheesh!)
QUIET NIGHTS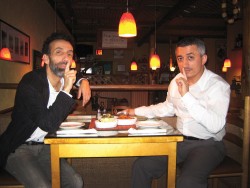 In Toronto's jazz spots, as well, it is usually up to audience members, rather than the venue staff to monitor those who choose to be inconsiderate. Even the most prominent music venues in our club listings do not have a strict quiet policy, in fear of losing business: the likely argument being that those who need to be shushed are often those who order enough to make the live music economically viable.
Since the early 1990s, Mezzetta has been an admirable exception: the Mediterranean restaurant at St. Clair and Christie has been presenting a weekly live jazz and world music series on Wednesday evenings, with a strict quiet policy in effect. St. Clair West has guitarist Brian Katz to thank for initiating this series. An active musician and educator in various genres including classical, jazz, folk, klezmer and free music, Katz reflects on music at Mezzetta:
"Approximately twenty years ago I noticed what appeared to be a charming Mediterranean style new restaurant in my neighbourhood and after visiting just once it struck me as an excellent place — acoustically and vibe-wise — to have a live music series. When I approached the then owner, Yossi Omessi, about the possibility of launching a weekly music series there he, surprise, surprise, seemed incredibly enthusiastic. It only got better: When I suggested that there not be talking while the music was being performed he replied, "of course!" Jane Bunnett and myself opened up the series shortly after to a packed house, and I remained the booker for the venue for twelve years, contacting musicians, writing the blurbs … and eventually running out of adjectives to describe the world class musicians who continue to grace Mezzetta's stage."
For the musicians and the audience, how does Mezzetta compare to other music venues?
"In terms of relating Mezzetta to the majority of small, intimate venues in Toronto, the difference is that the crowd comes with the intention to listen to the music (and enjoy a lovely dinner beforehand if they wish), and the musicians walk in knowing that they will be listened to; jazz players especially are often not used to getting such listening attention, and what is strikingly different is that those musicians who are most often accustomed to playing in noisy venues have to actually adjust to the fact that we are presenting an intimate concert, and I believe that brings their playing to a higher level — with the audience being the lucky recipients!  During the first few months of operation, I actually remember one very well-known jazz musician speaking with me just minutes before he went on the stage, insisting that he was sure that people were going to talk during his performance. Goes to show you the "normal" expectation amongst jazz players when it comes to being listened to. I assured him that people came to listen, without talking, and he was pleasantly shocked…I was truly happy to do this for many years, to support the jazz and world music communities, and even happier to see that in time the series could sustain itself without me doing the booking. Safa Nematy, the owner for many years now, does that these days."
I asked Nemati, how strict the restaurant is about this policy, and why it is important: "At Mezzetta we take our no-talking policy very seriously," says Nemati. "At the start of the show we remind our audience of this policy and ask them to keep their voices to a minimum volume. I believe that by creating a listening atmosphere, musicians and audience find a perfect setting to perform and enjoy music … the intimate ambience at Mezzetta enhances the experience that could only be found in much bigger concerts."
The January schedule is not available as of press time, but there will be three concerts in December: baritone saxophonist David Mott in duet with bassist Rob Clutton on the 7th; vocalist Maureen Kennedy with guitarist Reg Schwager on the 14th; and the Roland Hunter trio on will play holiday music on the 21st.
HOLIDAY BLEND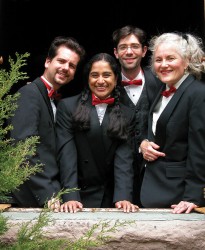 Speaking of holiday music, I have two concerts to recommend, both by vocal groups so polished, they sparkle. The first one is a CD release and listening party by Cadence; the group's new holiday recording Cool Yule will be celebrated on Sunday December 4 at 7:30pm at the Trane Studio. Dubbing themselves as "four men, four microphones, no instruments," Cadence's formula is charm, skill, humour and heart aplenty.
Another a cappella quartet appearance of note will take place at the Green Door Cabaret, a new venue which I wrote extensively about in the October issue. On December 9 at 8pm, don't miss a rare appearance by the Hampton Avenue 4, a distilled version of award-winning vocal group Hampton Avenue, with vocals by Suba Sankaran, Dylan Bell, Tom Lillington and director Debbie Fleming. Expect beautiful arrangements, exceptional musicianship and infectious joy from a group that performs all too rarely these days. Hampton Avenue's acclaimed CD All I Want for Christmas (1996) will be available for sale. Tickets are likely to sell out for this concert, so be sure to get yours in advance by visiting www.greendoorcabaret.com or by calling 416-915-6747. See you there!
Ori Dagan is a Toronto-based jazz vocalist, voice actor and entertainment journalist. He can be contacted at jazz@thewholenote.com